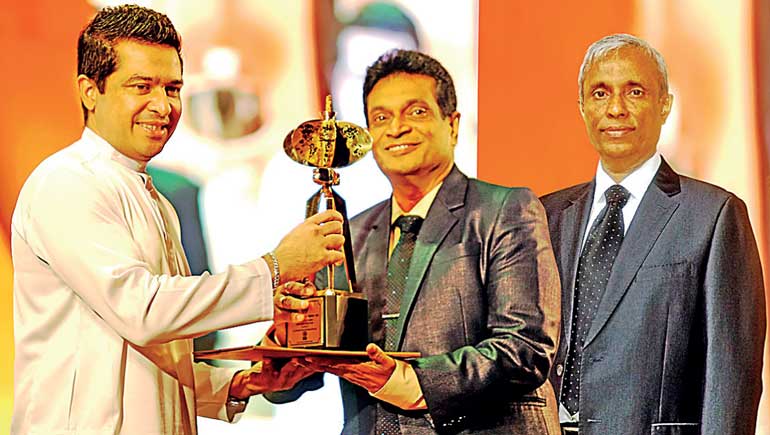 Managing Director Lal De Silva and Director Nihal De Silva receiving the award from State Minister Sujeewa Senasinghe
G. P. De Silva and Sons International Ltd, the leading player in producing and exporting cinnamon amongst many other spices, has clinched the prestigious award for "Best Value Added Exporter" in the spices and allied products sector for the year 2015 at the Presidential Export Awards held at BMICH on 9 August. The Presidential Export Awards organised by the Export Development Board of Sri Lanka is regarded as the highest recognition platform for exporters given for the contribution and commitment as an exporter towards the export effort of our country.

Managing Director Lal De Silva commenting on the award stated, "We are absolutely delighted to have been recognised for our immense efforts, contribution and dedication in the export sector of Sri Lanka. Also reasons behind this victory include the trust our local and foreign customers have devoted in us and the collective goal-pursuit of our employees to constantly grow as a company in to new global ventures. This reflects well on our continuous drive to enhance and innovate on packaging, quality and brand value whilst sharing knowledge and experience among others in the industry. G. P. De Silva and Sons International Ltd is committed to strive towards global platforms while also introducing and promoting the Sri Lankan Spice industry to greater heights in the global landscape." Director Nihal De Silva also mentioned that this award is a reflection of the enormous dedication and contribution of GPDS in the export sector to the valued customers, stake-holders and to the Sri Lankan Economy.

"True Cinnamon" indigenous to Sri Lanka among other range of rich spices such as pepper, cardamom, cloves, nutmeg, mace and similar are exported over 90% to end users such as flavor, fragrance, and pharma industries. Native to Sri Lanka, Cinnamon accounts for a major proportion in the spices and allied products sector and supplies more than 90% of global demand. Founded by the visionary entrepreneur G. P. De Silva in 1955, the company dominated the domestic market during the period until in late 1970s when it ventured into global markets with its first shipment to Chile. Today, G. P. de Silva and Sons International is the world's largest cinnamon exporter fulfilling over 90% of the global demand for true cinnamon to key markets such as Mexico, South America, USA, UK, Middle East, and Europe.