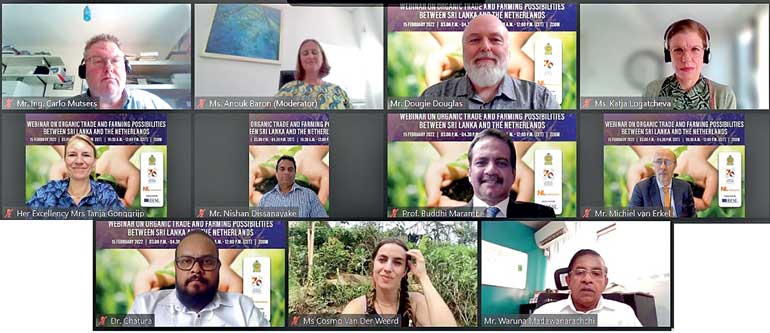 An online discussion to explore the possibilities of organic agricultural trade between Sri Lanka and the Netherlands was held on 15 February.

Facilitated by the European Chamber of Commerce of Sri Lanka (ECCSL), it was the second in a series of three and was organised as a part of the program to celebrate the 70th anniversary of bilateral diplomatic relations between Netherlands and Sri Lanka.


Resourceful speakers participating in the webinar were University of Peradeniya Senior Professor in Agriculture Prof. B. Marambe, Wageningen University and Research Market and Value Chain Research Advisor Katja Logatcheva, Yuverta colleges Horst Horticulture Expert Ing. Carlo Mutsers, Dreamspace Academy Grassroots Innovation Centre Cosmo Van Der Weerd,


GIZ Sri Lanka Policy Advisor (Organic Agriculture) Dr. Chatura Rodrigo, and CIC Agri Businesses Ltd. Managing Director Waruna Madawanarachchi.

The session was moderated by Embassy of the Kingdom of the Netherlands in Sri Lanka and the Maldives Deputy Ambassador Anouk Baron, and concluded by the Embassy of the Kingdom of the Netherlands in Sri Lanka and India Agriculture Counsellor Michiel Van Erkel.

A welcome address was given by the Kingdom of the Netherlands to Sri Lanka and the Maldives Ambassador Tanja Gonggrijp.


The initial welcome and introductions were given by ECCSL Project Manager Dougie Douglas.

Responding to the many questions of the participants in the webinar, the speakers shared information on the latest organic agriculture trends and technologies.

They emphasised that increasingly consumers in the EU, including the Netherlands, want organic products. This trend is an opportunity for Sri Lankan companies to position themselves internationally.

Much practical advice was given to companies on how to do this, for example regarding voluntary certification schemes and access to organic fertiliser.


The full webinar can be watched online: fb.watch/bbco1N2WTd/

The third webinar of the series focusing on Supporting Sustainable Trade and Investment between Sri Lanka and The Netherlands, "Practical information on doing business and finding partners in the Netherlands" will be held on 01 March.

It will follow up on questions posed in the first webinar: www.facebook.com/Eurochamsl/videos/3047127895501518.