Watawala Tea Ceylon (WTCL), the consumer arm of the diversified conglomerate Sunshine Holdings PLC, honoured its outstanding achievers who have excelled during the financial year of 2017/18 at the recently-concluded WTCL Annual Sales Convention 2018.

Held at the Lotus Ballroom of Shangri-La Colombo, this year's gala celebration was organised under the theme of 'Team Unstoppable'—for having an outstanding 2017/18, achieving the highest sales growth in domestic tea in recent years of 36%, further strengthening their market leadership position with market share increasing from 34.7 to 36.6%, and winning prestigious accolades for their tea brands.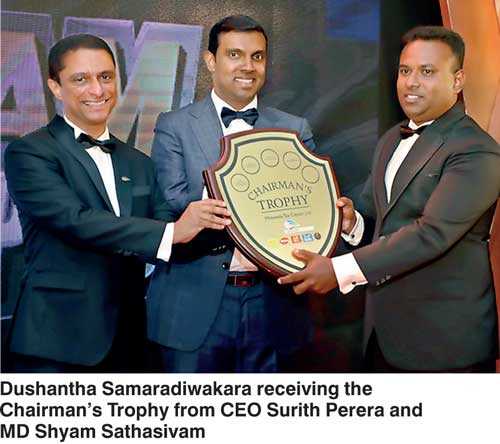 The event was graced by Watawala Tea Ceylon'sBoard of Directors, Managing Director Shyam Sathasivam, Chief Executive Officer Surith Perera, key members of the Sunshine Group's leadership team, distinguished guests and employees.

Speaking at the annual convention, Managing Director Sathasivam said: "I would like to thank the team andcongratulate all the winners who have been nominated for these coveted awards. The team has worked hard to achieve excellent growth and accolades, further strengthening our position in a highly-competitive industry."

Congratulating and thanking every employee who contributed immensely for WTCL's success during the last financial year, CEO Perera commented: "The results were outstanding since it was achieved in an extremely challenging year where both FMCG and beverage markets were contracting. This is the work of an excellent team – a team that challenged each other to push the boundaries but also supported each other to win in the market place."

The tea brands of Watawala Tea Ceylon had been recognised several times during 2017 for their superior quality and taste, including the coveted 'Most Popular Hot Beverage Brand of the Year' won by Watawala Tea at the Slim Nielsen Peoples Awards.Subsequently, Kantar World Panel recognised 'Watawala' as the number1 beverage brand in the country in their 2017 Global Brand Foot Print Report. Ran Kahata, WTCL's 'value for money' brand, won a Gold Effie for their campaign titled 'One Spoon, Two Cups' (Eka Hendai Koppa Dekai).

A total of 43 awards were presented at this year's convention under the categories of Unsung Hero, Service, Sales awards including Bestand Turnaround Teams. The Chairman's trophy was presented to Senior Sales Executive Dushantha Samaradiwakara, and Sales Representative Vikum Ranathunge was adjudged as the runner up.

Watawala Tea Ceylon Ltd. is the largest branded tea company in Sri Lanka with the highest market share, with a portfolio of three brands–Zesta, Watawala Tea and Ran Kahata, appealing to different palates and consumer segments in the country. It has the highest market share in the tea category with three brands: 'Zesta', 'Watawala Tea' and 'Ran Kahata' catering to three distinct market segments.

Having built a strong foundation locally, the company has embarked on an expansion programto capture selected international markets by launching 'Zesta Connoisseur', an extension of Zesta to cater to premium international customers.