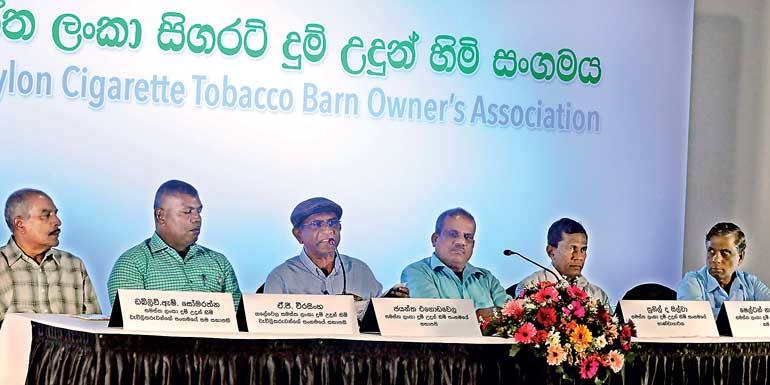 From left: AICTBOA Co-President W.M. Somaratne, Galewela AICTBOA President A.G.Weerasinghe, AICTBOA President Jayantha Egodawela, AICTBOA Treasurer Sunil de Silva and AICTBOA Co-Secetary Shelton Nanayakkara
By Charumini de Silva

Over 300,000 members of the tobacco farming community called on the Government to continue to allow tobacco cultivation until an alternative crop matchingits economic value was introduced, stressing that they feared for their future due to the misaligned and arbitrary decisions of the authorities.

The All Island Cigarette Tobacco Barn Owners' Association (AICTBOA) pointed out that the declaration of a total ban on tobacco cultivation by 2020 poses a serious threat to the farmers as they have not been given any assurance of a suitable, economically-viable alternative crop for them to transition to safely without risking their livelihoods.

"Despite the many discussions we had with officials and agreement made, farmer livelihoods have yet again been threatened by a government circular intended to immediately ban tobacco cultivation starting from the upcoming Yala season. We consider this a very unfair decision as neither an approved nor acceptable economically viable alternative agricultural crop has been introduced as promised during our discussions," AICTBOA President Jayantha Egodawela told journalists in Colombo last week.

Since 2015 the Presidential Task Force on Drug Prevention had recommended unreasonable restrictions on tobacco cultivation such as the immediate prohibition of using barren marginal paddy and proposed regulation of cigarette sales within a 100-metre radius of places where persons under the age of 21 gather. However, he stated that these measures were clearly not the solution to society's smoking problem and may even aggravate the issue with the influx of illegal products to the marketplace.

He also charged that introducing such unproductive decisions would allow the importation of tobacco from regional countries, resulting in a heavy foreign exchange outflow from the economy. Instead he said the Government could encourage tobacco farmers to consider exportation, which would bring in much-needed foreign exchange, generate employment and uplift the rural economy.

"After several rounds of discussions with the Agriculture Ministryin 2016 and 2017, tobacco farmers agreed to grow pepper on an extent of 50 acres in the Maha season and local paddy varieties and field crops on 500 acres of land during the Yala season alongside tobacco as a pilot project. However, despite the lofty objectives, the Government was unable to even provide plants for more than six acres, let alone extend any other support for the cultivation of such alternative crops," he stressed.

However,if the matter remained unresolved, Egodawela said the association would be left with no alternative but to file a complaint with the Human Rights Commission on the premise of a violation of human rights, in addition to taking steps to hold islandwide protests in collaboration with over 300,000 tobacco farmers.

"Tobacco is a cash crop which farmers choose to grow during the Yala season where water is scarce for paddy cultivation. Over 20,000 tobacco farmers supply the tobacco industry's leaf requirement using less than 0.01% of the total arable land. The farmers get over 2,000 kg yield per hectare with a return per hectare of around Rs. 200,000-Rs.350,000. We generate a lot of employment in the rural areas compared to other cash crops," he added.

Egodawela said that unlike other farmers in the country who faced numerous challenges when trying to sell their crop at a suitable price after the harvest, tobacco farmers have the assurance of a guaranteed purchase of their full crop at a pre-agreed competitive price.

"We are guaranteed the purchase of our full crop and the company agrees on this price with our farmers before the start of the growing season. We are provided with inputs on credit worth Rs. 140 million by the tobacco company. Our farmers are given a pension scheme to help them after they retire and scholarships are given to our children for higher education. If farmers lose their crop because of floods or droughts the company allows us time to pay back the loans," he emphasised.

He said tobacco, which was introduced to farmers by the Government in the 1950s, was fully supported by successive governments until the recent administration and was considered an integral part of the agriculture community spanning around 80 years and three generations.

"Tobacco farmers, the key drivers of national and economic growth, were not consulted before such adverse recommendations were made and communicated through agricultural channels. It is our view that the Government should not introduce bans on tobacco cultivation unless they have an acceptable alternative and have conducted a pilot scale project to assess its viability," Egodawela added.

The association members also claimed that it was the Government officials' responsibility to safeguard the livelihoods of 300,000 dependents before introducing such laws.