To strengthen knowledge and initiatives for digital transformation
---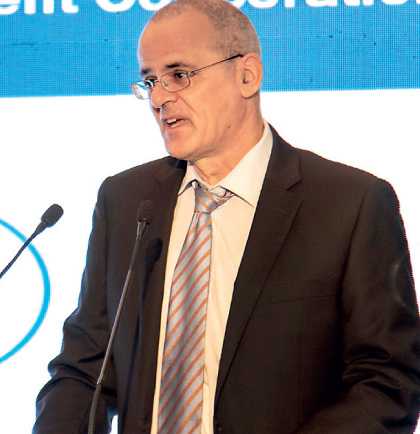 TAMAP Team leader Dr. Christof Batzlen, welcoming the participants at the E-Agriculture and Digital Market Platforms workshop held in Colombo recently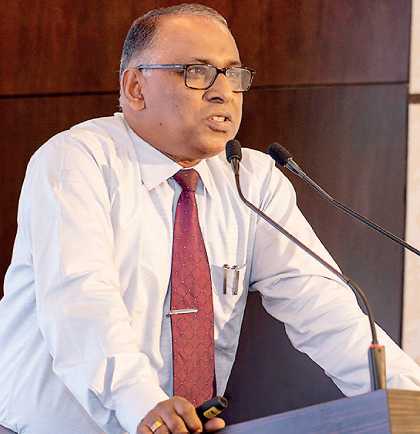 HARTI Director/CEO Prof. Ranjith Premalal De Silva expressing his views at the E-Agriculture and Digital Market Platforms workshop held in Colombo recently, organised by the EU-funded TAMAP
---
To provide stakeholders a platform to gain further understanding of current applications and initiatives of e-agriculture systems, the European Union-funded 'Technical Assistance to the Modernisation of Agriculture Programme' (TAMAP) conducted a workshop on e-Agriculture and Digital Market Platforms in Colombo.

TAMAP in collaboration with the Hector Kobbekaduwa Agrarian Research and Training Institute (HARTI) brought together private and public sector entities to discuss digital solutions for farmers. Participants were provided with information regarding new agricultural technology applications to expand markets and market opportunities. The current COVID-19 crisis also underscored the need to harness e-agriculture solutions.

Welcoming the participants both at the venue and those joining the workshop online, TAMAP Team Leader Dr. Christof Batzlen indicated, "TAMAP has started to analyse the demand for e-agriculture solutions in Sri Lanka. TAMAP and HARTI have initiated this discussion to take stock of who is doing what and to examine the nature of the long term plans. The workshop is an entry point for further discussions, regarding the facilitation of e-agriculture and intended to provide direction and recommendations for e-agriculture and digital market platforms in Sri Lanka."

Joining the workshop via Zoom, Sebastian Balcerak of TAMAP provided a market perspective on 'What is e-Agriculture? Overview on Various e-Agriculture Systems and Applications in the Global World'. He elaborated on the EU's existing support for e-agriculture, current players, large and small, and interactions between both buyers and sellers.

Explaining FAO's Digital Agriculture Strategy, Approach and Plan for e-Agriculture in Sri Lanka, FAO Representative in Sri Lanka and Maldives Dr. Xuebing Sun said, "e-Agriculture is one of the major strategies used by the FAO to promote transformational change in the agricultural sector. FAO is committed to assist the government and its partners to support an emerging digital society."

As the agency responsible for dissemination of appropriate agriculture technologies to farming communities, the National Agriculture Information and Communication Centre, Department of Agriculture's representative at the workshop, S. Periyasamy, Director, elaborated on 'What are GoSL's requirements for an e-agriculture system in Sri Lanka'. He stated that although NAICC encountered challenges to engage stakeholders in an action plan, several ICT initiatives designed by the Department of Agriculture are being successfully implemented.

HARTI Director/CEO Prof. Ranjith Premalal De Silva, while expressing his views on Digital Market Platforms – Issues and Expectations, asked if farmers are prepared to undertake this change and move towards virtual interaction. He considered that, "From farm-gate to food plate, the length of the supply chain can be minimised through digital market platforms." Several representatives from digital market platform providers in the agriculture sector such as the HARTI platform, Croptronix's Govipola, Epic's Helaviru and Dialog's Govi Mithuru also provided information about their platforms and product offerings. The participants updated the audience on the development challenges of these platforms and the future directions for strengthening their user value.

This was followed by a vibrant panel discussion looking into strategies to unlock key bottlenecks for e-agriculture development. Prof Buddhi Marambe of Peradeniya University of Agriculture facilitated the entire workshop and the panel discussions.

Dr. Olaf Heidelbach, Program Manager at the EU Delegation concluded the workshop by stating, "It is amazing to see what has been developed over the past years by the private sector while working in cooperation with the government. My main recommendation for the future - on the country's e-agriculture strategy - is to identify the comparative advantages of different stakeholders by establishing who is doing what, best. The development of e-Agriculture in Sri Lanka depends to a large extent on private sector initiatives.