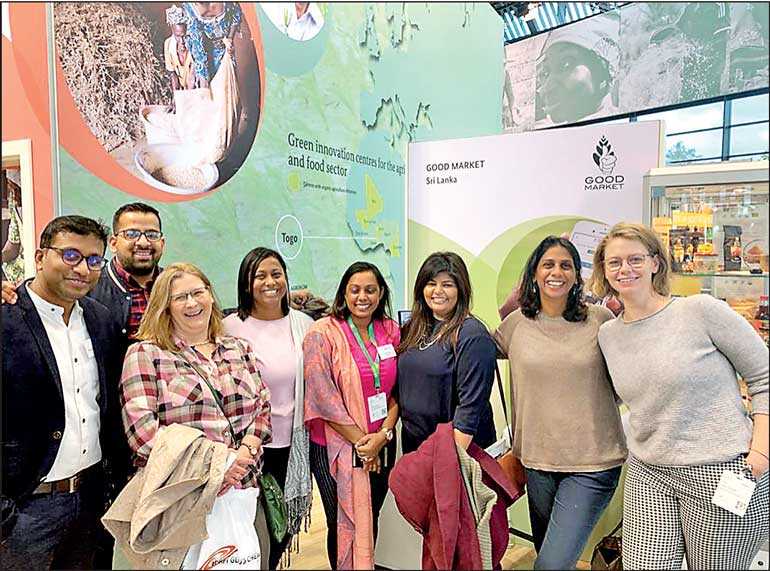 GLX 2019 cohort and partners at BIOFACH 2020
---
As the world trends on urbanisation and nutrition, shifting gears with the new realities presented to us, Sri Lanka is demonstrating promising new energy in the agri-food innovation sectors.

Highlighting the insights of agri-food companies who are threaded together by their interest to build their startups or redirect their SMEs in the direction of ethics, sustainability, innovation and global trade and are united as members of the Good Life X accelerator and business development network.

Wawamu, Sheshan Gamage's hydroponic tech startup utilises IOT sensory devices and vertical farm structures to allow individuals and businesses to grow fresh and healthy pesticide free, plants/crops indoors, thereby simplifying the route for greener urban spaces and more local produce.

Owita Organics, the brain child of Vihangun Ariyarathne encourages localised/decentralised organic farming on smaller farms in consumer's home districts – disrupting the mindset and model that only a handful of large faraway organic farms can supply consumers.

By building a viable neighbourhood farm model, investing in supporting farmer conversion to organic, and promising farmer's a commitment to purchase if they deliver these products to neighborhood Owita outlets or straight to consumer's door, Owita cuts down the food footprint – reducing costs, increasing environmental efficiencies, promoting localised green development and bringing their consumers competitive yet fair prices.

Ceylon Exports and Trading is taking a labour equity and product quality centred approach to producing coconut and vegan products with the aim of establishing the next homegrown international brand via its CoCo House range.

Led by young, sharp, driven and globally focused first generation coconut business entrepreneur Dulara de Alwis Ceylon Exports and Trading wants to focus on both product quality and fairer work practices in dealing with one of Sri Lanka's export of organic coconut and vegan products. Within three short years Dulara has been able to become a provider of an extensive range of coconut products all over the world – from Australia, to Latin America, Europe, Asia and the USA.

And Worga Naturals is centring itself as the specialist in jackfruit and banana blossom supply in alignment with the global growth of vegan and meat alternative products. Employing a 90% female workforce it wants to support a greener, healthier and gender equitable agriculture sourcing chain.

The Good Life X or GLX, was supported by German development cooperation GIZ Sri Lanka in 2018, and began as an effort to absorb the risk of innovative Sri Lankan entrepreneurs in food, wellness, tourism and design, utilising the model of an accelerator to provide rapid immersive learning on business strategy, product design innovation, and access to markets.

In February 2020, just prior to the pandemic lockdown, the program took a handful of its agri-food business participants, Good Market, Lanka Organics, Kimbula Kithul, and SOZO to attend BioFach Germany – the world's largest organic food conference.

Amongst attendees that included some of the biggest international organic food buyers and sellers, emerging trend-setters, and also organic niche brands from some of Sri Lanka's largest agri-conglomerates, these GLXers (as they are more casually called) found that their innovative, sustainability and equity consciousness thinking as fostered by the GLX program was very much in the way food leaders of the world were thinking. In its work in both Sri Lanka, and via exchange of expertise and occasional partnership or visit opportunities with countries including Germany, the Netherlands, the USA, Thailand, and Hong Kong GLX has been focused on programming that goes beyond lip-service to good business practices.

Once startups and SMEs apply and are competitively selected into one of several Good Life programs, including the cyclical Good Life Accelerator for startups and the GLX Garage for SMEs, they receive growth investments including expert coaching, one-on-one strategising, workshopping in fundamentals (branding, go-to-market, legal, human resources etc.), seed funding, and international partner matching.

And there's no catch except that participants push themselves for growth and take on an ethos of collaboration and paying it forward to each other and other businesses that could join the network in the future. GLX's success is in the success of the burgeoning businesses that are proud to call themselves alumni.

In 2020, even after COVID-19s realities set in GLX only dug in deeper to its Good centred ethos – running four successive (sometimes concurrent) programs and increasing business support from six businesses in its first year to over 20 in its second.

Agri-food business, a space which GLX identified as a key focus area two years prior to the pandemic which highlighted the promise of this sector, continues to be one of GLX's core areas of expertise. Utilising partnerships with the renowned ESCP School of Business's Berlin Campus and insights from industry experts across the world, companies with GLX are able to tap into support networks across the full value chain – from sourcing, to branding, to the need to know details of building an international business.

To date GLX's full alumni list in the sector includes all listed above as well as Good Folks, Honest Greens, Raw Juice, Serendipol, Target Agriculture and Us On Earth – all cutting-edge brands adding local value and signaling a change in business thinking with the drive and readiness to step into the global marketplace.

GLX is continuing to be connected and work with them all, even post-program durations, championing the change they are working to bring. GLX's end-game is to grow-the-good every year, and is currently in works into expand its global partnerships further.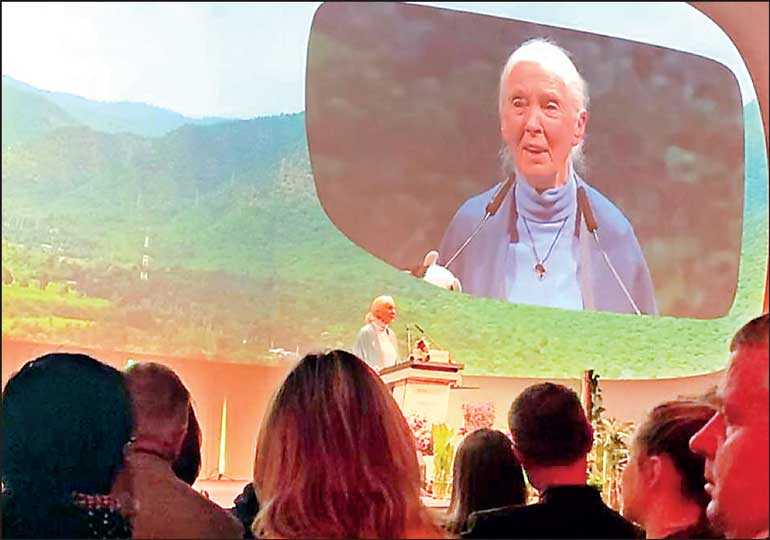 Keynote by Primatologist and Anthropologist Dr. Jane Goodall at BIOFACH 2020