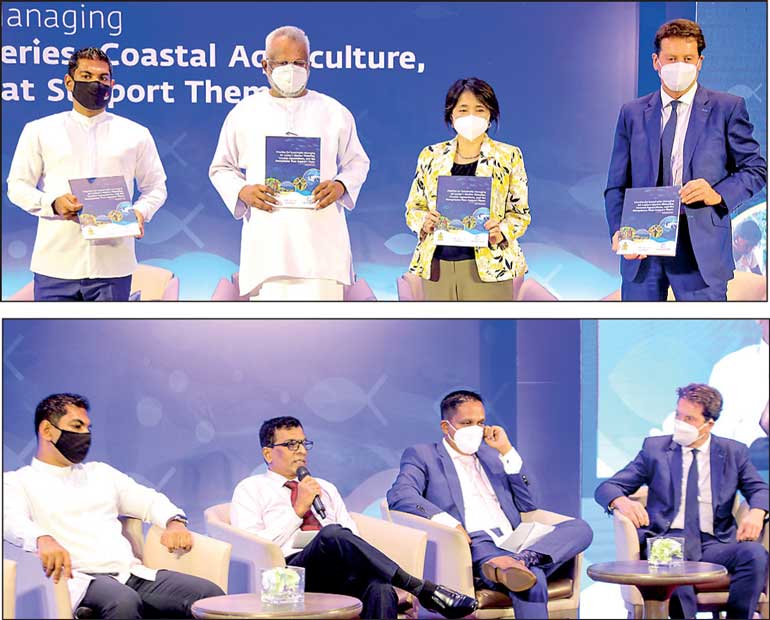 ---
The Government and the World Bank recently convened a high-level policy dialogue to discuss the findings and recommendations of a report titled "Priorities for Sustainably Managing Sri Lanka's Marine Fisheries, Coastal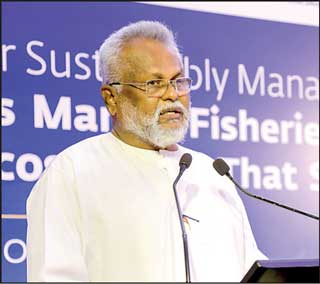 Fisheries Minister

Douglas Devananda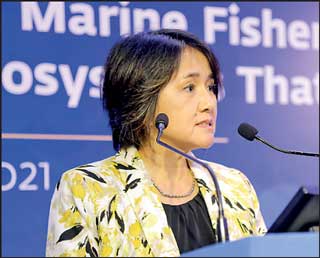 World Bank Country Manager Maldives and Sri Lanka South Asia Chiyo Kanda
Aquaculture, and the Ecosystems that Support Them."

Fisheries contribute significantly to livelihoods and food security in Sri Lanka. Sri Lankans get about 50% of their animal protein from fish, which is about three times the global average. Coastal and marine fisheries provide full- or part-time direct or indirect employment to some almost 1 million people and support the livelihoods of another 3.6 million Sri Lankans. At the same time, the sector's contribution to gross domestic product (GDP) and export revenues are modest. In 2019, these were only 1.9% and 1.5%, respectively.

"The fisheries sector has the potential to make Sri Lanka competitive in the global markets and to increase jobs, food security, and export earnings in a sustainable manner for the benefit of local communities," said World Bank Country Director of Sri Lanka, Maldives, and Nepal Faris Hadad-Zervos. "New knowledge, innovative thinking, and close coordination between the public and private sectors are crucial to realising this potential."

Sri Lanka's marine fisheries sector was hit hard by the COVID-19 pandemic. Fish catches declined as much as 20% and exports fell by 26% in 2020. National catches are not sufficient for domestic demand and need to be complemented by imports. In 2020, Sri Lanka imported $ 218 million worth of fish. The sector was already challenged due to overfishing, declining fish stocks, degradation of coastal ecosystems due to habitat destruction and pollution, and the impacts of climate change. Sustainable management of fisheries is key to ensuring Sri Lanka's food security and meeting the high domestic demand for fish.

"The report's findings and recommendations for the green, resilient and inclusive development of fisheries, with a special focus on coastal fisheries, coastal aquaculture, multiday fisheries, food security, and jobs and livelihoods, will enhance the sustainability of the sector and its contribution to GDP and exports," said State Minister of Ornamental Fish, Inland Fish and Prawn Farming, Fishery Harbour Development, Multiday Fishing and Fish Exports Kanchana Wijesekera.

The report provides policy and investment recommendations to improve existing practices, knowledge, and technology of the fisheries sector. Declining fish stocks can be managed if the fisheries management plan is based on regular data collection of fish stocks. Changing unsustainable fishing practices is also critical. For example, multiday fishers' fish for weeks at a time but lack proper vessels to store their catch, impacting the quality of fish catch. In fact, only 16% of Sri Lanka's yellowfin tuna, which make up a large percentage of multiday fisheries catch, are of exportable quality. Modernising fleets and fish handling practices could improve the quality of fish landed and consequently increase export revenues.

The report also notes that habitat destruction and pollution need to be addressed with conservation approaches, but can also be supported by alternative livelihood options to decrease dependency on the fisheries sector. Lessons from the COVID-19 pandemic have demonstrated the need to expand income opportunities for fishing communities, particularly when fishing is not an option.

The report was prepared with support from PROBLUE, a multi-donor trust fund administered by the World Bank, and in close cooperation with the Ministry of Fisheries. Report preparation included consultations with fisheries communities as well as with representatives of NGOs, academia, and the private sector. The report analyses the challenges and opportunities in three sub-sectors: marine capture fisheries (coastal, offshore, and high seas) and coastal aquaculture.