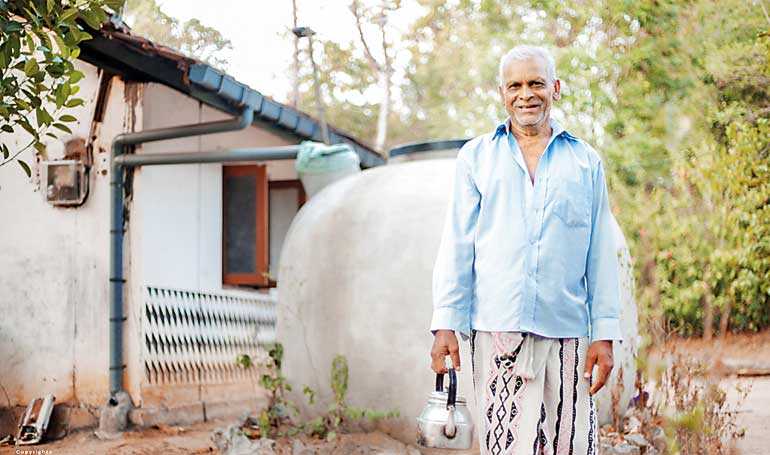 Life has changed for those from Kilinochchi, Badulla, Moneragala and Batticaloa thanks to the water harvesting project of the Lanka Rain Water Harvesting Forum (LRWHF) which is nearing completion.

The three-year project to provide safe disaster-resilient drinking water to floods and drought prone areas in the island commenced in 2016. The project also sought to provide more efficient disaster-resilient water supplies to vulnerable communities, strengthen the capacity of disaster-prone communities and institutionalisation of Disaster Risk Reduction (DRR) policies and practices related to flood and drought management.

The project which is facilitated by the LRWHF in partnership with the PALM Foundation seeks to build capacity of officials, professionals and communities to provide safe, disaster-resilient drinking water to influence the policies and practices of flood and drought management. The project is funded by the USAID.


While nearly 17,900 people from391 households in the Kilinochchi, Badulla, and Moneragala Districts have been blessed with safe drinking water by the LRWHF's project, 48 schools and 10 medical clinics have been installed with RWH units.

In terms of storage facility and capacity, 8,000 litre capacity storage tanks are promoted for domestic use while, 10,000 to 16,000 litre capacity tanks are promoted for hospitals and 30,000 litre capacity for schools.

A domestic RWH tank in the dry zone which receives less than 900 mm annual rainfall can meet the daily water demand of 60-70 litres for cooking and drinking, during the driest days off a small roof (50 m2) catchment.


The PALM Foundation which is collaborating with LRWHF under the project is providing safe drinking water and promoting sanitation facilities among 4,200 families from 25 Grama Niladhari Divisions in five Divisional Secretariat Divisions of Batticaloa. Pure drinking water facilities are also provided for 54 government schools, benefitting around 10,000 students.

These divisions are the most susceptible to floods and the most vulnerable are the low income families. Only 30% of the households in the entire Batticaloa District have piped water connections and many of them cannot afford water connections through the National Water Supply and Drainage Board (NWSDB). The few available main water lines are not connected to the vulnerable areas making it a nightmare for the residents.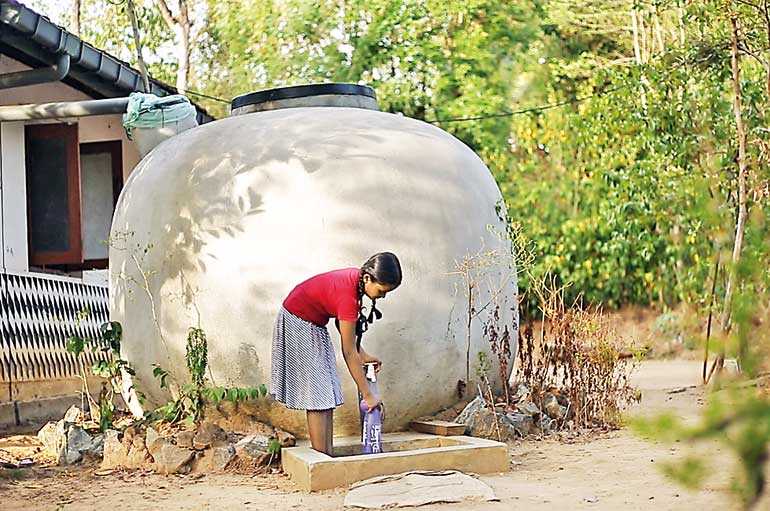 Rain Water Harvesting (RWH) is defined as 'a collection of run-off rainwater for domestic use, agriculture, soil conservation and environmental management.' The rainwater is collected from the surfaces on which it falls and subsequently stored for later use. The options of rainwater storage are many ranging from Reinforced Concrete Cement, masonry, Ferro Cement or plastic. The storage can be placed above ground, underground or partially underground.As LRWHF CEO Dr. Tanuja Ariyananda explains: "Rain Water Harvesting is not new to our country. In fact the very first proclamation on RWH was made by King Parakramabahu the Great who said not to let a single drop of rain water runs to the sea without utilising for human consumption. The irrigation marvels of our ancient monarchs are living embodiments of this technique which still continues to feed acres of agricultural land. What we are trying to do is to revisit this age old practice at a time when climate change is unprecedented and replicate it to the modern setting."


LRWHF was established in an informal way in early 1996, by a small group of people interested in rainwater harvesting for domestic use. The idea was to bring professionals and practitioners together to promote, research and foster rainwater harvesting in the country. Today it is a registered Social Services Organisation under the Ministry of Social Services.

In its 23-year journey to date, the experience gained by LRWHF has made it possible to influence the Government and other stakeholders to take on rainwater harvesting as a possible and a feasible option for domestic rural water supply. The tireless efforts of the LRWHF led to the National Policy on Rain Water Harvesting in 2005 although its proper implementation hasn't been fully achieved.