According to the Planters' Association of Ceylon, worker welfare, rights and remuneration or wages in Sri Lanka are way better than in any other major tea-producing nation elsewhere in the world – Pic by Shehan Gunasekara
---
The Planters' Association of Ceylon (PA) wishes to respond to the damning indictment by London-based Slavery and Trafficking Editor Kieran Guilbert to their previous statement which highlighted facts, following a highly questionable and probably irresponsible report by Reuters' freelance journalist Lisa Fuller, in her article titled 'Tea label giants vow probe after Sri Lanka labour abuse expose'.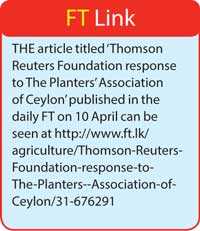 Mr. Guilbert has completely ignored the indisputable facts pointed out by the PA, the 165-year organisation that represents the interests of 22 Regional Plantation Companies, almost all of which are public quoted and listed on the Colombo Stock Exchange. The PA wishes to remind Mr. Guilbert that margins made on every kilogram of speciality teas sourced from Sri Lanka and sold at upscale retail outlets in London and the world over, are not made by Sri Lankans but by large-scale traders in the world's urban centres, many of which are in the West.

The PA is compelled to set the record straight to Thomson Reuters and the general public on the very inaccurate allegations which has obviously not sought out proper references or research. The PA is also taken aback at the standards and approach taken by Thomson Reuters and appalled at their lack of professionalism in the treatment of the story.
'None of the PA's RPC members referred us to the Planters' Association for comment'
The Planters' Association of Ceylon was formed in 1854 and is the sole apex body that represents the interests of the 22 RPC's in Sri Lanka's commercial plantation industry. It is incomprehensible that Ms. Fuller was not or did not bother to make herself aware of the presence of PA for her article.

Surely Mr. Guilbert as Slavery and Trafficking Editor for Thomson Reuters could have inquired and made himself aware that such a long-standing, professional associations exists which is also in a tripartite agreement with the Government of Sri Lanka and the leading trade union – that has representation among estate workers, in the Plantation Human Development Trust or PHDT as it is commonly known?

Is it to be assumed that he and Ms. Fuller chose to ignore the presence and active involvement of PA and PHDT, which has an office in every plantation district of Sri Lanka?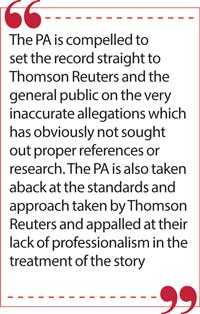 The PA therefore expresses its disgust in that Thompson Reuters Foundation neglected their responsibility in a fair and balanced report and in having spoken to relevant and key authorities to ascertain facts in developing their story.
Number of direct quotes representing RPC position
Guilbert's claim that Fuller's report was 'fair, accurate and impartial with all sides in this story given their opportunity to comment' seems absurd as the 'opportunity' of short conversations were given to only four plantation executives, as opposed to the seven sources she quotes in her story.
Accusations of unauthorised deductions dropped
The central accusation in Ms. Fuller's article, highlighted thrice, was that "some workers at tea estates certified by Rainforest Alliance and Fairtrade were taking home as little as Rs. 26 a day after fees and deductions levied without consent."

Following the PA's response that such deductions could never be made without the employee's consent, Mr. Guilbert has dropped the term "consent" from his response, which has been drastically altered in the process and upon reading the PA's initial response.

Given that the criticism from Reuters has changed, the PA now wishes to draw attention to the fact that Ms. Fuller attempted in her original article to characterise "labour abuse" as being a widespread phenomenon in Sri Lankan RPC estates, despite the 'expose' itself being based on the findings of the wages of 17 individuals out of a total RPC workforce of 145,000 – amounting to a sample of 0.01% of the RPC sector's entire labour force. Moreover, the PA has only been provided with three samples out of the 17 alleged wage slips, making verification of their allegations a serious challenge.

Let us apprise Thomson Reuters on the wages cycle of plantation workers. The perennial and current remuneration practice on estates is that wages are paid on or by the 10th of the following month. However, as pay-day across most companies is around the 25th of each month, plantation workers are entitled to claim an advance, based on the number of days worked up to the 15th of each month, on the 25th of the said month. Hence on their official pay-day, which occurs approximately two weeks later, the larger quotient of their wages has already been deducted. Furthermore, if the worker does not report for work for the rest of the month, then statutory deductions such as EPF/ETF combined with advances taken against food items from the co-operative store, causes recoveries to be in excess of their wages.

This is cyclic and a norm among the estate worker, which they are fully aware of and which is discussed and shown to them and their consent obtained, three to five days prior to their official pay day. Most plantation workers avail themselves of this entitlement. It would have been prudent for Thomson Reuters to examine this detail without rushing into judgment.

Without prejudice to this position, we are at a loss to understand how Ms. Fuller drew the conclusion that her investigation amounts to a valid claim of widespread institutional malpractices in the Sri Lankan tea industry. From just a fraction of wage slips in a particular area, Ms. Fuller has sought to insult the entire plantation industry. Obviously importance has been given to create sensation rather than examine the facts.



Fortunately, independent investigations have now taken place by organisations mentioned in Ms. Fuller's attack, such as Rainforest Alliance and Unilever, with independent auditors having thoroughly investigated the alleged non-conformities pointed out by Ms. Fuller. The Rainforest Alliance certified seal is awarded to plantations and businesses that meet rigorous environmental and social standards and has been adopted in almost all the RPC companies. Below are some excerpts of Rainforest Alliances independent audit report:

"The Rainforest Alliance is aware of the allegations of non-conformance of our certification program on select tea estates in Sri Lanka, which were reported by Reuters on 27 March 2019.

"As part of our own, independent investigation, we began investigative audits on the farms in question immediately upon being notified of the report. Preliminary results carried out by the authorised certification body confirmed there were no forced labor practices detected in these unannounced audits, wages paid are aligned with the national Collective Bargaining Agreement for Sri Lanka, and most of the wage deductions appear to be legal, but improvement need to be made in properly communicating these deductions to workers.

"The full report can be read through this link; https://www.rainforest-alliance.org/statements/tea-estates-sri-lanka

"Following are the findings from NEPCon, an independent audit firm's investigation on behalf of the Rainforest Alliance:

"In all five tea estates, the audit team conducted reviews of records related to wages and benefits paid to workers as well as interviews with workers and estate representatives.

"Our findings show that none of the wage deductions identified during our audits were made without prior approval by the local authorities or without workers' consent. In fact, workers are made aware of the pay slips and all components in the local language four days prior to the payday. This provides chances for them to clarify uncertain deductions, if any, with the estate management before the payment is made.

"As per the standard auditing practices, we analysed random samples of pay slips at five tea estates. The auditor team responsible for these recent audits did not come across a situation that the wage deductions exceed 75% or the daily wage is as low as 14 US cents as presented in the article.

"In Sri Lanka, wages of estate workers must be decided by the Collective Bargaining Agreement (CBA) Year 2019-2021 between Employers' Federation of Ceylon and the Ceylon Workers' Congress, Lanka Jathika Estate Workers Union. The investigation has verified all five estates have followed this agreement.

"Contrary to the finding presented in the article, interviews with workers in five audited estates confirm that there was no wage deduction even if they picked less than the daily picking quota. Our auditors also paid careful attention while interviewing workers to ensure workers talked to us without the presence of their managers."

The contradictions evident between the third-party independent auditor's detailed investigations of and the cursory study conducted by Ms. Fuller raises many doubts as to the veracity of her claims and overall credibility of her story.

Moreover these findings make rubbish of Ms. Fuller's and Mr. Guilbert's allegations and those of lawyers representing a trade union faction that wages were being "halved" if they failed to meet the estate plucking norm or report to work on time.

Reuters maintains that: "Section 4 of the Allowances for Plantation Workers Act applies to the Wages Ordinance Act to dictate that the ceiling for deductions for plantation workers is 75% and not 50%." Unsurprisingly at this point, Mr. Guilbert's citation is not accurate.

In addition to referring to the Wages Ordinance as an 'Act' instead of an 'Ordinance', which we will assume was a clerical error, the section on allowances to Plantation Workers Act for Tea Growing and Manufacturing Trade cited by Reuters merely states that the Wages Board Ordinance applies to plantation workers on tea and rubber estates among others.

A more relevant provision to the matters at hand is contained in the Wages Ordinance itself, in Section 2 which states:

The employer of workers in any trade shall comply with the following provisions of this section regarding the payment of wages to every such worker—

(a) He shall, subject as hereinafter provided, pay such wages in legal tender directly to the worker, without any deduction other than an authorised deduction, as hereinafter defined, made with the consent of the worker:

Provided that the aggregate of the deductions so made at any one time shall not exceed—

(i) seventy-five per centum of the wages due, in the case of a worker in any trade specified by the Minister for the purposes of this paragraph by Notification published in the Gazette; and

(ii) fifty per centum of the wages due, in the case of a worker employed in any other trade;

For the purposes of this paragraph a payment which, immediately after the wages are paid to the worker, is made out of the wages by the worker to the employer or to an agent of the employer, shall be deemed to be a deduction from the wages.

In this paragraph «authorised deduction" means a deduction made in such manner and subject to such conditions, if any, as may be prescribed in respect of—

(i) any advance of money made by the employer to the worker,

(ii) any payment which, at the instance of the worker, is made out of the wages of the worker by the employer to any person other than the employer or an agent of the employer in order to discharge any obligation of the worker or for any other purpose, or

(iii) any other prescribed matter.

In its practical application, the 75% limits on deductions made reference to in the Wages Board Ordinance is in relation to rubber estates, and the 50% is for tea estates. Once again, Reuters is caught out either displaying its inability to accurately verify data, or more worryingly, is intentionally misconstruing information in order to push a narrative that damages the Sri Lankan tea industry.
Allegations on failure of RPC employees to use protective gear
In her initial article, Ms. Fuller claimed that: "several labourers…complained that their estates only abided by the certifiers' ethical standards during audits but they were afraid of reprisals if they revealed this to auditors."

The article thereafter makes reference to safety standards when spraying agro chemicals. However, in his response, Mr. Guilbert concedes that "most workers said protective gear is always available to them, but they don't usually wear it because it is so unwieldy that it makes their jobs nearly impossible."

Compelling worker compliance with international certification standards is a challenging task. Resistance from employees towards best practices is one such ongoing challenge which the RPCs continue to encourage their workers to comply. If there are instances where there are failings in this policy, the PA acknowledges that further efforts must be made by its members to ensure worker safety beyond purchasing safety equipment, making it available for workers, training them in the use of said equipment and educating them on the importance of using protective gear.

Unfortunately, Thompson Reuters Foundation has produced no further evidence beyond the anecdotal claims that some estates may have employees who refuse to use safety equipment that has been provided.
Trade union action
The PA maintains that to this day, no signatory trade union of the Plantation Collective Agreement has filed action based on allegations of halving pay of estate workers, outside of the collective agreement. Reuters claims that such a 'halving' took place, but has produced zero evidence to this fact beyond insisting that this is the story they were told by workers and lawyers representing a trade union, which is not a party to the Collective Agreement.

Sri Lankan RPCs still firmly among the most ethical tea producers in the world

Worker welfare, rights and remuneration or wages in Sri Lanka are way better than in any other major tea-producing nation elsewhere in the world. Scathing accusations, which appear to be nothing more than discrepancies in the maintenance of appropriate limits on how much salary advance employees were allowed to claim from the company, out of a sample of literarily 0.01% of the RPC workforce, by Thomson Reuters, seems irrelevant and out of place.

In that context, the continuing inaccuracies which are freely published by and on behalf of Thomson Reuters further illustrates the continuous failure to apply any rigor into their research. Instead they have sought to cherry pick information to bolster a sensationalist narrative – all at the cost of the truth, ultimately, to the detriment of Sri Lankan economic interests, and by extension, those of the estate sector communities they mistakenly believe that they are providing aid to.

If Ms. Fuller or Mr. Guilbert, or any other journalist from any publication whatsoever wishes to publish articles that relate to the Sri Lankan RPC sector, or the plantation sector in general, the PA politely urges them to at the very least contact the PA Secretariat for further comment prior to publication in order to ensure that these types of drastic failures in fairness and accuracy do not occur in future.