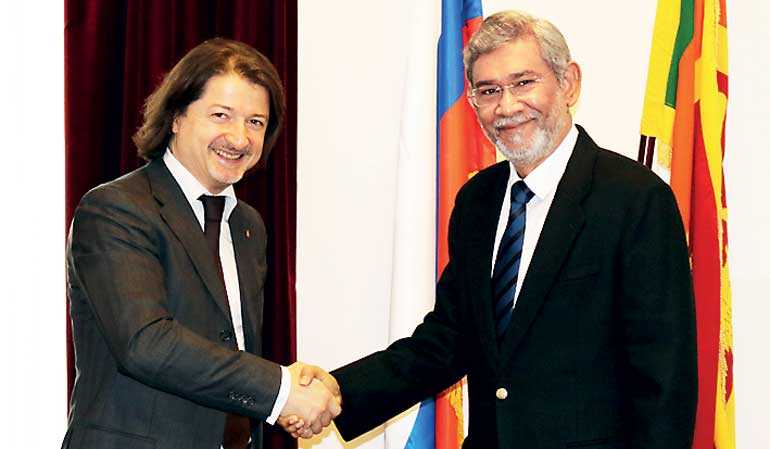 Ramaz Chanturiya, General Director of Rusteacoffee – the country-wide association of tea and coffee importers and producers under the wing of the Russian Ministry of Agriculture, paid a courtesy call to Ambassador Dr. Dayan Jayatilleka on 2 October.

The meeting with Chanturiya highlighted the leading role played by Rusteacoffee Association in the sustainable development of tea market not only in the Russian Federation and also spreading onto other global tea producing and consuming countries.

As the founder of the global concept of Tea Masters Cup Championship, Chanturiya explained the objective of their Association to elevate the tea trade to a new level, showing tea, in its different forms and regional varieties, as a beverage with a lot of colours and improvisation. With a number of promising Tea Masters taking part in it alongside renowned chefs and popular baristas, the Championship has contributed to the promotion of tea among the young generation of consumers, while helping to position premium Ceylon teas in an important global market segment.

The discussion underscored the role of Sri Lanka Tea Board (SLTB) as the apex government organisation of national tea industry and principal interlocutor of Rusteacoffee Association. SLTB is currently in the process of establishing a local body of Tea Masters Cup in Sri Lanka. SLTB sponsored the 2016 edition of Tea Masters Cup and will again become the general sponsor of Tea Masters Cup Championship in Russia next year.

Ambassador Dr. Jayatilleka expressed his deep appreciation to Chanturiya and his organisation for their initiatives and programs aiming at the promotion of tea in an innovative way. While assuring Chanturiya of the continuous support given by the Embassy to the initiatives of Rusteacoffee, the Ambassador appreciated his vision to tea as heritage, culture and philosophy integrated with, but also reaching beyond trade.

Born in Georgia which is proud of its own tea growing tradition and the heritage of the major supplier of tea in the USSR, Chanturiya represents the third generation of tea experts and traders. He has a degree in food technology and a background in food industry as well as in journalism. Chanturiya has been the Director General of Rusteacoffee association since 2001, and the Editor-in-Chief of Coffee & Tea International Business Magazine since 2007.