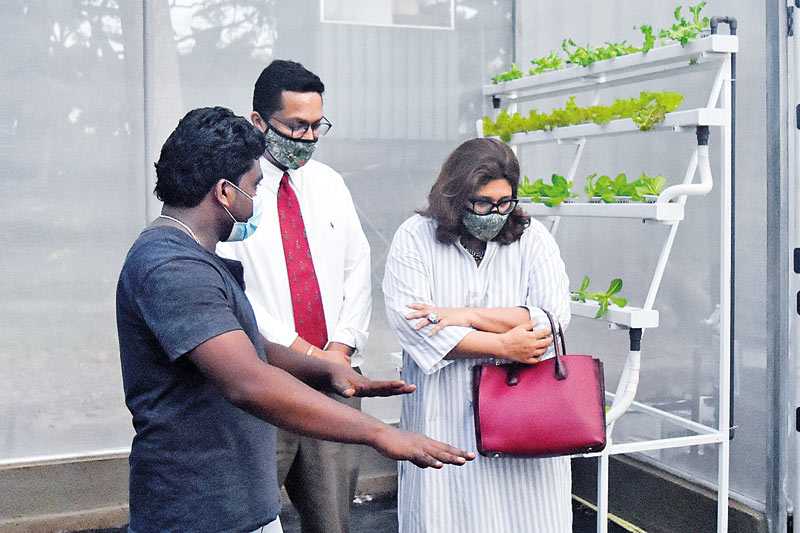 Head of Aigrow Mechanical Engineering, Asanka Sudeshana explaining the three hydroponic models to Dilmah Tea CEO Dilhan C. Fernando and his wife Serena
---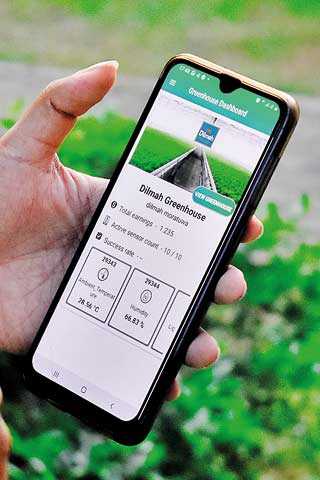 A customised application monitors the soil moisture levels, ambient temperature, humidity and light intensity in the greenhouse in real-time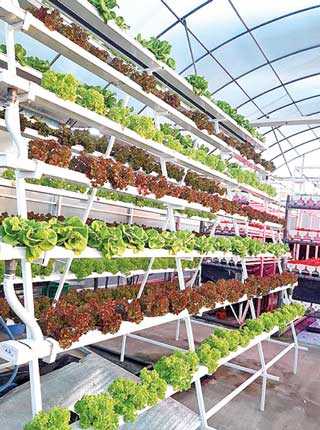 NFT Systems Nutrient Film System is a hydroponic technique in which a shallow stream of water is recirculated past the bare roots of plants
---
Hydroponics systems improve water efficiency in agriculture and strengthen productivity by increasing the quantity and value of produce. Dilmah Conservation in partnership with Aigrow looks towards bridging the gap between technology and the farming community by creating awareness on global agricultural shifts
Climate change and water scarcity affect all walks of life in Sri Lanka and requires modern, practical solutions across a number of sectors. Strategic changes are needed in the agricultural sector in particular, which accounts for 70% of water use worldwide.

Dilmah Conservation partnered with Sri Lanka's leading innovators Codegen International's AiGrow to establish climate smart agricultural techniques like hydroponics to urban communities struggling for food security and to empower rural farming communities to adapt to the realities of a changing climate. Hydroponic farming can increase revenues, provide a platform to increase economic opportunity and new, competitive skill sets using advanced technologies to assist local farmers and growers to keep up with global agricultural trends and shifts.

Dilmah Conservation's first Hydroponic Greenhouse was established at the One Earth Centre in Moratuwa which is an educational and research centre dedicated to sustainable agricultural methods. The first greenhouse is 600 sq. ft and will function as a pilot model to educate and create sector and community awareness on hydroponics and vertical farming models. This includes Growbag cultures, Nutrient Film Techniques (NFT) Systems and Bed Cultures, all of which are soil less, water efficient climate smart models suitable to grow produce and create edible gardens.

This is the first step of an extensive project lined up between Dilmah Tea and AiGrow. As producers, Dilmah is focused on the future of agriculture and is committed to share knowledge, expertise and best practices with all other farmers and growers across the island. The increase in development and adoption of sustainable technologies, of climate smart agriculture, of knowledge of how to adapt to the new realities, has been unprecedented in the past decade, especially in the last year. It is evident today that there is far greater potential and opportunity in climate smart agriculture, production and lifestyles than in holding on to the past.

Dilmah was founded on the knowledge of its enduring connection to the land and the surrounding communities in which it operates. Dilmah Conservation is a symbol of Dilmah's comprehensive commitment to minimising its impact on the planet, to fostering respect for the environment and ensuring its protection by encouraging a harmonious co-existence of man and nature and the sustainable use of the environment.

The One Earth Centre at Moratuwa is a hub of conservation and sustainable initiatives, which include Sri Lanka's first open air butterfly garden, the One Earth Arboretum which houses over 300 endemic and precious floral species, the Heritage Centre dedicated to conserve the island's unique culture and the Sustainable Agricultural Farm. The Hydroponics Greenhouse is the latest addition to the farm, which is dedicated to educate urban communities on everything from organic gardening and permaculture to vertical gardening and composting. It is open to the public for free on Wednesdays from 9 a.m. to 4 p.m.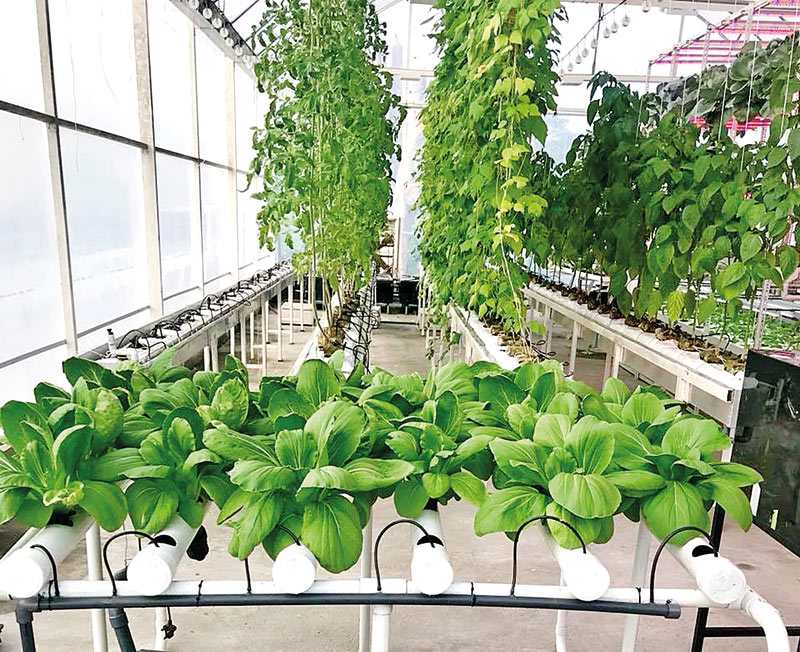 Hydroponic growbag cultures are suitable for growing annual fruit crops such as bell pepper, tomatoes, cucumbers, eggplant, okra, etc.
---