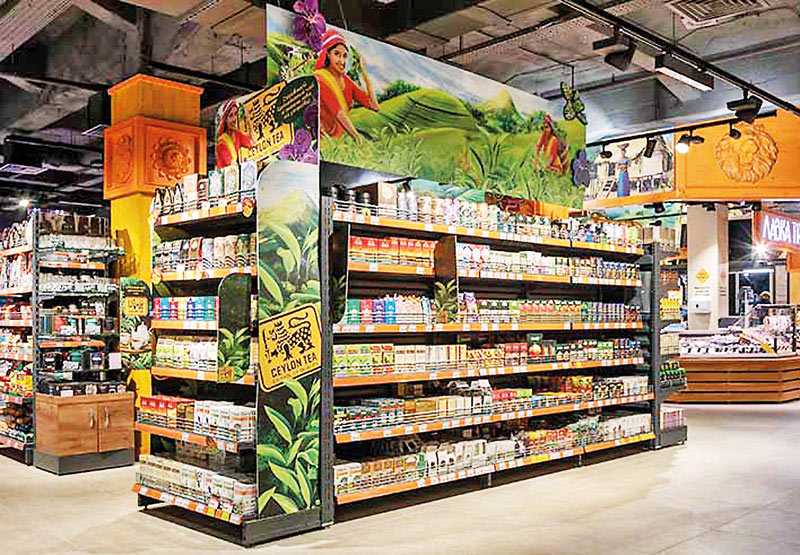 ---
Joint initiative by Ukranian giant biz group Fozzy Group and Sri Lanka Tea Board 
Ukraine fourth largest tea importing country in Russia/CIS Region
Ceylon Tea enjoys dominant 22% market share in Ukraine
---
The world's first Sri Lanka-featured mall has been opened in Kiev, Ukraine, providing unrivalled Ceylon tea shopping facilities and experience. 

The initiative is following discussions between Sri Lanka Tea Board and Fozzy Group, one of the largest trade industrial groups in Ukraine and one of the leading Ukrainian retailers, with over 500 outlets. Slipo was established in 1998 and the Fozzy Group sells food and household products via its Silpo supermarkets chain and Le Silpo. 

A Sri Lanka Tea Board delegation met Silpo Food LLC during the official visit to Ukraine in last year and impact of that discussions, the Silpo supermarket chain of Fozzy Group proposed this novel concept to promote Ceylon Tea by setting-up a Sri Lankan featured shopping outlet in greater Kiev under the Silpo supermarket chain 

Further the Sri Lanka Tea Board established a separate zone for Ceylon Tea at Silpo – Sri Lanka mall, offering tea tasting, details of the diversification of the Ceylon Tea and lion logo, Ceylon Tea face masks, etc. The Silpo – Sri Lanka mall offers customers a wide variety of Ceylon Tea signature brands packed in Sri Lanka with the lion logo such as JAF Tea, Basilur, Dilmah, Akbar, English Tea Shop and Hayleys.

The Sri Lanka Tea Board is also planning to conduct promotional and branding activities for Ceylon Tea at the Sri Lankan featured mall and some of the identified outlets of Silpo Supermarket Chain such as degustation, category branding and placement for Ceylon Tea brands, shelf-talkers with lion logo, educational programs about Ceylon Tea, tea ceremonies, and Ceylon Tea competitions, with the prize being visits to Ceylon Tea lands in Sri Lanka. The Tea Board is coordinating with Silpo Food LLC in Kiev Import Manager Olesia Oliinyk for all operational activities.

Sri Lanka Tea Board Director Promotion Pavithri Peiris said degustation sessions and educational programs would be started in 2021 due to the pandemic situation in Ukraine. She also said that SLTB was planning to roll out the Ukrainian Ceylon Tea promotional campaign by early next year and the promotions would be conducted three ways, targeting Key Opinion Leaders (KOLs), public relations and search engine optimisation.  

Ukraine is a traditional tea consuming nation and the fourth largest tea importing country in Russia/CIS Region after the Russian Federation, Kazakhstan and Uzbekistan. Sri Lanka has taken the leading position in the Ukrainian tea markets with a share of around 22% in volume term followed by other major suppliers such as India, China, Kenya and Vietnam. As per the Sri Lanka Customs data, around 70% of Ceylon Tea was exported to Ukraine in bulk form and balance 30% in packets and tea bags.