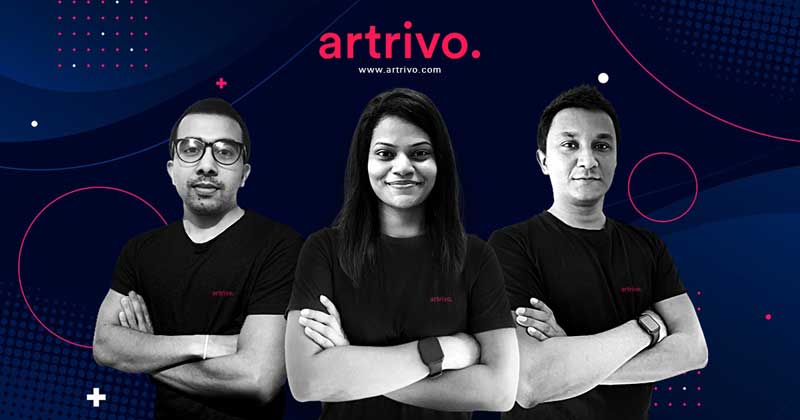 Left to Right: Poorna Seneviratne (Co-Founder & Director Search Marketing, Udari Jayasekara (Managing Director), Lahiru Wishvanath (Chief Executive Officer)
---
As Artrivo celebrates its 1st year anniversary, the company expresses its gratitude towards its clients and highlights that it is a privilege to be working with both local & international clients across multiple industries such as The Secret Ella, Lé Maas Tota Villa by 98 Acres, Ceylon Hotels Corporation, George Steuart & Co (Sterill), Cacao Elephant and Wandering Unicorns in the travel & hospitality industry in Sri Lanka and Empire Teas (Pvt) Ltd (Sri Lanka) Empire Kenya, Thurson Teas, Thurson Australia (Australia) and Cacao Bean Restaurant & Café (UK).

The clientele of Artrivo (PVT) Ltd
---
"While this is a great milestone for us, we would like to extend our gratitude to our amazing clients for placing their trust and confidence in Artrivo in making our first 12 months of many more, a success."
said Lahiru, the CEO of Artrivo (PVT) Ltd. Artrivo (PVT) Ltd is a pure Sri Lankan startup which commenced its operations in the midst of the pandemic in 2020 with an initial focus of delivering innovative and high-performing digital experiences. It is the brainchild of three former colleagues with a collective experience of more than 20 years, who now dedicate their full-time effort into the success of the company along with a compact team of 8.
The idea behind Artrivo came from realizing that web architecture as well as UI/UX can be taken to a completely different level and yet be more sustainable with the 6-step approach while delivering high performing, blazer fast and future-proof websites, from simple WordPress websites to complex WooCommerce solutions, adhering to the latest algorithms and technical standards in the industry, ensuring optimal security and protection in every aspect and optimized to be search engine friendly. While the company's forte is web design and development, it also offers post-launch search and performance marketing services which include analytical reporting and monitoring.
Artrivo has had a surge of success in just 12 months of operations offering cost effective solutions, both tailormade and prebuilt and was able to successfully expand its clientele from small to a larger enterprise segment while catering to local as well as international clients spanning from the United Kingdom, Kenya, and Australia.
Say Hello to Artrivo at [email protected] and follow-on social media to stay tuned for their latest news & updates!
Website: www.artrivo.com
LinkedIn: www.linkedin.com/company/artrivolab/
Instagram: www.instagram.com/artrivolab/
Twitter: twitter.com/artrivolab/
Facebook: www.facebook.com/artrivolab/