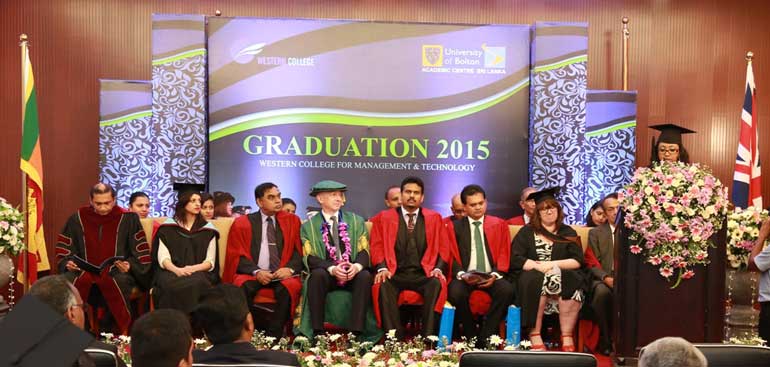 Head table of the annual graduation, (front row from left): Prof. Kennedy Gunawardena - Chairman of Board of Management Studies, Faculty of Graduate Studies, University of Sri Jayewardenepura, Fozia Uddin – Partnership Relations Manager, University of Bolton, Prof. Ranjith Perera - Senior Professor - Department of Electrical Engineering- University of Moratuwa, William Henry Charles Webster–Assistant Vice Chancellor University of Bolton, Eranga Weeramanthri – Chief Executive Officer – Western College Education Group, Pushpika Janadheera - Director Manufacturing, Associated Motorways (AMW), Christine Grant – Academic Partnership Manager – University of Bolton, Prof. S. Degamboda - Professor, University of Kelaniya. (Second row from left): Thanuja Irrugalbandara – Visiting Lecturer, Menaka Abeyratna – Lecturer Cum Academic Coordinator for Undergraduate Programme, Tharanga Medagangodage - Visiting Lecturer, Sampath Dayaratne – Consultant, Chalaka Subasinghe - Consultant - Isenguard Investments, Dr. Egerton Senanayake - Dean, HCBT Campus, Sakunthala Ellepola – Course Coordinator for MBA Programme, Eranga Weeramanthri, Chief Executive Officer of Western College for Management and Technology Sri Lanka, William Webster, Assistant Vice Chancellor- University of Bolton UK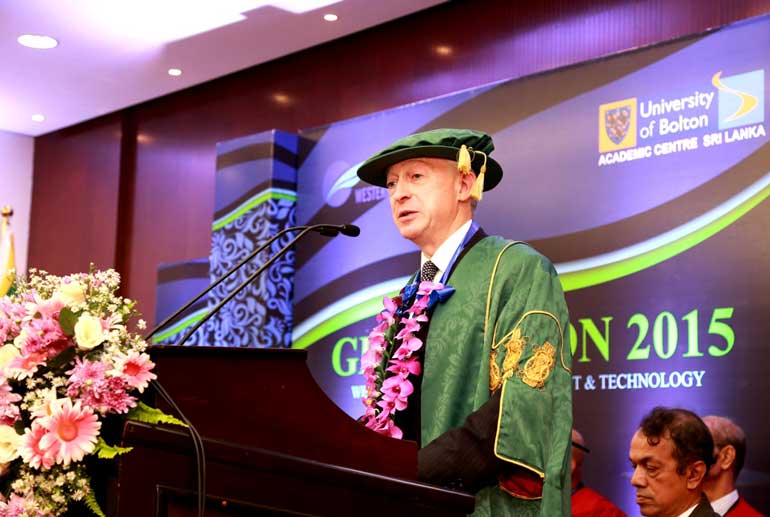 University of Bolton UK Assistant Vice Chancellor William Webster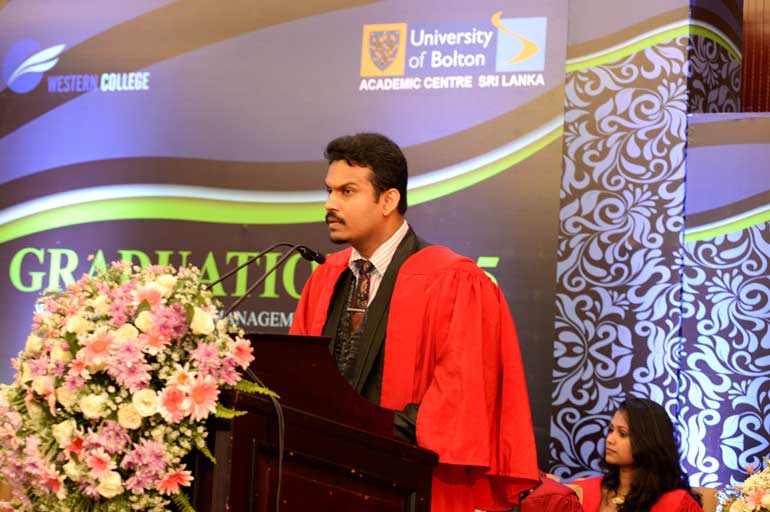 Western College CEO Eranga Weeramanthri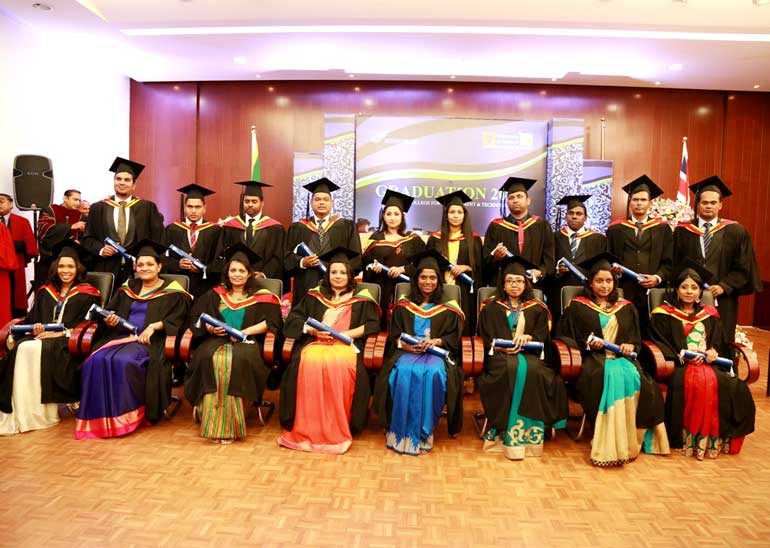 Students who were awarded degrees. From left, first row seated: Taniya Ondatjie, D. Suhini Himalika Fernando, Lakshini Geoge, L. Roshinie Rasika Fernando, Ayantha Iddamalgoda, R.P. Dona Ayodhya Senevirathne, Shanika De Silva Gopiharan, B.M. Crishani Wathsala Bannahake. Second row (from left): Jayanka Serasinghe, Roshan Mohamed, Mahesh De Silva, W. M. P. G. Duminda Dayan Jayathilake, Dona Ruvinisha Dilrukshi Kannangara, K.R. Deepika Sandamali Goonasekara, Polkotuwage Ashaka Suchith Jayapala, Janitha Pathum Athulatheja, Kingsley Subash Geoge, Thaminda Seevali B.S. Wicramasinghe
The Western College for Management and Technology recently held its first annual graduation at the BMICH, in the presence of Chief Guest, University of Bolton UK Assistant Vice Chancellor William Webster and Guest of Honour, Associated Motorways Manufacturing Director Pushpika Janadeera.

The convocation was also graced by Academic Partnership Manager (UoB) Christine Grant and Partnership Relations Manager (UoB) Fozia Uddin, along with several of the country's senior academics.

At this event students were awarded a Master of Business Administration (MBA) from the University of Bolton UK and a Higher National Diploma in Business from Pearson Edexcel UK.


While congratulating the graduates for their outstanding achievements, Webster stated: "Our university celebrates 190 years of history as an educational institution this year. Throughout those 190 years we have focused on education for men and women with their hearts and minds firmly set on their future careers."

He went on to reveal some of the developments at the university's main campus in England, saying: "We are investing for our future with a £ 25 million building program, creating new facilities for key areas of distinctive excellence. For our expanding Science and Engineering, Health and the Creative Industries subjects, together with our law school, we are creating new state-of-the-art buildings and facilities."

"We have also just announced plans to build a £ 40 million student village which will offer international students, who choose to come to the UK to study, the very latest in student accommodation choices. So, should you choose to continue your studies with us in the UK in the future, you will find our student accommodation in the centre of our thriving town of Bolton next to stunning historic architecture," he added.


In his message, Chief Executive Officer Eranga Weeramanthri drew attention to several important aspects of modern tertiary education, such as employability, that need to be on par with the socioeconomic advancement of the country.

Furthermore, he asserted: "We equip students with business and technology know-how to take on global challenges while standing on a steady ground of local values, beliefs and ethics.

"You are graduating at a time when the world is confronted with unprecedented challenges ranging from financial crises, scarcity of essential resources, environmental disasters and endless conflicts. I believe the training you have received at Western College has prepared you to make a difference in the world in which we live. Your ability to learn continuously, your readiness to find solutions to overcome obstacles and your research orientation and global vista will raise you high in your career and life. Moreover, you will have the unique opportunity and fathomless responsibility to contribute to the socioeconomic advancement of the country."

Another of the event's speakers, Janadheera, emphasised that new graduates would find themselves well-equipped to meet the challenge of employment and he was confident that the unique blend of academic and professional development which they had undergone at Western College would place them in good stead as their career developed.

At the event 20 MBA and 11 Higher National Diploma in Business graduates were presented with their certificates. Gold awards for the Best Performance at Cohort 1 and Cohort 2 were presented by the Assistant Vice Chancellor to R.P.D. Ayodhya Seneviratne and T. Suwimali Ondantjie. The Gold award for the Best Performance at the BTEC Edexcel Higher National Diploma in Business examination went to H.L.A. Krishmali De Silva.


The Western College for Management and Technology in Sri Lanka was established in February 2012 as part of an international collaboration with links to a wide range of reputed universities within the UK.

Students at Western College have a variety of undergraduate and postgraduate programs to choose from in the domains of business, computing and engineering. The courses are offered on both a part-time and full-time basis and students enrolled in the University of Bolton programs at Western College have the option of completing the entire program in Sri Lanka or moving to one of the UOB campuses in the UAE or UK.

Western College is a BOI-approved venture and is part of the Kartha Education Society (KES) Group of Institutions, which is a global education group. KES has significant experience in delivering transnational education across India, the UAE and in Sri Lanka through Western College.


Western College has excellent teaching resources, including state-the-art classrooms with internet and projectors, a well-equipped computer laboratory with internet access, Wi-Fi hotspots and a well-managed library to facilitate independent, group and classroom learning.

These syndicate learning facilities encourage students to work together and gain new knowledge while enhancing their soft skills such as teamwork, problem-solving and analytical and presentation skills.