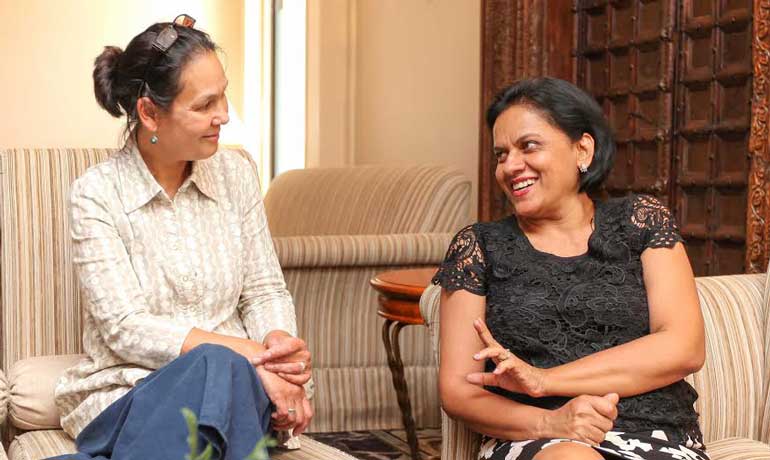 Scholarships for USA Director Priyanthi Dissanayake with Montana State University Agent Partnership Manager May Heriza
In the summer of '07, Priyanthi and Padmasena Dissanayake of Scholarships for USA Ltd., Sri Lanka made a historic journey to Bozeman, Montana to take a close look at Montana State's largest public university. They were the first ever Lankan recruiters to visit Montana State University. This husband and wife pair, unlike any other Lankan recruiter, worked exclusively with US schools. Their boutique operation was a result of their own search to secure the most affordable US education for their daughters.

Having succeeded in their efforts and realising how much US liberal arts and science education could contribute to the future of academically brilliant, ambitious and purpose driven Lankan youth, Mr. and Mrs. Dissanayake decided to dedicate their lives sharing knowledge, experience and passion guiding hundreds more Lankan sons and daughters to the world's best and most affordable education.

Their operation was unique in their search for reputed US universities and colleges that were little-known in Sri Lanka – and persuading selected institutions to accept Lankan candidates with the maximum financial aid. Starting in 2006, their policy of visiting every US partnering institution prior to placing students have taken them across USA – from downtown Honolulu, Hawaii to Greenville in rural Tennessee.

Back home in Sri Lanka, they introduced US education to furthest corners of the island de-stabilising the myth that US education is only for the wealthy elite. Their motto 'only with scholarships' enables them to place deserving students from Jaffna, Ampara, Anuradhapura as well as from many other provinces of Sri Lanka in leading US higher education institutes.

The first student placed at MSU by SUSA was Nishadi Wijewardene for IT/CS 2008. She was a transfer student from University of Colombo School of Computing (external) who completed her bachelors successfully and progressed on to MSU's grad school to complete masters. It took further three years for Dinal Perera, an honour student from Lyceum (Wattala) and Devinka Edirrisinghe from Colombo International School to join MSU's engineering department. In 2012 Schamali Jayaratne (Ladies) and Jamal Thajudeen (Lyceum –W) joined and in 2013 Imashi Fernando from the British School Colombo became the sole entrant to major in dietetics. Numbers jumped up in 2014 where Minura Malalanayake (from Ananda College) and the Lyceum (Panadura) duo Kisal Athukorale (Head Prefect) and Sadeepa Dilshan entered for engineering and business, along with Niro Shyamsunthar who entered MSU graduate program. In 2015, Swadik Suthagaran (educated in Chennai) joined the ranks of MSU.

In October 2015, Priyanthi and Dissa were delighted to welcome May Heriza, Agent Partnership Manager of MSU during her maiden visit to Colombo. She was very excited about the quality of Lankan students with their dedication, tenacity and focus. She said that MSU is currently home to students from 70 countries and Sri Lankans as a group perform at the very top in the MSU international community.