K. A. S. Subodha Sewwandi, 17, of Bomiriya Central College Kaduwela has won a prestigious award at this year's Intel International Science and Engineering Fair (Intel ISEF), a program of Society for Science and the Public.

Subodha received a Fourth Place Award of $500 in the Engineering Mechanics: Mecha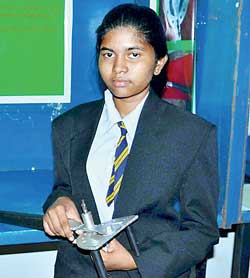 nical Engineering category for the project 'Supporting Rod to Climb Stair Case for Disabled Personnel'. She was adjudged as one of the individual winners after showcasing her project in this year's local competition 'Sri Lanka Science and Engineering Fair.'

"Intel believes young people are key to future innovation and that in order to confront the global challenges of tomorrow, we need students from all backgrounds to get involved in science, technology, engineering and math," said Indika de Zoysa, Country Business Manager, Intel EM Ltd., Sri Lanka Liaison Office.

"I hope Subodha's achievement will inspire other young people in Sri Lanka, to pursue their interest in these fields and apply their curiosity, creativity and ingenuity to the common good. I wish her the very best of luck in her future endeavours."

This year's Intel International Science and Engineering Fair featured approximately 1,700 young scientists selected from 422 affiliate fairs in more than 75 countries, regions and territories. In addition to the top winners, approximately 600 finalists received awards and prizes for their innovative research, including 20 "Best of Category" winners, who each received a $5,000 prize. The Intel Foundation also awarded a $1,000 grant to each winner's school and to the affiliated fair they represent.

Raymond Wang, 17, of Canada was awarded first place for engineering a new air inlet system for airplane cabins to improve air quality and curb disease transmission at this year's Intel International Science and Engineering Fair, a program of Society for Science and the Public.

Wang's system improves the availability of fresh air in the cabin by more than 190 percent while reducing pathogen inhalation concentrations by up to 55 times compared to conventional designs, and can be easily and economically incorporated in existing airplanes. Wang received the Gordon E. Moore Award of $75,000, named in honour of the Intel co-founder and fellow scientist.

Nicole Ticea, 16, of Canada received one of two Intel Foundation Young Scientist Awards of $50,000 for developing an inexpensive, easy-to-use testing device to combat the high rate of undiagnosed HIV infection in low-income communities. Her disposable, electricity-free device provides results in an hour and should cost less than $5 to produce. Ticea has already founded her own company, which recently received a $100,000 grant to continue developing her technology.

Karan Jerath, 18, of Friendswood, Texas, received the other Intel Foundation Young Scientist Award of $50,000 for refining and testing a novel device that should allow an undersea oil well to rapidly and safely recover following a blowout. Jerath developed a better containment enclosure that separates the natural gas, oil and ocean water; accommodates different water depths, pipe sizes and fluid compositions; and can prevent the formation of potentially clogging methane hydrate.

Society for Science and the Public, a nonprofit membership organisation dedicated to public engagement in science and science education, has owned and administered the competition since its inception in 1950 as the National Science Fair.

"Congratulations to Raymond, Nicole and Karan! Their selection as top winners really demonstrates the extraordinary work they have been able to accomplish at a young age in diverse topics," said Maya Ajmera, President and CEO of Society for Science and the Public. "We look forward to watching not only them, but the rest of the Intel International Science and Engineering Fair finalists as they progress further and pursue their interests in STEM. These talented young students are the problem solvers and innovators of their generation."

The Intel International Science and Engineering Fair honours the world's most promising student scientists, inventors and engineers. Finalists are selected annually from hundreds of affiliated fairs. Their projects are then evaluated onsite by approximately 1,000 judges from nearly every scientific discipline, each with a Ph.D. or the equivalent of six years of related professional experience in one of the scientific disciplines.