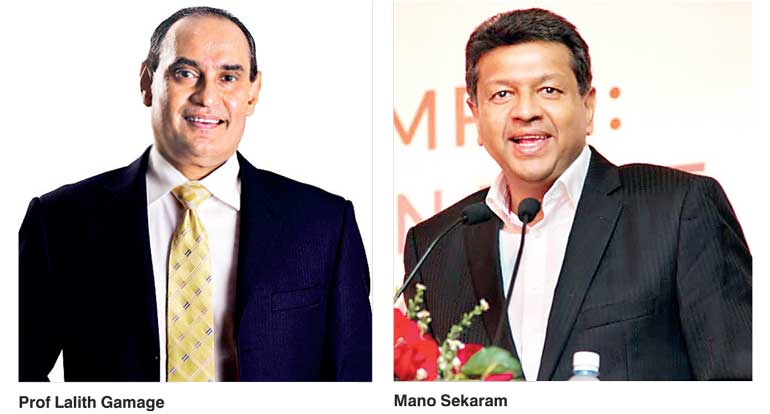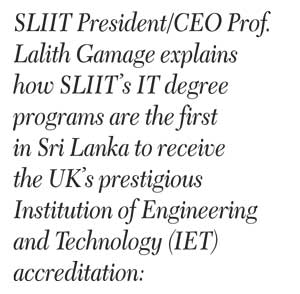 Q: What is IET and why is it important as a professional qualification for engineers in Sri Lanka?

A: The IET UK is one of the world's leading professional societies for the engineering and technology community and IET accreditation, licensed by the Engineering Council, covers a broad spectrum of engineering and technology subjects. From 2016 onwards, students completing our IT degree programs will automatically be able to obtain the Chartered Engineer (CEng) status.

To this day, in Sri Lanka SLIIT remains one of the most prestigious institutes specializing in Information Technology programs. SLIIT has taken the 'Information Technology Profession' to great heights pursuing a dynamic academic model characterized by innovation. Setting another benchmark we wished to enhance our IT programs offering students a professional qualification.

We are now the first Lankan institute to receive this highly prestigious accreditation. With this qualification SLIIT students can progress towards being world class engineers, secure above industry remuneration and maximize their full potential.

Students who have already completed the IT degree programs at SLIIT and practicing in the industry as Engineers and wish to seek this professional qualification can do so through IET UK who will evaluate their application awarding the CEng on a case by case basis.

SLIIT has secured national and international recognition as an academic powerhouse with a clear focus on quality teaching carving out a reputation of excellence. SLIIT students too share in this success.


Q: How long did the process of gaining IET approval take?

A: As another first in Sri Lanka by SLIIT, it is a reflection of the world class quality of education provided by us. To gain full accreditation for all of our engineering programs is a landmark achievement for the Institute.

The process took three years, we began in 2012, where IET conducted an initial review of our programs and gave us feedback following a visit to the SLIIT Campus. The IET accreditation committee has visited SLIIT twice to ensure we met their educational requirement prior to awarding the accreditation.

When our current third year IT degree program students graduate next year (2016), they will automatically qualify for the CEng registration.


Q: How did SLIIT meet IET's stringent qualifying requirements?

A: The IET, UK accreditation is renowned for its rigorous system, and awarded to only outstanding institutions across the world, which meet all standards of quality education.

IET accreditation centres on a review of a program's content and delivery. Areas such as its relevance, coherence, assessment, staffing, quality assurance and resources are vital factors.

The IET Panel commended our research activities, the high quality of teaching by highly qualified, supportive and enthusiastic staff and the academic and pastoral support provided to students.

To conform we made a few adjustments and were successful in meeting their stringent criteria.

A key factor for receiving this accreditation is being recognized by the University Grants Commission (UGC).Another would be our partnerships with other reputable international universities.

The structure and design of our programs and how graduates achieve the desired learning outcomes and especially how our programs conform to UK degree specifications was also important. How our students acquire knowledge – theoretical skills and how our students apply these skills in problem solving was looked at.

In addition how our students deal with technical uncertainties and how we teach sustainable development methodologies especially how we teach students so that they will look at solutions in terms of being environmentally sustainable.

SLIIT's assessment methods, if it is continuous, through project reports and especially the comprehensiveness of our final year project were other important factors. Likewise how SLIIT students communicate effectively, their soft skills, group and team work was looked at.

Also the comprehensiveness of our research program, the effectiveness of our industrial placement program, the quality and qualifications of our in-house full time academic staff, the quality assurance mechanisms in place and our infrastructure facilities were other areas that IET looked into.


Q: How will SLIIT students benefit from IET accreditation?

A: Our students can now join a prestigious and recognized network of professional engineers and enhance their career prospects across the globe.

Students who follow the four year, special honours IT degree program conducted by SLIIT and specialize in Information Technology, Software Engineering, Computer Systems and Networking, or Information Systems can qualify for the Chartered Engineer status.

Professional membership has over recent years become a requirement for posts in many engineering companies, with this accreditation SLIIT IT degree holders will be both professionally and academically qualified.

The IT industry in Sri Lanka has a major portion of services for the global outsourcing market. Therefore this accreditation offers worldwide recognition of the chartered IT Engineers status and give companies' added confidence when hiring our people. We trust the availability of acquiring this prestigious professional qualification will increase career growth prospects, securing additional jobs for Sri Lankan IT Engineers.

This accreditation is the ultimate accolade, giving students a direct stepping stone to becoming chartered engineers and those graduates entering the job market with a cutting edge.
Mano Sekaram commends SLIIT
​Commending SLIIT on receiving the IET accreditation, Sri Lanka Association of Software and Service Companies (SLASSCOM) Chairman and 99X Technology CEO and Co-Founder Mano Sekaram commented: "IT is a global industry and therefore when competing globally, the qualification an IT engineer holds should be recognised and benchmarked in the world stage. Hence this IET accreditation, will indeed endorse the quality of the degree provided by SLIIT. When we want to recruit IT Engineers, the IET accreditation will definitely give us a benchmark. Being the first Lankan Institute to receive this accreditation, SLIIT is at a big advantage."