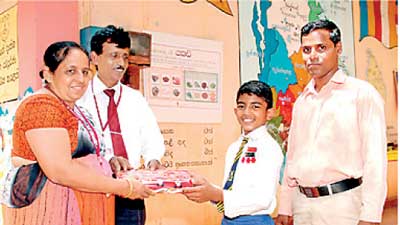 In appreciating the achievement of highest equal marks by Sachini Kavinda Unantenna of Gangasiripura Vidyalaya in Gampola, Melani Wijesinghe of Sri Sumangala Primary School at Ussapitiya in Kegalle and Kavishka Wanigasekera of Malmaduwa Makura Primary School in Kegalle at the Year 5 Scholarship examination People's Bank rewards them with cash prize of Rs. 150,000 and school equipment.

People's Bank Kandy Regional Manager Gamini Karunaratne and Kegalle Assistant Regional Manager Sarojini Gunawardene were present at the occasions.

In addition, based on island wide rankings, the second and third placed students will receive scholarships worth Rs. 100,000 and Rs.75,000 respectively from People's Bank.