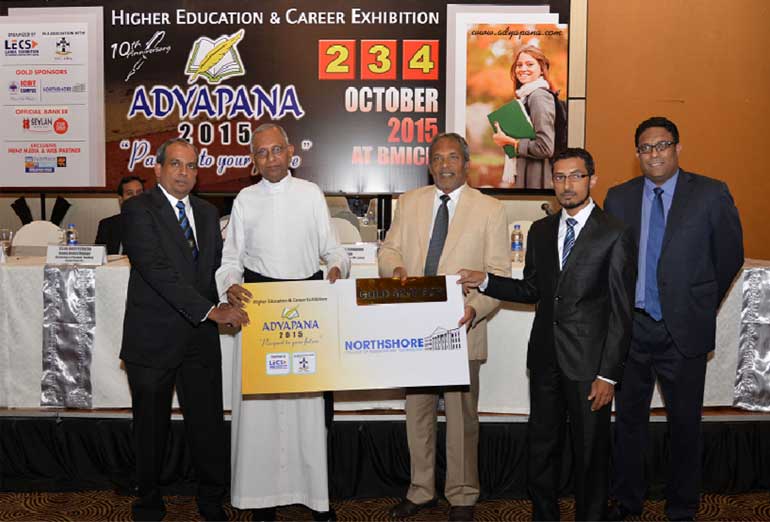 Education will take you to places and this October, education invites you to BMICH, to give you the 'passport to your future' where Sri Lanka's most focused higher education and career exhibition, ADYAPANA 2015, will be held for the 10th consecutive year on 2, 3 and 4 October at the BMICH, Colombo. The event has been renowned as a focused and education oriented exhibition, patronised by keen students who have clear intentions on furthering their education in Sri Lanka or overseas.

ADYAPANA has been seen as a central platform by students to pursue their education. Over 12,000 students visited last year's event during the course of three days. There were over 150 exhibition stalls displaying and informing the general public of various courses, student programs, higher education options and job opportunities. Despite the high level of competition and options available in the field of education, many students have continuously patronised the exhibition and have thereafter successfully pursued their visions, through ADYAPANA.

ADYAPANA has announced the partnership with Northshore College of Business and Technology. This joint venture will enhance the image of the exhibition to be a 'must attend' event for all.

Northshore College of Business and Technology (Northshore College hereafter) is the strategic partner for University of the West of England (UWE), Bristol, UK offering degree programs in Sri Lanka. UWE, Bristol is well known for its unique approach in designing its programs to assure high quality of education and employability of its graduates; hence is hailed as one of the best universities for undergraduate programs in the UK.

Northshore College was established in 2011 with the overarching objectives of providing high quality tertiary education and training to students who are seeking knowledge and pathways to fulfil their dreams of becoming professionals in future. At present, Northshore College offers four UWE degree programs namely, MEng/BEng (Hons) Electrical and Electronic Engineering, MEng/BEng (Hons) Civil Engineering, BSc (Hons) Software Engineering and BSc (Hons) Business Administration. The unique feature of Northshore undergraduates is that they become internal students of UWE from day one.

Students interested in joining Northshore will require a minimum of three passes at the Advanced Levels for entry. Course fees can now be paid in instalments so that the financial burden on the parents would be less and for the students, the journey would be uninterrupted. The institute has an 'Education Loan' scheme in partnership with a leading bank that will enable students to pay on completion of their study. This is a remarkable step in the education system in Sri Lanka.

The organisers of ADYAPANA, Lanka Exhibition and Conference Services, will also be using their good office in the Maldives to promote this event among the students and encourage visitors from the Maldives.

The event which will be held immediately after the conclusion of the Advanced Level examinations has consistently drawn students who are looking for immediate opportunities to further their education.

ADYAPANA has through its years of existence built a reputation of comprising one of the highest student turnover rates, with a large percentage of those visiting the exhibition, making their future decisions from the options that have been provided at ADYAPANA.

The three-day education fair is set to feature specific pavilions for visiting universities and will include special sessions focused on students and their career decisions with the participation of a host of top professionals.

The event will also comprise of many other attractions that will be focused on the growing student population in the country and provide the visitors with many value additions during the three days.