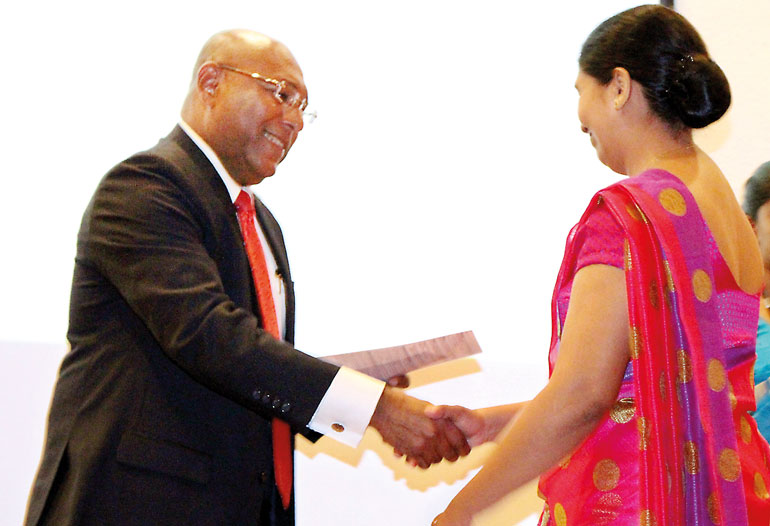 NDB Director, CEO Dimantha Seneviratne handing over certificates
NDB together with British Council awarded the successful candidates who completed the 'English for Teaching' training program. The ceremony was held at the DHPL/NDB auditorium at Nawam Mawatha with the participation of 200 English teachers from over 160 Government schools. The ceremony was graced by senior officials of the bank, British Council, Ministry of Education and the National Institute of Education.

The activity based training was delivered through 10 Regional English Support Centres (RESC) in nine provinces, addressing two key aspects of the Teachers – Language Improvement and Teaching Ability. The 120-hour training course included new and innovative training methods to equip teachers to teach as well as manage their students in a more holistic manner.

Speaking at the award ceremony, NDB Director/CEO Dimantha Seneviratne said that, "The bank is privileged to be a part of this program in collaboration with British Council Colombo and the Ministry of Education. As a responsible corporate citizen this is an initiative to develop skills and knowledge through expertise support. Through such programs NDB also makes every effort to help build financial autonomy across the nation. I wish to congratulate all teachers who have completed the training and hope this knowledge will be bestowed for the betterment of children across Sri Lanka."

British Council Sri Lanka Country Exams Manager Simon Creasey said, "The British Council has a long tradition in Sri Lanka of supporting the professional development of English language teachers in national education, working with both Ministries and enlightened corporate sponsors. We are proud to work with NDB, a prominent partner that provides outstanding support to the teachers in the government schools all around the country, and proud of the achievements of the 2016-2017 batch of teachers who completed the English for Teaching Plus course. The dedication, determination and commitment to English language teaching shown by both NDB and the teachers and trainers awarded today is a solid example of the positive impact and strength of public private partnerships. The next phase of this project has already commenced and we look forward to another successful year."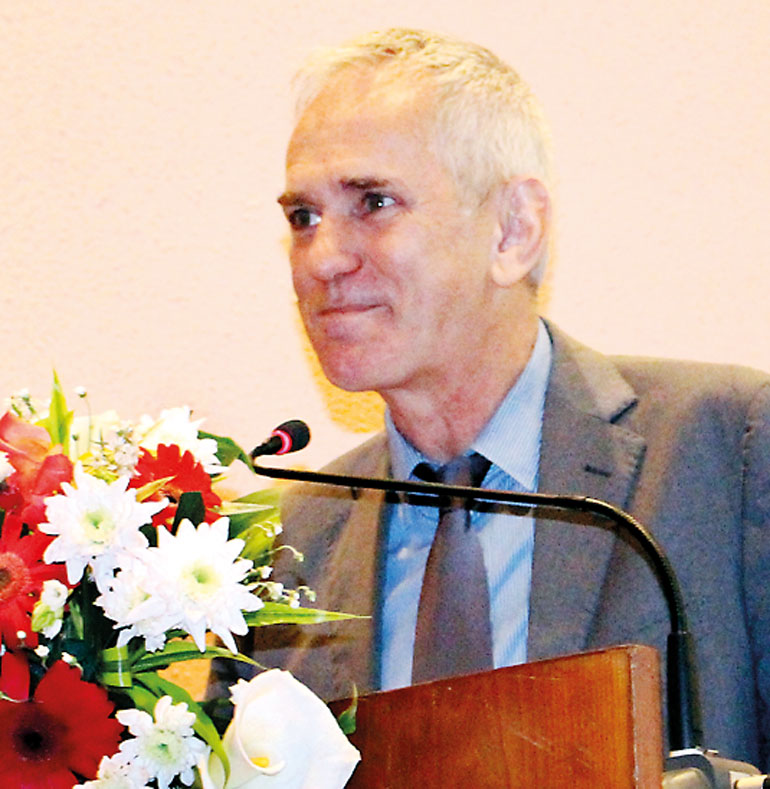 British Council Country Exams Manager Simon Creasey.
NDB as a responsible corporate believes that this sustainable initiative will help the nation's youth in the long term. NDB continues its efforts to empower the youth of the nation through multiple projects that place emphasis on issues that are critical for sustainable economic growth and the future success of the nation as a whole. The British Council in Sri Lanka is the UK's international organisation for educational and cultural relations and helps people around the world develop English language skills.

NDB remains dedicated to bringing its customers one step closer to accomplishing their lifelong ambitions through the range of services that are accessible through its growing branch network. Further details on NDB's many products and services can be obtained from its 24 hour call centre, by dialling 011 2 448 888 or by visiting NDB's website on www.ndbbank.com.