In a bid to introduce children around the globe to computer science, Microsoft launched the worldwide 'Hour of Code' campaign in Sri Lanka with 'Hour of Code' workshop for over 100 children at the Temple Trees on 7th December.

Simply put, 'Hour of Code' is an introduction programme to computer science, designed to explain the importance of coding and demonstrate the basics of coding to children.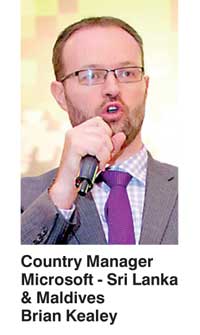 Throughout this week, Microsoft will be conducting workshops around the world, introducing thousands of children to the Minecraft coding tutorial to celebrate the Computer Science education week from 7th to 13th December 2015. Developed in partnership with code.org, Minecraft coding tutorial introduces users to the basics of computer science within an entertaining gaming environment.

‹›This is a wonderful opportunity for Sri Lanka and its future generation. Computer science is an important part of foundational learning which will induce childrento develop problem-solving skills and computational-thinking.Hour of Code, Computer Science week will be the stepping stone into the world of computing for thousands of Sri Lankan children. We at Microsoft believe that every young person should have the opportunity to learn computer science, and inherit the power to create with technology," said Manager Community & Communications of Microsoft Sri Lanka, Janakie Karunaratne.

Microsoft plays a key role in the global movement to encourage young people around the world to experience their first Hour of Code with Minecraft to unleash their innate potential and gain skills to create technology by participating in one of the many coding workshops conducted in over 50 countries.

The result of collaboration between Microsoft and Code.org, Minecraft 'Hour of Code' tutorial guides users through basic coding skills, encouraging them to navigate, mine, craft and explore in a 2-D "Minecraft" world by plugging together blocks to complete all actions and generate computer code. Created by Minecraft game designers, the tutorial includes characters and challenges inspired by the game developed by Mojang and familiar to players around the world. Players are offered a set of 14 challenges, including free play time, to explore coding concepts they've learned through the tutorial. Minecraft tutorial is suitable for children as young as 6 years of age, older children as well as interested adults.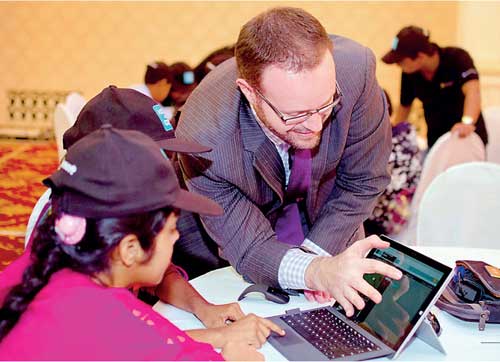 "Microsoft can do a lot of work in a country like Sri Lanka where a lot of untapped and undiscovered talent remains hidden from view. With the launch of Hour of Code, we hope to encourage those talented girls and boys to explore their potential and take the first step to become technology disruptors of the future. We are committed to assisting budding talent to come to light," said Country Manager of Microsoft – Sri Lanka and Maldives, Brian Kealey.

Microsoft has a long history of supporting educators globally and remains committed to encouraging young people to engage with and learn computer science. The Company believes that all young people should have access to computer science education in order to cultivate computational-thinking and problem-solving skills that are critical for their future. Microsoft continues to work with governments, schools, businesses and non-profit organizations around the globe to achieve this end and build a generation of innovators.