If your child is sitting for his/her GCE Ordinary Level examinations this December, and you are wondering what he/she should do after, look no further. Mercury offers them the unique possibility of gaining a Diploma in Accounting and Business from ACCA (the Association of Chartered Certified Accountants, UK). They can complete the first stage of ACCA (i.e. Knowledge level) and gain the Diploma in Accounting and Business, all during the period that they are awaiting their O/L results.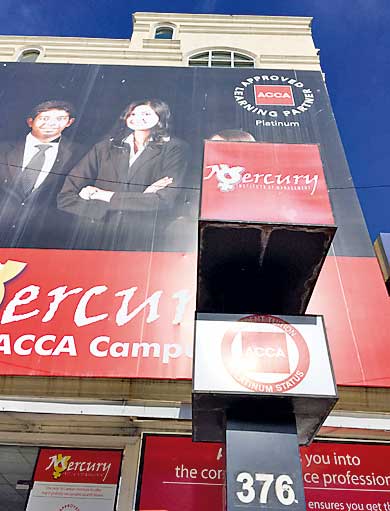 This prestigious Diploma would not only keep them productively occupied during this period, but the knowledge gained from this Diploma would greatly help them excel at the A/L examinations in the Commerce stream. In fact, some of Mercury's students who commenced ACCA right after their O/Ls and gained this Diploma in Accounting and Business have stated that it was this knowledge that helped them gain impressive island ranks at the GCE A/L examinations in the Commerce stream.

Upon completion of the Diploma in Accounting and Business, students could either choose to continue to study for the remainder of the ACCA Qualification while simultaneously pursuing their A/Ls, or complete their A/Ls and subsequently complete the rest of the ACCA Qualification.

Once the student registers with Mercury for ACCA, they would be entitled to claim savings over Rs. 100,000 on their ACCA registration and original UK-printed study material would also be provided free of charge for every subject. They also have the opportunity to gain a BSc. (Hons) in Applied Accounting from Oxford Brookes University, UK upon completion of stage 2 of ACCA. The cost for both these UK qualifications, i.e. the ACCA professional qualification and the BSc. (Hons) degree, would only be Rs. 580,000 after taking into account all these special savings on offer. Mercury Institute has also tied up with a number of banks to facilitate student loans.

Mercury Institute of Management is Sri Lanka's only ACCA Platinum Status Tuition Provider, with campuses in Colpetty, Dehiwela, Galle and Wattala. Each of these campuses are equipped with state-of-the-art lecture rooms, all air-conditioned and equipped with multimedia facilities and a modern computer lab which is a licensed centre for ACCA computer-based examinations. At Mercury, students receive one-to-one attention in class and its Platinum-calibre, multi-qualified lecture panel, with over 15 years of experience, is more than capable of moulding students into complete accounting and finance professionals.

Jeevith Shakespeare, Managing Director of Mercury, stated: "We believe in giving our students more than just the basics; we also mould them into employable candidates. The high pass rates consistently maintained by Mercury speak of the high standards of education and the quality of service. We guarantee excellence at ACCA examinations through size-controlled classes that ensure personalised attention and care for every student, a comprehensive coverage and revision plan and modern teaching methods."

So why wait? Ensure that your child follows the right path. Visit us or call 071 886 4524, 0711 988 988 or 2370644 for more details.