The motto 'We Are Born to Teach' reaches wider horizons in the physical, moral, emotional and intellectual development of our children. The future holds massive opportunities and magnificent prospects for a radiant and luminous life, which can enrich, elevate and enhance the mind, spirit and soul of every single young man and woman. So the attainment of true knowledge leads to a life of true dignity.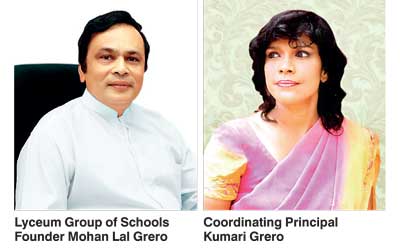 Lyceum International School was founded in 1993 with seven students and four teachers at 3/1, Raymond Road, Nugegoda. The initiation of the school was a result of the determination, courage and interest of the Founder-Leader, Mohan Lal Grero, who wanted to uplift the quality of education in Sri Lanka.

'Know Thyself' is the motto of the school. Lyceum is a non-profit organisation registered under the Companies Act of Sri Lanka. It has come a long way over the last 22 years, growing into a huge organisation under the leadership of Grero. The Lyceum school network, with its parent school in Nugegoda, consists of seven branch schools located at Kandana, Panadura, Wattala, Ratnapura, Gampaha, Nuwara Eliya and Anuradhapura. Another two new branches are slated to open in Kurunegala and Bandarawela.

The present student population of the entire school exceeds 18,000 with an academic staff of 2,300. The student population consists of students with multi-ethnic and multi-religious backgrounds. The school treats them equally in a parental manner.

The system provides education from nursery to GCE A/Level both National and Cambridge Universities. The medium of instruction is English. Up to Grade Eight the school uses its own curriculum. From Grade 8 onwards students use the curriculum relevant for National and Cambridge O/L and A/L examinations under a range of education streams.

The academic year has three terms and two semesters. The school conducts day sessions for a total of 294 days. A day session consists of eight forty-minute periods. Monthly tests are conducted in each term to educate parents about the performance of their children.

The first and foremost priority of Lyceum is students' education. The school has a highly-qualified cadre dedicated to achieving this objective. The management of the school guides teachers and provides facilities to ensure the quality of instruction. The system provides the sufficient infrastructure and facilities required for an ideal teaching and learning environment.

The provision of scholarships to children who excel in academics, sports and extracurricular activities is another important aspect of the school's work. The types of scholarships and the duration granted depend on scheduled criteria. This is to encourage children's performances in every field.

The school offers facilities for a gamut of sports and extra-curricular activities including athletics, gymnastics, badminton, basketball, netball, cricket, swimming, karate, table tennis, chess, scrabble, dancing and music.

The intention of providing these facilities is to ensure the health of the body and mind of students. Lyceum treats sports and extra-curricular activities as essential needs for children's education. Involvement in a sport and extra-curricular activity is compulsory for students. These facilities contribute to producing complete citizens through a balanced education.

Lyceum believes that the discipline of students is equally important as academic achievements. The school has imposed its own disciplinary code which inculcates national and international values in students. In addition to teachers, there is a separate, committed team responsible for maintaining discipline and attending to disciplinary matters.

Lyceum recognises the importance of developing children's characters around social and cultural values. In order to fulfill this, the school conducts many religious, cultural and social programs.

Necessary steps have been arranged along with trained staff to ensure the protection of students.

Internal administration consists of 20 departments in different subject areas. Departments coordinate with each other, academic staff and students to facilitate daily functions.

There is an Academy for Teacher Education to train new teachers and a Teacher's Empowerment Unit to upgrade and update the skills of teachers. The Learning Support Unit (LSU) of the school caters to the requirements of differently-abled students individually and collectively. A specially trained staff is attached to this unit. Health bay, with a trained female nurse and an assistant nurse, provides medical care for the simple health problems of students.

The branch schools are managed by respective principals independently but under the close supervision of the Coordinating Principal. Branch schools adopt the rules and regulations imposed by parent school.

Over its 22 years, Lyceum has gained exceptional success in the academic field and with extra-curricular activities.


Exceptional academic performance

In 2014, students secured the top two ranks for results in Chemistry and Computer Studies at the Cambridge O/L examination, five top ranks at the Sri Lankan national O/L exam and four top ranks at the Sri Lanka national A/L examination. A considerable number of students have achieved 'A' grades for all nine subjects at the Cambridge O/L examination. Lyceum International School collects more than 50% of the awards at the Cambridge A/L award ceremony every year.

Lyceum's students have performed outstandingly in sports and extra-curricular activities as well. They have achieved first-, second- and third-place finishes and won many championships in sports.

The Kandyan dancing section performs during school concerts and at special occasions. Maathra is an outstanding programme which has been staged annually eight times since 2008. Lyceum was able to win five State Awards for innovative items at State Drama Festivals during recent years.

The Lyceum network has generated a massive number of employment opportunities. The school has provided opportunities for its own students, once they complete their education, to join the Lyceum network. Similarly, students educated at Lyceum are also currently employed abroad in different capacities.

The present success of the Lyceum system is due to the dedication, commitment and hard work of the staff, under the able guidance of Mohan Lal Grero and Kumari Grero, who functions as the Coordinating Principal managing the Lyceum network.

They are both eminently capable of addressing academic, administrative and disciplinary issues. Anyone who enters their offices seeking a solution to a problem leaves it smiling. Mrs. Grero never tires of addressing problems faced by students, staff members and parents. Both Mr. and Mrs. Grero listen patiently even to a minor employee who seeks their assistance and guidance. They strongly believe that the key to success is loving kindness.

Let these notes of wonderfully resonant values such as love, charity and unifying brotherhood resound in the halls and corridors of Lyceum International School for many more years to come, purifying and touching the hearts of all those who pass through them in the future.
---
Lyceum celebrates anniversary today
Lyceum International School's 22nd anniversary will be held today under the theme 'True Knowledge - True Dignity', at the premises of its Nugegoda branch from 7.00 a.m.

The event will be presided over by Lyceum's founder Mohan Lal Grero and Coordinating Principal Kumari Grero.

Arrangements have also been made to present awards to all members of the staff who have extended their support in helping to build the school's reputation for excellence in education.