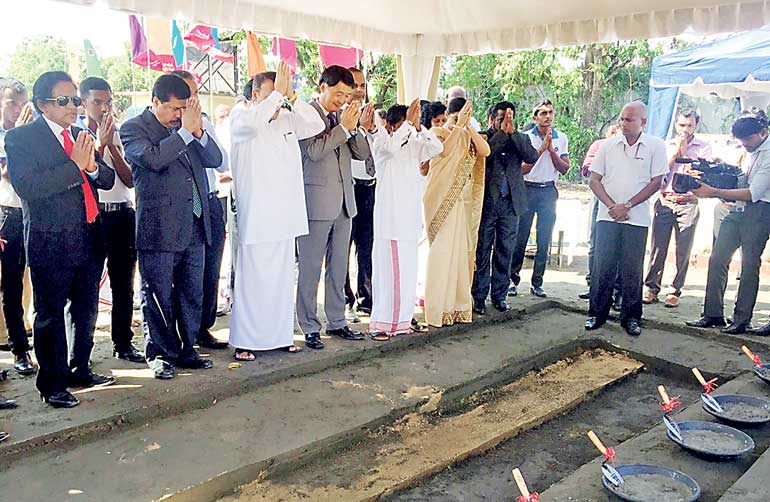 Stone laying ceremony in Colombo (centre): Minister of Skills Development and Vocational Training Mahinda Samarasinghe and Korean Ambassador Chang Won-sam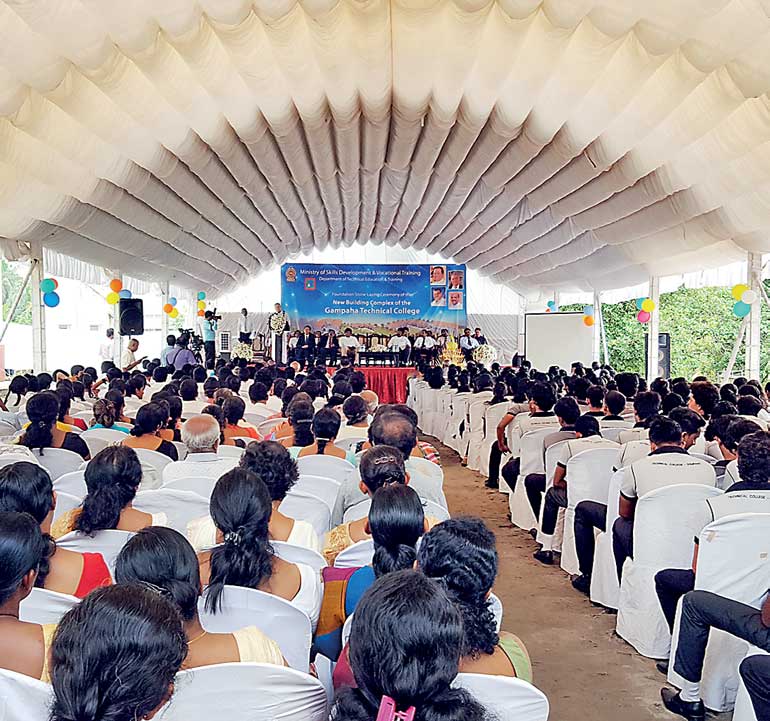 The foundation stone laying ceremonies for establishing two vocational training institutes in Sri Lanka (Vocational Training Centre in Colombo Central; and College of Technology in Gampaha) were held on 17 and 21 November respectively. These ceremonies were graced by the presence of the Ambassador of the Republic of Korea to Sri Lanka Chang, Won-sam, Minister of Skills Development and Vocational Training Mahinda Samarasinghe, Chief Resident Representative of Korea Eximbank, Sungsoo Jung and other dignitaries.

As Sri Lanka aspires to become an upper middle-income country, it will need to bridge the gap between the industry skills demand and the labour supply. An important initiative that can help bridge this gap is to expand the physical infrastructure of the vocational training institutes and to improve the quality of TVET (Technical and Vocational Education and Training) programs and teachers' capacities in Sri Lanka.

The 1,500 day Economic Development Plan that will be implemented from 2017-2020 under the auspices of the President Maithipala Sirisena and Prime Minister Ranil Wickremesinghe also targets to generate one million job opportunities. Considering such national development priorities, the Export-Import Bank of Korea (Korea Eximbank) is currently supporting the establishment of the aforementioned vocational training institutes in Sri Lanka.

The scope of this project includes constructing and developing the aforementioned institutes; providing them with necessary equipment and facilities; conducting capacity building for vocational training instructors and policy makers; and providing further technical assistance and consulting services by dispatching Korean experts to Sri Lanka. Through the successful completion of this project, it is anticipated to reduce the unemployment rate of the youth in Sri Lanka and to improve the satisfaction level of the industrial sectors who hire graduates from these institutes.

Stressing the importance of the TVET sector to the overall economic development of the country, Ambassador Chang, Won-sam assured that the Government of the Republic of Korea will continue to share Korea's development experience and knowledge in the TVET sector through continued development programmes in Sri Lanka.

The Export-Import Bank of Korea (Korea Eximbank) provides Official Development Assistance (ODA) for international development and cooperation. The bank signed its first ODA loan agreement with Sri Lanka in 1990, for the rehabilitation of the Colombo-Galle road. As of now, the bank has approved $ 606 million for 27 development projects in Sri Lanka.

Korea Eximbank also provides financing for international trade and overseas investment, to promote bilateral economic cooperation. Since 1978, Korea Eximbank has provided $ 340 million both for trade between Sri Lanka and Korea and for Korean companies' foreign direct investments in Sri Lanka.