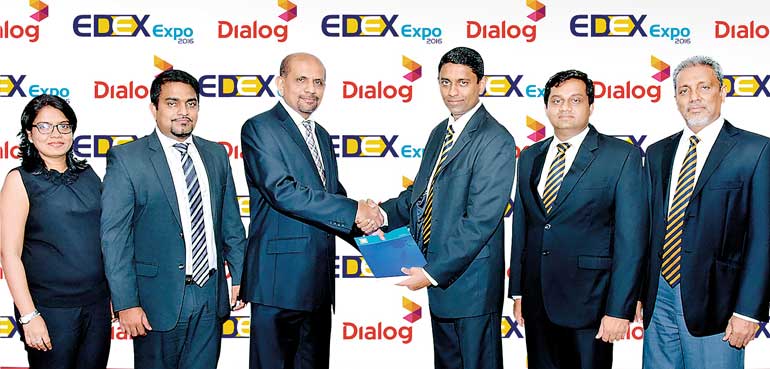 From left: Dialog Axiata PLC Head of Group Human Resources Pulasthika Wirasinha, Dialog Axiata PLC Group Human Resources HR Manager Ashan Ransilige, Dialog Axiata PLC Group Chief Officer – Commercial and Programme Management Shayam Majeed, EDEX Expo 2016 Project Chairman Ranga Wijesinghe, EDEX Secretary Nandun Chandraratne and Royal College Union Secretary Athula Munasinghe
Dialog Axiata will be the Job Fair Principal Sponsor of the much-anticipated EDEX Expo 2016, Sri Lanka's largest higher education and careers fair, hosted by the Royal College Union. The event will take place from 22 to 24 January at the BMICH in Colombo.

A long-standing partner of the EDEX Expo, Dialog is committed to empowering Sri Lankan youth with world-class education, technical development and employment opportunities, and through its association with the event will engage candidates to connect them with their dream career.

"The annual EDEX Expo has taken its place as the premier higher education and employment forum in the country, and provides a highly effective meeting place for employers, educationists and applicants. Dialog is proud to be associated with this event to empower connectivity, plus, give opportunity to our youth to join the telecommunication sector," said Pulasthika Wirasinha, Head of Group Human Resources – Dialog Axiata PLC.

EDEX Chairman Kamal Abeysinghe says: "We are extremely happy that Dialog Axiata, the market leader in the telecom industry is sponsoring the EDEX Job Fair 2016. We are confident that the youth who visit will find Dialog's portfolio of products interesting, appealing and aspirational for their future empowerment in the telecommunication industry."

Sri Lanka's premier telecommunications service provider, Dialog Axiata, is the country's largest and fastest mobile service provider with over 10 million subscribers. A subsidiary of Axiata Group Berhad, one of Asia's largest telecommunications companies, Dialog is one of the largest listed companies on the Colombo Stock Exchange in terms of market capitalisation and Sri Lanka's largest foreign direct investor under the aegis of the Board of Investment of Sri Lanka with investments over $ 1.96 billion.

EDEX Expo Sri Lanka's largest higher education and careers exhibition organised by the Royal College Union will be held on 22 to 24 January at BMICH. For further details please contact the EDEX Secretariat. Tel: 0768 204978/ 55 21 497. E-mail info@edex.lk Web site www.edex.lk.