From programmers to gamers, innovators to technology gurus, the Informatics Institute of Technology (IIT Campus) have been dedicated in producing well-rounded and enterprising graduates. One of the main ingredients to success at the IIT Campus is the support and encouragement given to the students to venture out and create their own path to success.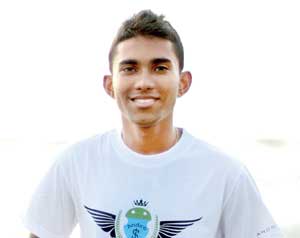 20 year old Banu Athuraliya who is a past pupil of S. Thomas College, Mount Lavinia is one such student who has progressed through IIT Campus by establishing his own unique venture which has gained much popularity in a short span.


Banu who is a Software Engineering student at IIT Campus is the mastermind of the popular www.androdollar.com website which has emerged as one of Sri Lanka's most informative technology news and analysis websites. Banu is also one of the most popular tech Youtubers in Sri Lanka with his main focus on new technology trends and mobile technology. In a short span his Youtube Channel – www.youtube.com/androdollar rose to popularity with many technology giants in Sri Lanka inviting Banu to review their products.

Banu said that his main goal is to make his website, www.androdollar.com; the best tech website in Sri Lanka and to be the biggest and best Tech Youtuber in Sri Lanka. He said that he is driven by the passion to inform and educate technology enthusiast and tech geeks on the latest technological trends.


"Andro Dollar is about technology. I mainly specialise in smartphones, but i also cover computers, smartwatches, accessories, gaming and other similar fields related to technology. I also have a weekly newsletter where people can stay up to date with the latest tech news. I try to do Live Blogs and Live Streams whenever I am at an event. I also do giveaways, to reward my loyal viewers. I have viewers from all over the world. Naturally, I get more Sri Lankan viewers, followed by Americans and Indians," he said.


Speaking about the support he receives by the IIT Campus Banu said. "My lecturers at the IIT Campus have been tremendously supportive when it comes to Andro Dollar. Whenever, I post something positive through Andro Dollar, they show their support, and they motivate me even more. A lot of the lecturers are even fans of my work, and I think they appreciate what I do."


He added, "IIT Campus is a renowned institute in Sri Lanka and many industry leaders and past students have recommended it. The internship program is an eye catcher as it provides a student the necessary work experience at either a multinational or local blue-chip companies before graduating. One of the main factors that add more strength to studying at IIT Campus is its affiliation to the University of Westminster, UK.


Outlining his journey at IIT Banu said, "It has been simply brilliant. After joining IIT Campus, I didn't just follow the modules, but I have been an active member and I take part in many extracurricular activities. Immediately after joining IIT Campus, I was appointed as a Batch Representative, and since then I have been able to achieve many things."


Banu is currently the Vice President Public Relations of the IIT Campus Toastmasters Club, and the Vice Chairman of the IEEE IIT Student Branch.


Banu speaking about the growth of his website said that Andro Dollar has grown to a position where he is regularly invited by prominent companies to review their products and cover their events. He has also been featured in XDA Threads several times for making Video Tutorials and have a growing fan base. "For a Sri Lankan reviewer, this is good news; this shows that the future is bright and I just have to work harder to achieve better things. At IIT Campus, there is an annual exhibition called Cutting Edge where students get to showcase their products. Last year, I was awarded the second place for Andro Dollar in the category I competed," he said.


With 25 years of experience as being a pioneer in providing renowned British higher education in Sri Lanka, the IIT Campus currently offers undergraduate and post-graduate degree programs in Business and IT from the University of Westminster, UK.