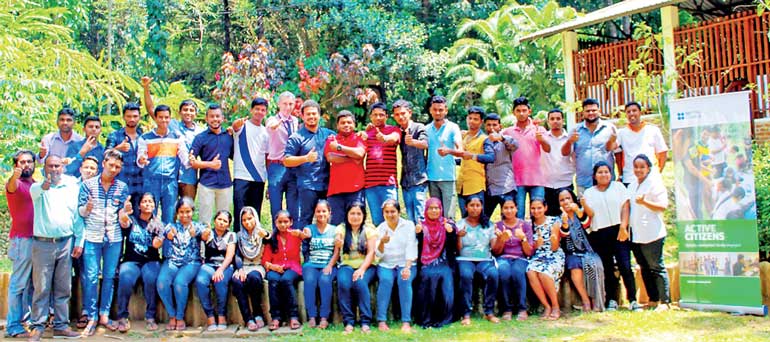 Active Citizens is a global program conducted by the British Council. The ethos behind this program is 'Globally connected, locally engaged' and so far it has created 130,000 Active Citizens in 40 countries in Africa, Asia, Europe etc. In South Asia, Active Citizens works through civil society organisations, government's youth development organisations and universities to engage local volunteers and deepen trust and understanding within and between communities. The vision of Active Citizens is 'A world where people are empowered to engage peacefully and effectively with other cultures in the sustainable development in their community'.

The Active Citizens five day residential workshop held from 20 to 25 of March in Kundasale was collaboration between British Council and their delivery partner, International Youth Alliance for Peace (IYAP) a local youth led volunteer not-for-profit organisation. There were more than 30 participants representing Sinhala, Tamil and Muslim communities from all over the country. The program develops Active Citizens who are potential change agents in their community. Through this workshop young people acquire a wide range of skills in leadership, communication, advocacy, citizenship, social responsibility, volunteering, fundraising, partnerships, and network building skills which contribute to community-led social development through Social Action Project delivery. During the workshop, the participants were taken on a learning journey, referred to as the 'the river', which starts by building self-awareness and confidence and culminates in the planning and delivery of social action.

From building relationships with others; learning how to use dialogue as a tool for building empathy, trust and understanding through to practical and interactive sessions between Tamil, Sinhala and Muslim participants like Forum theatre. 'Hold your assumptions lightly, not tightly' was one of the most popular sessions which engaged the participants in activities regarding assumptions and debates whether assumptions are good or bad.

One of the main topics of the workshop was improving and understanding 'communities'. What is a community? What are different communities around you? How communities can be empowered? Practical activities such as 'the power walk' addressed: What is power? How the centre of power can be influenced?

The workshop also focused on the biggest challenge in the journey of an Active Citizen; to change and empower their communities; developing an understanding of how the community 'works'; learning how to identify stakeholders and interventions for addressing community issues and improving the motivation to act.

A cultural show was also organised by the participants with the help of the facilitators. They did combined events proving that language barrier is not a problem if you are willing to challenge something and proving that his workshop actually did make an impact on them. Participants used this event to showcase their diverse culture through song, dance and drama. It was undoubtedly one of the most successful sessions of the workshop.

Darshatha Gamage, a participant, representing the University of Kelaniya Rotaract club shared his views on this workshop: "The Active Citizens workshop provided the opportunity for me to look at the things we know of in a different way. It also opened up the opportunity to network with young people who are engaged in impactful social action projects and to share experiences with each other."

"I feel empowered as a female and a social worker to deliver social action using my improved social responsibility and leadership skills' stated Letchumanan Kokilavani volunteer representative from Sarvodaya Fusion, Hatton, Nuwara Eliya.

A total of 10 social action projects were planned and will be conducted by the participants all over the country. While all the projects have a cross-cutting theme of women and girls empowerment, reconciliation and peaceful co-existence is the main theme for their projects.

These Active Citizens are now ready to address issues in their communities, neighbourhoods, empower the grass root level communities, bringing together people from different backgrounds including district councils, young people, community and religious leaders working towards creating a sustainable future for themselves and each other.