In an evening where 12 young people placed the talent of public speaking skills under the spotlight and excelled in all its complex dynamics, Divya Sivagami of Colombo International School and Ashvini Chandrakumar of Methodist College won the Senior Division and Junior Division respectively at the Grand Finale of the annual Young Speaker 2017 organised by The British School in Colombo and Adventus Education. Amanda Halliday of Methodist College and Uzair Kidwani from The British School in Colombo emerged first and second runners up in the Senior Division, while Yusuf Barrie from Wesley College and Shaheen Abdul Gani from Gateway College Dehiwala were first and second runners up in the Junior Division.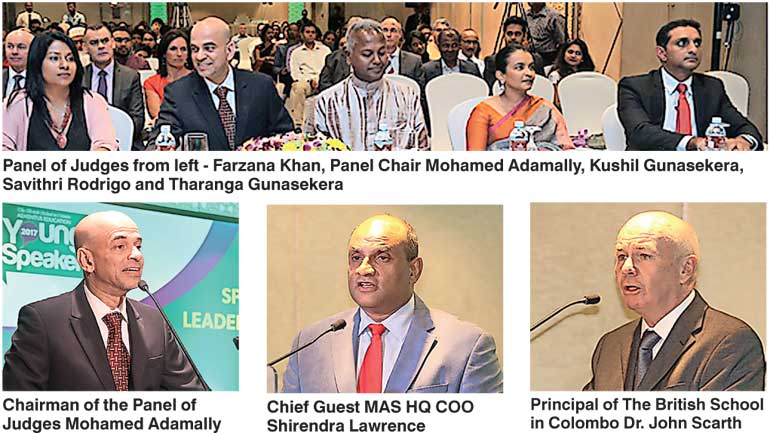 Showcasing extraordinary confidence and articulation of each subject with comprehension and finesse through both prepared and impromptu rounds, each student hailing from schools around Sri Lanka showed immense prowess in language, aptitude and knowledge. Based on criteria that measure demonstration of intellectual thinking and positive expression, each finalist impressed with their self-confidence and linguistic and intellectual competence. Competing in the Junior Division was Senithi Dahanayake from Lyceum International School Panadura, Sakina Mansoorally from Burhani Serendib School and from Asian International School was Dhivas Sugumar. Shalinda Perera from Gateway College Negombo, Anish Fonseka from Gateway College Colombo and Nathan Omprasadham from Overseas School of Colombo competed in the Senior Division.

Congratulating the finalists, Chief Guest Chief Operating Officer of MAS HQ Shirendra Lawrence mentioned that, "Mastering the English language is of utmost importance to be able to communicate effectively and meaningfully be it at the work place or with the world at large. Whilst we are now comfortably moving into the digital era to cater to the change in trends, the next generation is fast becoming more reliant on social media as a convenient form of communication versus the conventional form better known to us as unaided cognitive thinking, and expressing one's self effectively."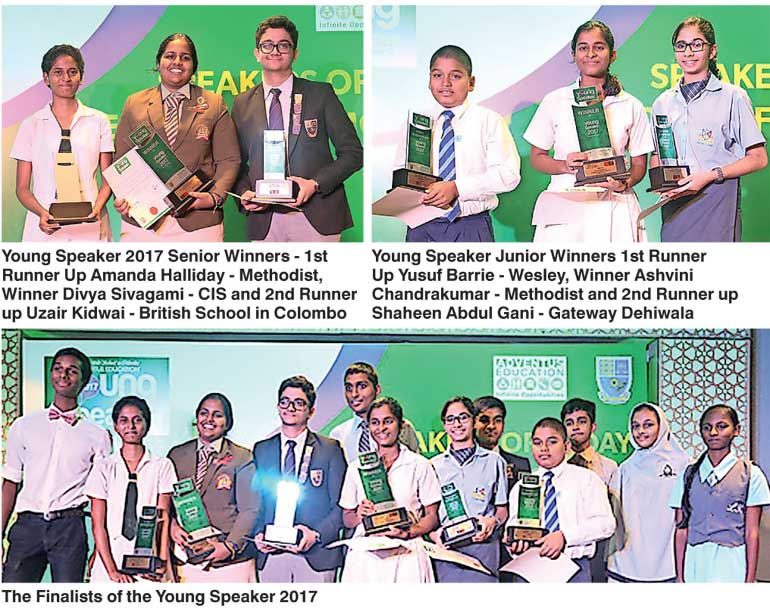 This was echoed by the Chairman of the Panel of Judges Attorney-at-law Mohamed Adamally who said, "With the spread of technology and the emergence of 'short messages', unfortunately we see a growing culture of abbreviation, a perversion of grammar and a breakdown of phrasing, which is now, sometimes subconsciously, beginning to pervade oral communications as well. The need, therefore, to focus on developing proper communication skills in the form of Public Speaking and Debate, which cannot be understated and competitions such as this do much towards inspiring young people to consciously improve and engage in structured and 'proper' communications."

The panel of judges comprised Founder and Chief Trustee of the Foundation of Goodness Kushil Gunasekera, Head of Sustainable Development, Communication and External Affairs of Siam City Cement Farzana Khan, Communications and Media Consultant Savithri Rodrigo and Head of Marketing and Communications of HSBC Tharanga Gunasekara.

Adventus Education is managed and operated by a group of visionary international education professionals offering unprecedented access to world-class universities and colleges, excelling in student placements in the USA, Canada, UK, Australia and New Zealand, with a partner network of over 220 universities and colleges both locally and internationally. One of the leading international schools in the sub-continent, The British School in Colombo has an excellent reputation for providing an outstanding and thriving holistic education augmented by a stimulating learning environment that develops outstanding young people. The gold sponsors for the event are DeVry University USA and Swinburne University of Technology, Australia, silver sponsors Melbourne Institute of Technology and bronze sponsor Swinburne University Sarawak Malaysia.