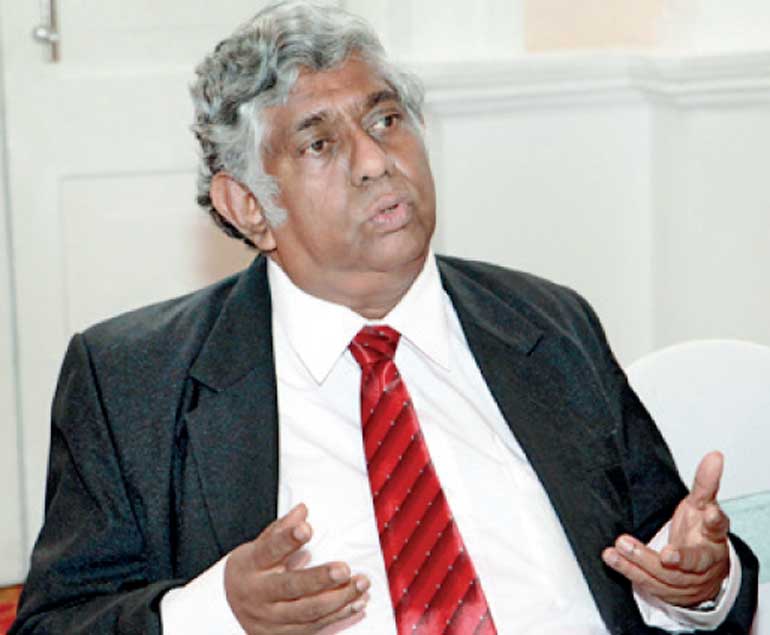 Aspirations Education Chairman Ajith Abeysekera
Aspirations Education celebrating its 11th year of service to the nation will be organising Sri Lanka's largest International Education Exhibition for the ninth consecutive year. This year's exhibition will be hosted from 11 to 12 July at The Hilton, Colombo, from 9 a.m. to 6 p.m. In that context below are the excerpts of an interview conducted with Aspiration Education Chairman Ajith Abeysekera:

Q: Tell us about the Aspirations International Education Exhibition?

A: Over the past eight years we have consecutively organised Sri Lanka's largest international education exhibition, as means of guiding students and their parents to help them realise their full potential through. Our exhibition will open new avenues for Sri Lankan students to gain international education from 25 prominent universities and institutes from across the world. This year's exhibition is themed as 'The education super highway to your world of Aspirations'.

Q: What is the need of an exhibition of this sort?

A: Many students and parents are not well informed of opportunities available to them in the case of not meeting the entry requirements of the local universities mainly due to lack of placement capacity. All our services to the students are offered absolutely free of charge and entrance to the education exhibition is also free.

Students from diverse social, economic, educational, and geographical backgrounds will experience a diverse range of study opportunities. They will also have the chance to interact with international representatives and experience firsthand information about the courses of study, free of charge visa guidance, scholarship options, application fee waive off options, on the spot offer letters providing admission to the respective university and much more offers from the international universities and more added incentives, which is key for students and parents.

Genuine career guidance that gives a light to life of the student is need of the hour and we are humbly happy and proud that our organisation has been able to live up to it every second. This annual exhibition we are holding for the ninth consecutive year is yet another mile stone in the service we have been rendering. The Aspirations International Education Exhibition is a platform which provides ample opportunity for students and parents not only to understand the wide array of educational qualifications and means of achieving it, but also an opportunity for young aspirants to plan ahead, and obtain advice on how to shape up their valuable future. It is pivotal we mould quality personalities to be 'path breakers' of the future.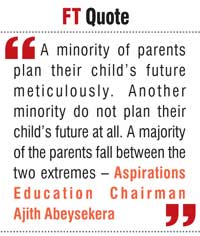 Q: How is this year's exhibition different from the rest of the exhibitions out there?

A: Our core business model is providing career guidance and counselling services to students who wish to pursue their education overseas. The Aspirations Education International Exhibition without a doubt is the largest international education exhibition in the country. There are other exhibitions which are country specific and the exhibitions where foreign universities are represented along with other local education providers. This is unique as only foreign universities and institutes are present and students can meet universities from multiple countries and continents on one stage. It is a platform for students who think of education overseas to come and explore variety of opportunities, comparing and contrasting the different options available to them world over.

Q: Why is it important for students and parents to obtain consultancy?

A: A minority of parents plan their child's future meticulously. Another minority do not plan their child's future at all. A majority of the parents fall between the two extremes. While some parents save a significant amount for their children's future, others plan to pass on their inheritance but almost all of them will do their best to heavily invest in their child's education. Some rely on others for guidance and probably focus on investing as their primary responsibility. Some decide that they do not need any guidance what so ever.

Accurate information that will not mislead the public is vital in this digital age and we have to play our part in it as disseminators. We consider that interaction and obtaining ample correct information from various universities all around the globe as an essential part for not only students. Students and parents will be able to understand the pre-requisites, converse and obtain accurate guidance and consultancy from the many foreign delegates who will be offering these services completely free of charge.

The parent's responsibility not only includes understanding the importance and improving their knowledge in career guidance but it also goes far beyond obtaining mere guidance to checking the authenticity and sincerity of the sources of information they chose to rely on. When it comes to education proper direction especially career guidance and placement plays a critical role.

Q: What is your advice for parents and students who visit this exhibition?

A: We wish to request from the parents and students to visit the exhibition open minded, not sticking to only one option or a pre-consumed idea. If you get discouraged you would not need to worry as the Aspirations Education highway will allow you to roam around the world of opportunities and help you decide what's best for your future.