Asian International Academy (AIA), a new generation institute which focuses on innovation, equality and contemporary study programs, is launching two new educational products. The first is an online IELTS course which is to the benefit of students and professionals who have to show proof of language competency to a university or an immigration authority. Second is a Master of Business Administration (MBA) program of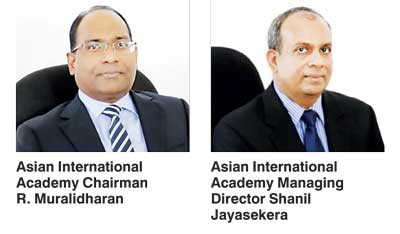 DeVry University's Keller Graduate School of Management. DeVry University is a well established university in the US serving more than 40,000 students.

Shanil Jayasekera – a seasoned professional in the education industry, who is the Managing Director of Asian International Academy outlining the importance of the online IELTS program said, "IELTS is an international standardised test of English language proficiency for non-native English speakers. Students who want to enrol in a foreign university generally will have to show proof of their language competency and IELTS is one of the most popular choices among students. In addition to fulfilling the university requirements, certain immigration authorities require the students to read for a standardised English test. We wanted to offer a comprehensive IELTS program online as we saw a disparity in quality of the IELTS programs offered in Sri Lanka."

IELTS program offered by Asian International Academy is designed and presented by well trained qualified foreign faculty who are native English speakers. The online program covers all four areas of IELTS which are reading, writing, speaking and listening. This program consists of lectures, academic tips, question and answer section and activities.

"Our IELTS online platform has an option which enables you to test your language ability before you start the course. We test the students on all areas of IELTS including speaking, using online tools. This will be a good option for working professionals who are required to pass IELTS for studying or migration purposes but having a busy schedule which makes it difficult to attend a class room teaching session.

Asian International Academy will be also launching an MBA program from DeVry University's Keller Graduate School of Management.

This partnership will enable Sri Lankan students to obtain an MBA with a concentration in one of the 12 specific areas and take a mix of electives and concentration courses that matches ones career interests and goals. Asian International Academy is set to bring in a strong value add to MBA through Sri Lankan industry professionals covering a variety of specialisations including Finance, General Management, Hospitality Management, Human Resources, Information Systems Management, International Business, Marketing, Project Management, and Sustainability Management delivered through the Keller Graduate School of Management in the US.

Asian International Academy Chairman R. Muralidharan commenting on the partnership reiterated, "Students have the option of completing a US MBA in Sri Lanka or travelling to the US and completing one year in a DeVry University campus based in global commercial hubs such as New York City, Chicago and Los Angeles. This option enables students to apply for US Optional Practical Training (OPT) of 12 months work eligibility in the US after completing one year of studies. OPT provides students with the much needed international business exposure. Students who read their final year of the MBA in the US can make use of the career services at DeVry University to seek and progress in a career of their choice. We encourage students to choose this option."

More information on the courses of Asian International Academy can be obtained by calling 0117-555255 or visiting www.aia.lk.