ACCA (the Association of Chartered Certified Accountants) Corporate Race 2015, organised by the ACCA Students' Council of 2015/16 took place recently with eight teams battling it out for the winning cash prize of 15,000. This was followed by the Awards Ceremony and Networking Cocktail held at the Kingsbury Hotel, Colombo.

This year's Corporate Race consisted of eight teams from a range of institutes that comprised of Mercury Institute of Management, Excellence College, Premier Business College, Asia Pacific Institute of Information Technology (APIIT) and British College of Applied Studies (BCAS).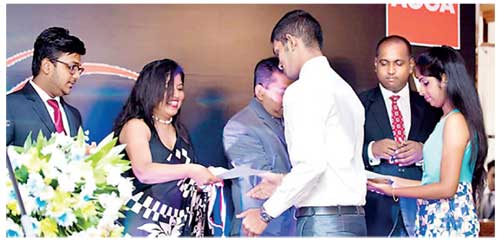 The race commenced at 8:30 a.m. from Colombo Racecourse, where the participants were first required to correctly guess the chosen organisation they were assigned to work with, using the clues provided, and were subsequently required to find their own means of transport to get there. The participating companies included Goodhope Asia, The Kingsbury, Ernst & Young (EY), Ceylon Tobacco Company (CTC) and Copal Amba.

All teams were provided with start-up capital and were given the opportunity to earn more money through the mini tasks set by the organising committee. As they were required to fund their own transport to visit these companies, the participants were compelled to use their own creativity and wit to raise funds. 'Against time, towards victory' was indeed an apt theme for this year's race as the participants had to battle against strict timelines to reach these companies amidst heavy Saturday traffic and also manage their time in performing the tasks.

At each organisation, the teams had to complete challenges that tested their skills, knowledge, creativity and time management. The task at EY was a mix of risk, internal controls and governance, whilst Copal Amba tested the participants' investment decision-making skills. CTC's challenges comprised of the participants being tested on teamwork and achievement. The Kingsbury required participants to suggest ways of improving customer service and increasing revenue and GoodhopeAsia challenged the teams to suggest ways of reducing costs and improving their operations.

'Mercury Alpha Squad', comprising Shalindri Homer (capt), Anushi Hakmanage, Hussain Rasheed and Dinushanth Ramanathan, emerged Champions of the ACCA Corporate Race 2015. 'Mercury Thunder Twisters' comprising Senith Pathirane (capt), Rishikesh Sivakumar, Melissa Hoole and Shanga Jayawickreme emerged 1st Runners Up, while 'Excellence Team One' comprising Aaqeel Jiffry, Ganatharan Jeyakumar, Zumra Thaha and Dhanya Weerasinghe emerged 2nd Runners Up.

The awards were handed over by ACCA Sri Lanka Head Nilusha Ranasinghe, Goodhope PT Agro Harapan Lestari Ltd. Head of Human Resources Development Chinthaka Premaratne, Ernst & Young Assurance Manager Niruban Satchithanandakumar and ACCA Students' Council President Amrith Thilan.