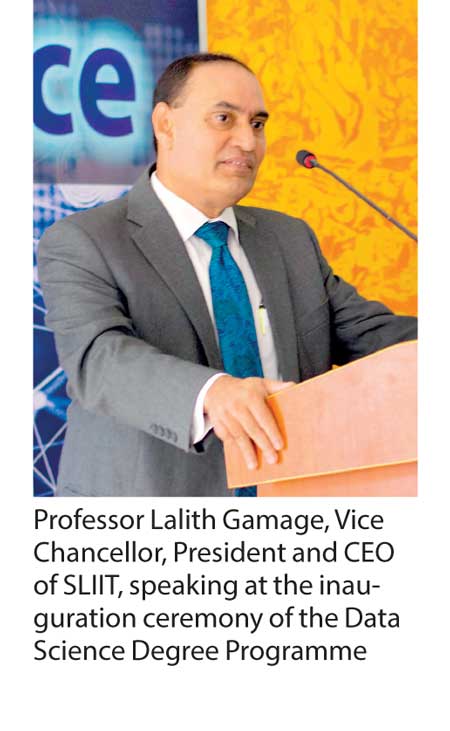 SLIIT has launched an innovative degree program aligned to meet emerging needs in IT industry in a rapidly-changing world. Introducing the new BSc (Hons) Degree in Information Technology specialising in Data Science makes SLIIT a pioneer in offering graduate students opportunities to enter a new field, for the first time in Sri Lanka.

SLIIT's Faculty of Computing has designed a meticulous curriculum focusing on the statistics and applied mathematics, data structures and algorithms and database systems while incorporating state-of-art recent techniques and methods along the real-world examples. The innovative course prepares graduates to succeed in specialised jobs involving everything from the data pipeline and storage to data analytics and predictive systems eliciting the story of the data reveals. The new degree program was launched with panel discussions in the presence of a gathering of distinguished invitees, academics, non-academic staff members and students.The session titled 'Making Data Speak about the Future' highlighted the power of data science which has spread over many industries and demonstrated its importance in terms of offering both commercial and scientific viewpoints.

Among the eminent panel members who shared valuable insights that contributed to making the discussion thought-provoking were Dr. Sankalpa Gamwarige, General Manger/Vice President of Engineering Zone 24 X 7, Director of TRACE (Technologically Reawakening Culture of Excellence); Chathuranga Abeysinghe, Lead Data Evangelistat MAS Pixel whose passion in talent analytics with domain expertise in manufacturing makes him a data science evangelist; and Saman Perera, Group Chief Information Officer, SLT Group, the recipient of the Chief Information Officer 2015 , a once-in-a-lifetime honour awarded by the Computer Society of Sri Lanka.

Professor Lalith Gamage, Vice Chancellor, President and CEO of SLIIT, speaking at the inauguration ceremony of the Data Science Degree Program quoted a comment by famous Data Scientist John Elder – "Learning from data is virtually universally useful. Master it and you will be welcomed anywhere."

Prof. Gamage continued: "At SLIIT, students are able to experience freshly emerging trends and excel in them rapidly, which is a unique element we're proud of and are pleased to nurture. We add lifelong value to education that goes beyond learning. This milestone inauguration of the Data Science Degree Programis an example of SLIIT's innovative stance that students have learnt to appreciate."

Students who complete the first two years of BSc (Hons) in IT program at SLIITor a similar qualification are eligible to apply for the new Data Science Degree.