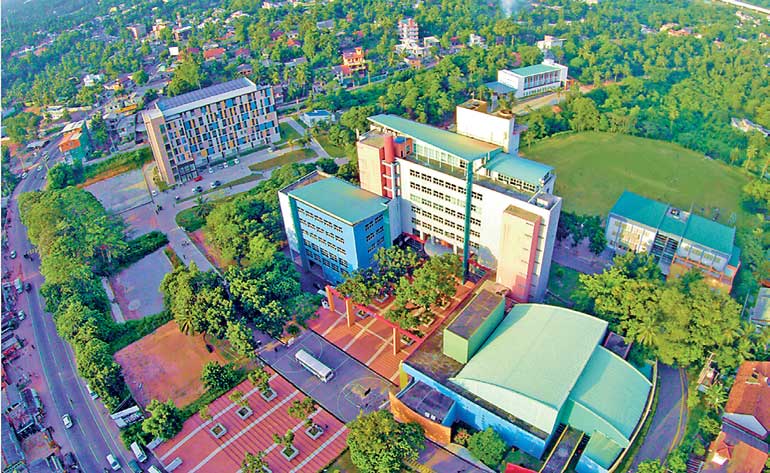 The intake of students for 2018 has commenced at SLIIT for the degree courses starting on 5 February. SLIIT is a world class institute with UGC approved degrees in Computing, Business, Engineering, Architecture and Quantity Surveying.

The Institute also offers internationally recognised courses in Hospitality Management and Commercial Cookery in partnership with William Angliss Institute, Australia. The Advanced Diploma in Hospitality Management provides a combination of practical and theoretical perspectives required by hospitality operators across the world and includes financial concepts, organisational behaviour, food and beverage applications, plus global impact on tourism. The Commercial Cookery programme is designed to develop fundamental skills and knowledge required in professional cooking and kitchen management.

Degree Courses in Architecture, Quantity Surveying and Business Administration are conducted in partnership with Liverpool John Moores University in UK. The complete study of Architecture requires 5 years. SLIIT offers a pathway in 2 stages – the 3 year full time Bachelor's Degree followed by a placement year leading to a 2-year Master's Degree.

The Quantity Surveying programme offers students a unique opportunity to acquire Cost Management and Contract Administration skills while understanding the overall building processes. It has two pathways for the three year B.Sc (Quantity Surveying) Honours degree. One path is for students with prior learning qualifications to join the programme for the top up at year 3 and the other at year 1 after completing the local or London A/Levels.

Business Administration will provide competence in the management of money, people, products and markets. The course is designed to create all-rounders who can cope with the challenges of a career in business. The standard entry route is the SLIIT Higher Diploma in Business Administration.

The four year, BSc (Hons) in Information Technology Degree (accredited by the IET) offered by SLIIT, provides a variety of specialisations in Information Technology, Information Systems Engineering, Software Engineering, Interactive Media, Cyber Security, Data Science and Computer Systems and Network Engineering. The three year, BSc in Information Technology Degree offers specialisations in Information Technology and Interactive Multimedia Technology.

The four year Bachelor of Business Administration – BBA (Hons) Degree offers specialisations in Human Capital Management, Accounting and Finance, Marketing Management, Logistics and Supply Chain Management and Business Analytics.

Students interested in pursuing a career in Engineering have the option of obtaining a four year B.Sc. Engineering (Hons) degree in the following areas of specialisation; Civil, Mechanical, Mechanical specialising in Mechatronics, Electrical and Electronics, Material Engineering.

Curtin University degree programmes are also available at SLIIT, in the fields of Engineering and IT for those who wish to opt for a qualification from an Australian University.

SLIIT has been collaborating with foreign universities since the year 2000. Students are given the option of either completing the degree at SLIIT or transferring to the relevant partner university for the final two years.

"Our partnerships with prestigious universities overseas enable us to improve our course modules and maintain high standards while providing students with a choice of options," said SLIIT CEO/Vice Chancellor Prof. Lalith Gamage.

The basic prerequisites for applying for SLIIT degree courses are 3 A/L passes. For Engineering, A/L Credit pass in Mathematics or Physics with 2 Simple passes are required. For Architecture and Quantity Surveying, in addition to 3 A/L passes, O/L Credit passes in English and Mathematics are required. For Hospitality Management and Commercial Cookery the prerequisite is 5 passes in O/L including English.

Students can obtain an application form at any one of the SLIIT established centres or campuses. Further information can be obtained via www.sliit.lk.