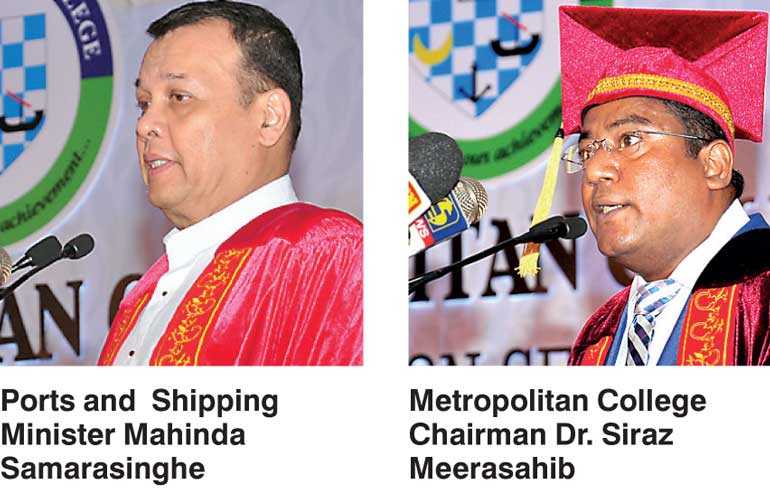 By Rahel Kirinde

Ports and Shipping Minister Mahinda Samarasinghe on Sunday said that the private sector will be a major tool for uplifting tertiary education in the country and increasing the number of graduates.

"When we consider international statistics and compare it with our national statistics it is clear that Sri Lanka is ahead of many countries when it comes to primary education because of our free education system, but in terms of tertiary education Sri Lanka is well behind countries such as Malaysia, South Korea and India," stated Samarasinghe speaking at the Metropolitan College graduation ceremony 2018.

"On average of 3% of Sri Lankans receive tertiary education," affirmed Samarasinghe. He explained that this has greatly reduced the competitiveness of Sri Lanka against the rest of the world in all aspects.

"Private institution is the answer to developing tertiary education," emphasised Samarasinghe.

He revealed that the cabinet of ministers approved a cabinet paper that was presented by the Prime Minister which enables students to obtain an interest free loan to enrol in private higher education institutes.

"This supports students in funding their own education and also we have made sure that repayment is required only after the particular students are employed and well established," he noted adding that this would ensure that the debt burden does not fall on the parents of those students.

As for the future of the global and local economy Samarasinghe stressed that it is of paramount importance that every student becomes a college graduate since the international job market requires a new generation of skilled individuals each specialising in a particular field.

Elaborating more on the contribution made by private universities Samarasinghe expressed, "Private institutes such as the Metropolitan College are a part of a demand driven market as opposed to supply driven one; it means that it is imperative that they cater to varying needs of different students in terms of courses and different fields of study." He added that by the time a student graduates, employability is the most significant factor that defines the education they received.

"Private institutions fulfil this because they pay close attention to the constantly changing economic trends of this country and the world and by doing so they contribute to true sustainability and economic reconstruction and development through quality education," Samarasinghe asserted.

Metropolitan College was established in 1999. It offers tertiary education in Management, Leisure, Psychology, Social Sciences, Languages and Information Technology in partnership with Girne American University, Organisation for Tourism and Hospitality Management (OTHM) United Kingdom and International Computer Driving License (ICDL). Metropolitan College is also an affiliated institute of the Lincoln University Malaysia. It offers a variety of courses ranging from diplomas and bachelors' degrees to masters' degrees and PhDs.