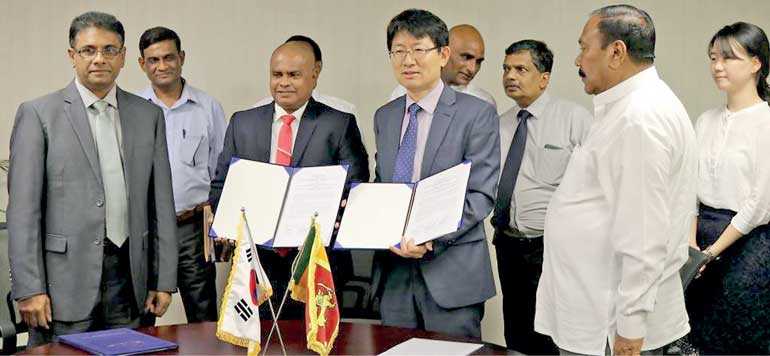 Taking a step forward in its endeavours to improve the education sector in the Kilinochchi district since 2011, KOICA has decided to provide grant aid worth $ 7.5 million to renovate a number of schools in Kilinochchi.

The agreement between the two countries for the project was signed by KOICA Sri Lanka Office Country Director Lee Dong Ku, Ministry of Education Secretary S. Hettiarachchi, and Department of External Resources Director General Priyantha Rathnayake. State Minister of Education V.S. Radakrisnan was also present on this occasion.

Situated in the heart of the Northern Province, Kilinochchi was severely ravaged by the prolonged armed conflict which dragged on for nearly three decades. Among the many devastations caused by the war, the destruction of infrastructure was one that has greatly challenged post war reconciliation efforts, particularly in the process of resettling the internally displaced. Resettlement endeavours in this area have proven to be an extremely difficult task mainly due to the massive destruction caused to all infrastructure facilities, which require to be built from scratch.

Taking these factors into consideration, KOICA identified the importance of investing in the development of education in the war ravaged district of Kilinochchi, in order to help restore normalcy to people's lives and build a better future for their children. Keeping in line with the Korean government's partnership strategy with Sri Lanka where education has been identified as a key priority area for cooperation, in 2011, KOICA initiated a $ 5.6 million project for the improvement of the education sector in Kilinochchi. Based on the success of this initial project which concluded in the year 2014, KOICA has decided to grant a further $ 7.5 million for a new initiative to ensure that high quality education is made available to the youth of this area who have already suffered severe setbacks in life due to the internal conflict.

The project will be an all-inclusive endeavour, focusing on the development of the education capacity of the district in a sustainable manner, including infrastructure development, teacher training, community awareness activities, and initiatives to secure parental support for the promotion of their children's education.

This new development cooperation initiative will be carried out as part of KOICA's continued efforts since the 2000s to help uplift the living standards of less developed, marginalised parts of the island to achieve equal and sustainable development.