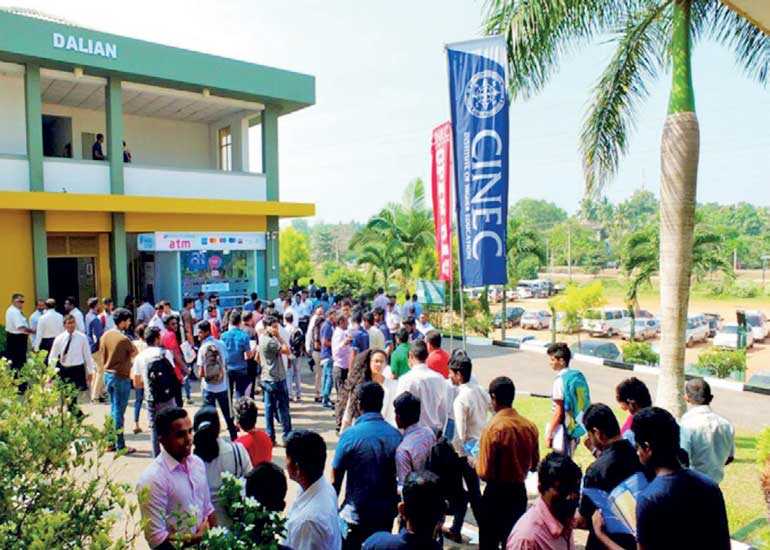 CINEC Campus will open its doors to 2018 A/L students and their parents on Saturday 15 September, to explore the potential educational avenues available to them, leading to a successful career in the future.

Potential students attending the Open Day could also get a head start to their educational aspirations with amazing discounts offered to registrations on same day. Among them are scholarships of up to 75% for students who have excelled in their A/Ls and support for affordable educational funding.

Elaborating on the September Open Day, CINEC Managing Director Capt. Ajith Peiris said, "We have strived to provide a sound base for our youth to enrich themselves with the tools and skills they need to pursue a successful career anywhere in the world. The depth of knowledge they acquire is infused with the soft skills that is lacking in many other formal educational institutions that focus singularly on the academics only. We strongly believe that we need to send out workplace ready professionals. We look forward to welcoming a new batch of young adults ready to hone their passion for their chosen area of study."

The purpose-built CINEC Campus in Malabe will open at 9 a.m. on Saturday 15 September and will give visitors a first-hand experience of the state-of-the-art facilities for educational and recreational activities. Lecturers and non-academic staff will also be available to visitors to seek additional information about their programs on campus, career prospects in their preferred area of study, affiliation to international universities and other specialised institution leading in their respective fields.

CINEC currently has over 20,000 enrolments annually across 195 courses in the areas of Maritime, Engineering, Aviation, IT, Logistics, Management, English, Law, Tourism and Hospitality, HR, Education and Health Sciences.

Since its inception in 1990, CINEC has been committed to bringing study programs that lead to highly sought-after employment opportunities in fast growing sectors across the world.

Students will be exposed to a sound theoretical base coupled with numerous practical exercises fully supported by CINEC's experienced academic staff. All practical exercises are conducted in well-equipped laboratories.

CINEC has also established in-house research and training facilities in collaboration with some of Sri Lanka's leading industrial giants, including MAS Holdings, Brandix and Orange Electricals.

The campus is one of the most modern and sophisticated learning institutions in the Asia-Pacific region, boasting fully equipped, modern classroom facilities, advanced laboratory facilities, technical workshops and state-of-the-art simulators. The campus is also equipped with residential facilities, cafeteria, swimming pool, gymnasium and other allied facilities.