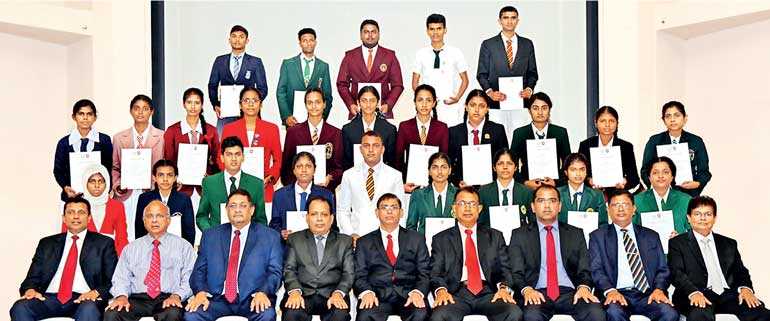 From left, front row: Hatton National Bank Head of Personal Financial Services Kanchana Karunagama, CA Foundation Chairman B.R.L. Fernando, CA Sri Lanka Vice President Manil Jayasinghe, University Grants Commission Vice Chairman Prof. P.S.M. Gunaratne, CA Sri Lanka President Jagath Perera, CA Foundation Committee Member Nihal Rodrigo, BDO Partners Partner R. Vasanthakumar, CA Sri Lanka Head of Education and Training Prof. Nagalingam Nagendrakumar and CA Sri Lanka Secretary Prasanna Liyanage with the recipients of scholarships who were top achievers at the GCE Advanced Level examination 2017
The Institute of Chartered Accountants of Sri Lanka (CA Sri Lanka) recently awarded scholarships to 141 outstanding students in the country, including the highest achievers at the 2017 GCE Advanced Level examination, to help them kick start their career in chartered accounting.

At the 2018 Annual Scholarship Awarding Ceremony, scholarships were granted under several categories, with 10 students receiving scholarships under the 'GCE Advanced Level Island Top Ten Scheme' and another 19 students receiving scholarships under the 'GCE Advanced Level District 1st Scheme'.

The event was held under the patronage of Prof. P.S.M. Gunaratne, Vice Chairman of the University Grants Commission, Jagath Perera, President of CA Sri Lanka, and B.R.L. Fernando, Chairman of the CA Foundation.

CA Sri Lanka also awarded 70 students with scholarships under the 'L. A. Weerasinghe Memorial Scholarship Scheme', while another 32 students of the Institute received scholarships under the 'Business Level Trainee Scheme'. Another 10 students who aspire to be Chartered Accountants, received scholarships from the Institute under the 'National Conference Scholarship Scheme'. This year too, as in previous years, scholarships were granted to deserving students who have obtained 3 A passes at the GCE Advanced Level exam, with an annual family income of less than Rs. 360,000.

In 1988, CA Sri Lanka launched the scholarship scheme to award scholarships for the benefit of students based on their achievements and requirements. The CA Foundation was subsequently founded in August 2010, with the aim of further strengthen the scholarship scheme of the institute. Since 2010, the Institute has supported over 860 students by awarding scholarships, annually.
Chief Guest University Grants Commission Vice Chairman Prof. P.S.M. Gunaratne awarding a scholarship to a student. Also present are CA Sri Lanka President Jagath Perera and CA Foundation Chairman B.R.L. Fernando