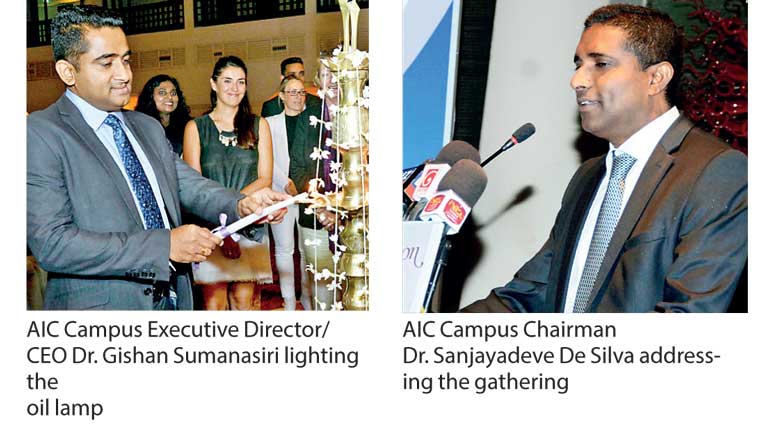 Further strengthening its leadership in the Sri Lankan tertiary education, Sri Lanka's leading transnational education provider AIC Campus – a member of the IMC AIC Education Consortium – announced its partnership with IPAC School of Business in France to offer their internationally recognised Bachelor in Business Administration (BBA) in International Business and Marketing in Sri Lanka. This strategic collaboration paves a path for local students to complete a business degree from a leading university in France at a fraction of the cost of studying overseas.

The official launch which took place at the Cinnamon Grand Colombo recently was graced by Isabelle Miscot, Chargé d'affaires a.i of the Embassy of France to Sri Lanka and Maldives (Chief Guest), Valentine Wolfram, Cultural Attaché of the Embassy of France to Sri Lanka and Maldives (Guest of Honour), Geraldine Hussenot, Director International Affairs, IPAC Business School France, Dr. Sanjayadeve De Silva Munasinghe, Chairman AIC Campus, Dr. Gishan Sumanasiri, Executive Director/CEO AIC Campus and other officials of AIC Campus and IPAC Business School France.

The partnership with IPAC Business School makes it another first for the leading Sri Lankan private education institute as AIC becomes the first International Learning Centre of IPAC outside of Europe. IPAC Is the first ever Business School in France and the European Union to offer their three-year business degree in Sri Lanka. Local students who wish to obtain a high-quality French degree can complete their three years at AIC and obtain their degree right here in Sri Lanka at a fraction of cost.

Expressing his views of this new partnership, AIC Campus Chairman Dr. Sanjayadeve De Silva Munasinghe said, "Our commitment to provide and facilitate quality education at an affordable cost to Sri Lankan students is unwavering. Collaborating with one of the highly rated French business schools to introduce a business degree program was another step taken forward in our journey to become Sri Lanka's number one transnational education provider in Sri Lanka. IPAC Business School in France offers one of the best business degree programs in Europe and we consider it a great honour to be able to bring this opportunity to our students."

"The demand for professionals with sound business administration skills with a thorough knowledge in international marketing practices is on the rise; both globally and locally. I firmly believe this partnership will enable us to provide sound academic guidance to Sri Lankan students. IPAC Business School curriculum is well designed to bring out the best in students and it is the perfect platform for local undergraduates to nurture their skills to shine in their respective careers," commented AIC Campus Executive Director/CEO Dr. Gishan Sumanasiri.

Students with Advanced Level qualifications or students who have sat for the London A/Levels this year can apply and join the prestigious French Business Degree program, starting from this September. BBA Degree in International Business with Marketing will provide the opportunity for students who are seeking a career in business management, marketing or work in multinational organisations around the globe. Students have the option to study their final year in France after completing the first two years at AIC Campus and upon completing the Bachelors program, graduates will get the opportunity to obtain the Euro pass documents and pave the way to learn and work in Europe. After the second year, students are guaranteed of paid internships in leading multinational companies as well as in local organisations.

Commenting about the landmark partnership with AIC Campus, Geraldine Hussenot, Director International Affairs, IPAC Business School France said, "We are thrilled to be in a partnership with AIC Campus in Sri Lanka, one of the leading private education providers in the country. We believe our degree program is going to provide a unique learning opportunity for Sri Lankan students and transform them into true global business leaders."

AIC Campus also offers this degree program as a top up degree for students who have completed HND, SLIM, CIM or with part qualification in CIMA and ACCA or any professional qualification accepted by AIC, to complete it within a year.

IPAC is a State recognised Higher Education Institute that was founded in 1984 in the heart of the French Alps, in the Savoy region. IPAC offers a large range of Bachelors and Master degrees that have been developed in order to facilitate students' employment. IPAC was one of the first institutions to participate in the Erasmus Network. Today, the IPAC international network has more than 60 foreign partner universities and industry partners across Europe. IPAC ranks 20th in Le Figaro's top 50 French Business Schools for Bachelor program as well as ranks 6th in the Top 20 French Apprenticeship programs.