AAT Sri Lanka has become a household name and is the 1st professional choice of students who sit for G.C.E. (O/L). AAT is one of the most sought-after professional courses to which registrations are accepted with pending O/L results. The qualification paves the path to students to sit for their A/L examination with more confidence, and be equipped with a vast knowledge which definitely is an advantage to cross the A/L hurdle with flying colours.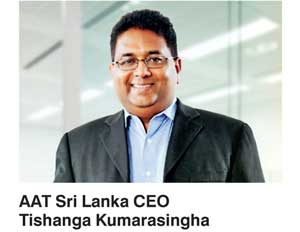 According to AAT Sri Lanka CEO Tishanga Kumarasingha, at GCE A/L 2017, 53 top places out of the Best 100 in the island, including six places among the top 10, had been achieved by AAT students, while the District 01st places of 12 districts had also been achieved by AAT students. He further stated that the main reason behind these victories is that the AAT scope of study goes parallel with the A/L subject stream, while providing opportunities for the students to revise the difficult subject matter over and over again, until they have a firm grasp of it. It has been evident through the results of other professional examinations as well that AAT-passed finalists, after getting stage and subject exemptions from these alternative institutes, perform exceptionally well, incurring a relatively lower investment in money and time as well. "What we have observed all throughout these years is that those who finish AAT qualifications, even before they sit for their A/L examinations, are ahead of other students who actually wait till the A/L finishes to start their professional education journey," stated Kumarasingha.

Since registrations are now open for AAT's July 2018 examinations, Kumarasingha also wished to remind all students who wish to achieve more in their lives to join the next crew of true achievers with AAT. He also noted that students and/or parents may always call the AAT Head Office on 0112 559 669 to find out further details regarding the qualification.