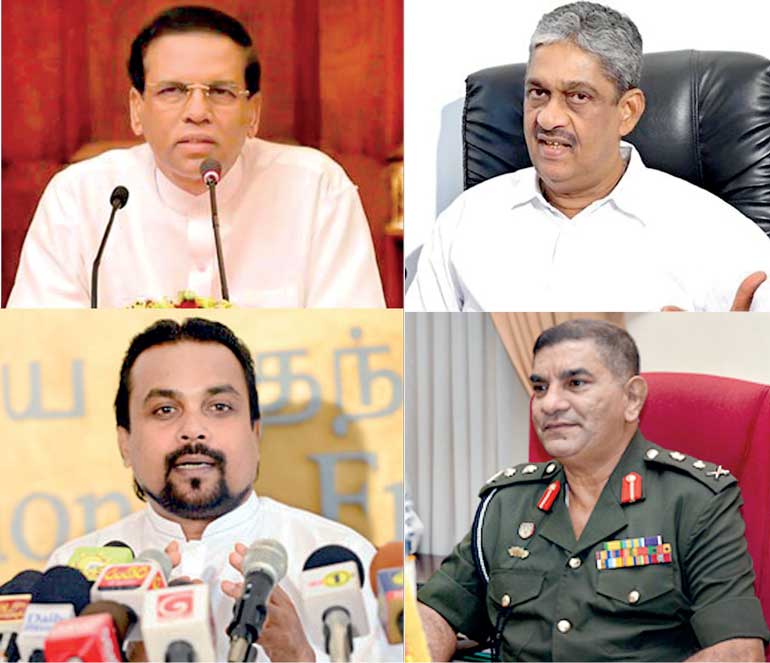 TO THE VICTOR THE SPOILS: While the vanquished in war languish on the margins of society, the triumphant dominate town hall and headlines with their pitched battles against political opponents. A once-jailed general unceremoniously stripped of war hero status – but who had his rank, medals, and commission more than restored by the sitting president – seeks to indict and testify against a former subordinate on war-crimes charges – allegations of which he, too, once faced; but escaped unscathed because his government would not admit to UN prerogatives over Sri Lankan sovereignty. In another volte face, a commander-in-chief – himself the survivor of a terrorist attack, and who went as far as to accommodate that former military chieftain from a potentially rival political party in his own cabinet – now defends the other 'war hero' on the verge of indictment, who seems to be an influential cabinet minister's target. These shenanigans in the corridors of power showcase the conflicts that embattle a post-war state struggling to transform into a post-conflict milieu, but which remains beleaguered by our martial past. Which begs the question: in a state of play where today's cabinet colleagues are tomorrow's campaign-trail opponents, who safeguards civilian interests on a political battlefield where there are no permanent friends – or even perceived enemies?
I never thought the day would dawn when I could agree with Wimal Weerawansa. Which might explain the heavy rain these days? He says he can't understand Sarath Fonseka's stand on war heroes. I can't, either! Even though I am sure the formidable ex-general promoted field marshal and now ensconced securely in cabinet must have a decent rationale.

Perhaps his raison d'etre goes something like this. 'I was part of a troika that won an unwinnable war. But my military battles were hardly over when political warfare broke out. Since my prison term I've come to realise that in love as much as war there are no permanent friends. However now that I'm back in the places of power again let me use my expertise in the martial field to fight personal, professional, and political battles. Therefore settling old scores is par for the course.'

But don't take me for granted as much as you do our not-quite-retired war heroes. It takes a little effort to encompass the workings of the military mind… After all, we won the war – with zero civilian casualties – and the top brass has its reasons of which reason knows nothing.

Wimal, however, like your favourite columnist, is hard to please – or placate. Like me, he is full of questions. Who won the war, one man or a triad of leaders? Who's guilty of the alleged war crimes, an unholy trinity or some poor scapegoat? Why are generals so keen to cover themselves in glory but not be accountable for battles lost against civilian targets? Who's next on the Government's "chief executioner's" hit list? Where is Mahinda Rajapaksa when you really need him to spin another story to save face?

Of course, I paraphrase. And the answer, my friend, is blowing in the wind. Even if WW would probably understand a pacific poet like Bob Dylan less than a military mind like, well, the Chagis and Shavendras he's so keen to protect from the calumny of a turncoat government.
Form order questions
My own concerns are rather narrower. Who lost the war, one side or a whole generation of Sri Lankans? While war crimes are still a political hot potato, have the so-called survivors forgotten the dead, the walking dead: the war wounded, the still-marginalised at the periphery of other nameless Menik Farms of the mind?

Will a government committed to transitional justice (there's a phrase we hear less of these days…) guarantee justice even if it means that they themselves transition from government to opposition? Who will ensure a hearing – a healing – for the war widows and orphans who still squat on the periphery of our evidently rapidly-evolving nation like some singularly unwelcome skeletons at the increasingly spectacular feast of GDP: Growth, Development, Progress? Is it still pertinent to ask our field marshals cum cabinet ministers and subject ministers cum marshals of peace with justice the tougher questions of good governance?
COURT MARTIAL QUIZ
A.Essays.

1.After seven years of the absence of conflict, why do we still not have a peace with justice for all? Explore with reference to party politics, personal grandstanding by petty politicos strutting and fretting their hour upon the stage, and presidential ambitions.
B.Short Answers.
1. Who won the war? (Be considerate.)

2. Who will win the next great battle between paper generals? (Be careful.)
C.MCQ.
1.Would the real winners of the war please stand up?

a. None.

b. No one.

c. Zip. Zilch. Nada.

d. All of the above.

2.Could the court of public opinion consider any of the following to be war criminals?

e. Western interests that fuelled hostilities.

f. Friendly neighbours who meddled in internal affairs.

g. Local cabals that benefited from wartime businesses/war-profiteering.

h. All of the above.

3.Should those with the national interests at heart over narrow partisan concerns in mind ask those who know about these to speak up or shut up?

i. Who brutally assaulted Keith Noyahr?

j. Who assassinated D. Sivaram alias Taraki?

k.Who made Prageeth Ekneligoda disappear for good?

l.Who killed Lasantha Wickrematunge in cold blood?

Now don't get me wrong.

I am grateful to Sarath Fonseka and the Security Forces for delivering from us evil. Thine is the kingdom, the power and the glory. But lead us not into temptation now, sir. There are more pressing issues for us as a post-war polity to engage with. Rather than have our attention diverted from the goal of transforming ourselves into a post-conflict nation.

Settling old personal scores in private while preening their feathers in public is best left to politicos. Seasoned campaigner though he is, SF seems to have got it backwards by settling old personal scores in public while feathering his own nest in private – if Wimal Weerawansa is to be believed.

If I am least moved by WW's cannonade that the former army commander has committed a sort of lèse majesté against the Security Forces, I am less impressed by SF's commander-in-chief. Where once Maithripala Sirisena granted the gaoled army chief a general pardon within hours of assuming office, he is now rushing to defend another former army commander – who, perhaps, as a member of the diplomatic community, needs no rushing-to-defend.

But sitting presidents who promised to be one-term-men are no less immune to the charms of being chief executive than their predecessors. The president has been categorical on two scores. That he has not declared his candidacy for the next presidential election. And that he will defend Jagath Jayasuriya and all other war heroes against those (including presumably, SF) who seek to malign and destroy their reputations and rest-in-peace.

This is the next war. And the first shot across the enemy's bows has been fired. There will be more petty battles between the ostensible contenders. In the limit, we trust the more civic-minded segments of government to ensure that we civilians don't get caught in the crossfire – again.

There has been enough collateral damage in the war between paper-generals playing party-political games to last us a generation.


(A senior journalist, the writer was once Chief Sub of The Sunday Leader, 1994-8, and is ex- LMD: Editor, 2004-8. He has made a career out of asking questions and not waiting for answers.)