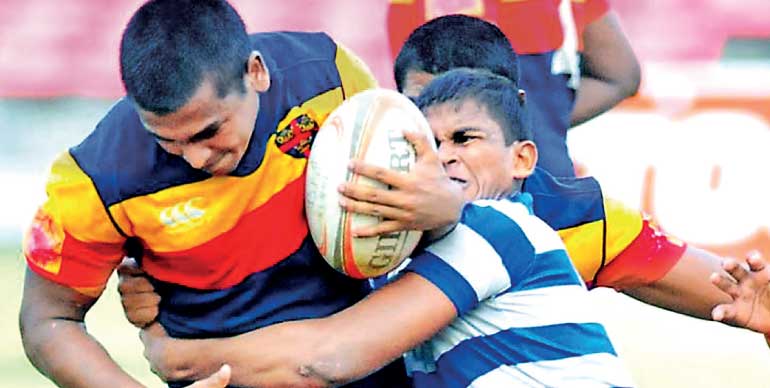 By Shamseer Jaleel

Trinity College continued their Singer League Under-20 rugby campaign with a close 30-25 win over St. Joseph's College in Colombo last week.

Trinity, after remaining unbeaten in round 1 and then enjoying a one-month break, lost their first game in round 2 to St. Peter's. However, they hit back hard against the Darley Road outfit. Trinity continued to lead the points table but are very closely followed by Isipathana. Other title contenders - defending champions, Isipathana, Royal College and Wesley College - also ended last their weekend's games with comfortable wins.

Trinity though trailed 17-15 at halftime but regrouped to play a superior brand of rugby in the second half which left the Joes rattled. The Trinitians' fitness played a major role as they could last another 20 minutes without tiring. This win will give some breathing space to their Head Coach Lote Raikabulla, who will await Isipathana at home next Saturday.

Once again for Trinity Nathan Yee led them well under pressure, making several correct decisions, but the team's kicks at goal were pathetic as the Kandy school lost nearly 14 points and if that many points were on the board during the initial half of the game it would have swung easily in their favour.

As Lasan Wijesuriya entered the game during the latter half, he put over kicks and gained a much-needed territorial advantage with some booming touch kicks. For Trinity, Warren Weerakoon, Sakalasuriya, Lasan Wijesuriya and Rishen Madena played their hearts out while the Joes outfit kept their mark with Chathura Seneviratne, Sachith Silva and Steven Muller playing well. Referee Dinka Peiris controlled the game very well.

Meanwhile, defending champions Isipathana continued their winning streak when they outclassed a Heenakankanmge-led S. Thomas' College side 41-21. However, the placekicking of the Pathana outfit was far below par in this game.

Meanwhile, Royal ran riot in Maradana when they handed Zahira College a massive 65-14 defeat. Though Zahira played well in patches they were nowhere near as good as they were in round 1, and have been losing direction as the tournament has progressed. Their Head Coach Shamly Nawas will hardly have any time to put things in order to move up the ladder and the team at present occupies last position.

In the meantime, Wesley College is getting into top form at the correct time and is another dangerous outfit with serious title aspirations. They, with the help of the Lee brothers and Aponso, beat an inconsistent Peterite outfit 26-14.
Rajans beat Vidyartha
​Dharmaraja College beat Vidyartha College 36-16 in one of the Plate segment rugby encounters played at the Bogambara Stadium yesterday.

At halftime Vidyartha led 9-7. The Rajans scored three goals and three tries while Vidyartha scored one goal and three penalties (SJ)