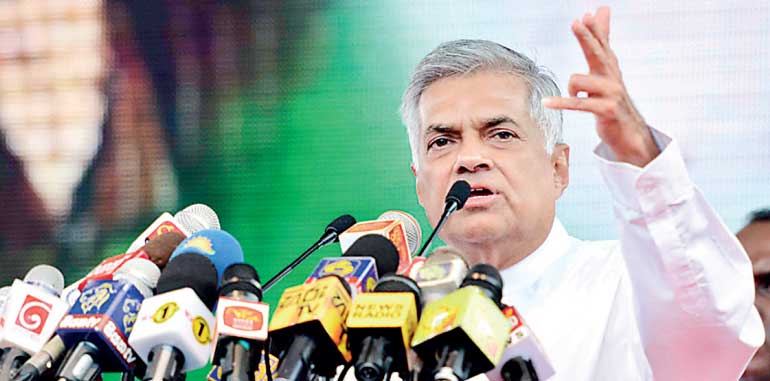 Prime Minister Ranil Wickremesinghe has promised power devolution to the island's provinces as part of the reconciliation process with the minority Tamils ahead of the 17 August parliamentary election.

His Government would look to devolve power in an undivided island, Wickremesinghe said.

The Tamil minority has been urging for power to the north and east provinces since the LTTE's military campaign ended in 2009.

The premier said the private lands acquired for military purposes in the former conflict zones will be returned to their owners after the election.

Wickremesinghe made the remarks – being seen as his first policy statement for the polls – while addressing his United National Party (UNP) special convention which adopted a resolution to work as a broader political front to pursue good governance and democracy.

The convention of the UNP, that was President Maithripala Sirisena's main backer in the January presidential election, came after his decision this week to allow former President Mahinda Rajapaksa to run for the 17 August election from his party.

Sirisena, who branded Rajapaksa as a corrupt leader and resisted calls to allow him back, has also agreed to give party tickets for all Rajapaksa loyalists who face corruption charges.

The decision shocked the UNP and Sirisena's civil society allies, who blamed Sirisena for betraying the cause for good governance.

Angered by his decision to bring back Rajapaksa, a Sirisena loyalist Rajitha Senaratne said a group of them were leaving him and would align with the UNP to contest the election.

"We can't get on the same platform with corrupt and murderous elements. So we have decided to join UNP's front for good governance," Senaratne said.

Arjuna Ranatunga, the former world cup winning cricket captain and a key Sirisena ally in the January election, is also said to be contemplating a move to leave Sirisena and join the UNP front. (PTI)
LP gas and rice prices reduced
Finance Minister Ravi Karunanayake announced that the prices of domestic LP gas and rice prices will be reduced with effect from 15 July.

He made this announcement during his speech at the UNP Convention on Saturday.

Accordingly, gas prices will be reduced by Rs. 100 and red rice will be kept at a limit of Rs. 60 per kilo.
Kabir insists development not suspended
The Government on Saturday insisted that development work in the country had not been suspended or stalled as a result of a new Government taking office for 100 days in January this year.

Highways Minister Kabir Hashim said that the Government, despite being a temporary Government, had continued with some projects launched by the former Government and cancelled "white elephant" projects.

Speaking at the UNP Special convention in Borella, Hashim said that if the UNP formed a majority Government after the 17 August election, it would expand some of the development projects.

He noted that several highway projects, including the Colombo-Kandy highway project and the Matara-Hambantota extension of the Southern Highway project, had been launched by the current Government.

The United People's Freedom Alliance (UPFA) had earlier accused the Government of placing roadblocks before some of the development projects.

The Government was mainly accused of suspending some of the Chinese-funded projects, including the Port City project. (Colombo Gazette)