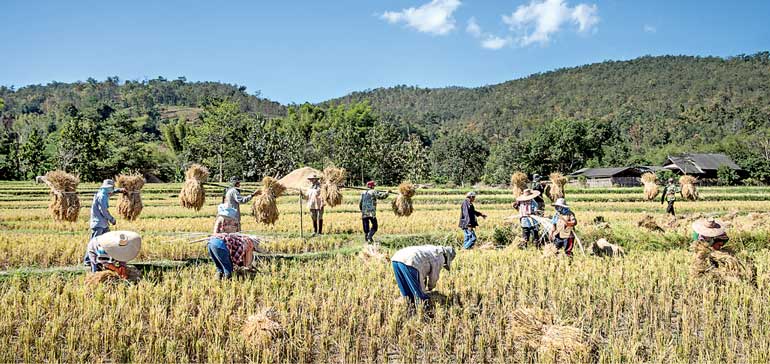 Introduction

ICT innovations allow farmers to achieve comparative advantage. With comparative advantage, they are in a better position to compete and attract better prices.

Innovation is not cheap. Therefore many farmers are not in a position to innovate. At the same time innovation is not a one-time thing and farmers have to keep innovating. Therefore farmers who innovate only one time will lose the competitive edge in the long run.

Due to the financial commitments and constant need for innovation, the applications of ICT innovations in the agriculture sector in Sri Lanka has been slow. Many interventions are still at the learning or development stage. Therefore it is high time to look at where the ICT should intervene.

This article talks about several ICT intervention areas. Some of these interventions are already being implemented in Sri Lanka as pilots. The rest of the interventions discussed have a significant potential.

Innovation where?

ICT innovations in the agriculture sector are threefold – (1) ICT innovations for production system managements; (2) ICT innovations for market access; and (3) ICT innovations for financial inclusions.

ICT innovations for production system managements

Information services are one of the most common ICT-related categories for inclusive agricultural value chains. Information services provide data that are tied to helping farmers improve their productivity, yields and profitability during the course of their normal business of growing agricultural produce.

Information services involve short-term and long-term productivity enhancements, minimising the negative effects of crisis events, and improve field-based risk management. Typically, information such as weather updates is readily available at low or no cost (often subsidised by the local Government). However, farmers do not have access to these data, or at least not timely access. Short-term productivity and crisis management information services attempt to fill this void, and are typically the easiest and most commonly offered by service providers.

These productivity services provide information that is generally quick and easy to access and use such as current or forecasted weather information. An example of short-term productivity services is the e-Dairy project in Sri Lanka in which milk yields were improved by informing dairy farmers about the most opportune times for artificial insemination.

Another example pilot initiative is "inclusive Information Societies". LIRNEasia implements the project in collaboration with the Ministry of Agriculture. The project is being funded by IDRC.

Crisis management information services essentially help prevent losses (rather than raising productivity). Often these services serve as an alert system enabling farmers to react quickly before an oncoming event (often weather- or disease-based).

Long-term productivity enhancements and risk management ICT services can have a more significant impact on customers' livelihoods, through higher income or lower risk of loss. Long-term productivity information services cover topics that take longer to learn and are often offered with other technologies and channels, such as face-to-face training or extension agent support.

Risk management information services are also long-term in scope, but as with crisis management, they help farmers avoid losses rather than increasing productivity. These types of service differ from crisis management services in that they take a longer time to absorb and implement, and the benefits are realised much later than are those of crisis management.

For long-term productivity and risk management information services, ICT does not replace extension agents or even offer a new service. Instead it allows the extension agents to offer better services more efficiently.

ICT innovations

for market access

ICT for market access takes several forms: pricing services, Virtual Trading Floors (VTFs) and holistic trading services. The most common ICT intervention for the agricultural value chain is a pricing service in which commodity price information is pushed out to customers on a regular basis. These data are often national or regional in scope, and so may not be entirely relevant for the farmer in the field, depending on his/her proximity to markets.

The most common advantages to such services are price transparency and improved negotiating leverage for the often dis- empowered seller (farmer). An example of such an intervention is the 'ICT Stewardship Project' implemented by the University of Alberta and University of Guelph, Canada in partner with Wayamba University of Sri Lanka. The project adopts Frontline SMS to facilitate the communication between the farmers and the extension workers. LIRNEasia is the research partner of the project.

Virtual Trading Floors (VTFs) are electronic market places where buyers and sellers connect through an electronic network (as opposed to pricing services, which mostly only provide static information). The important difference between VTFs and more traditional trading floors is that the buyers and sellers on a VTF do not have to be physically in the same location to make an exchange.

There are two basic kinds of VTF: matching services, and commodity exchanges. Holistic trading services essentially provide the same services as pricing information services and VTFs, with additional assistance beyond the simple transactions of purchasing and buying agricultural products. Such assistance can include weather information, technical information on agricultural practices, and long-term education.

ICT innovations for

financial inclusions

The primary types of financial services offered through ICT solutions for value chains are transfers and payments, credit, savings, insurance and financial derivatives. ICT can help improve rural communities' access primarily by convincing financial institutions to enter potential rural markets through unconventional methods.

In recent years, money transfers through ICT solutions, notably through mobile phones, have become a much-discussed solution. This service is typically called or direct Person-to-Person (P2P) service. These types of solutions are often offered by Mobile Network Operators (MNOs) rather than banks as they provide simple cash transfer service, similar to that of Western Union.

Large credit programs through governments have often failed, but in recent decades there has been a significant increase in access to private credit providers, such as input suppliers, lead buyer firms, specialty lenders, microfinance institutions and banks, which all require at least sustainability if not profitability. More compelling solutions may be found in other financial services, such as savings and insurance, both of which are often ignored in the preference for credit.

The rural poor need financial services that are convenient, flexible and secure, especially for their own money, i.e., savings. ICT can be a significant contributor to improvements in the adoption and administration of insurance. The level of data for appropriate pricing of policies and monitoring of potential risk events is inadequate.

ICT applications can also help in the reduction of basis risk, i.e., the risk that the index proxy used to calculate pay-out events and outcomes is not adequately linked to the actual field outcomes.

Conclusions

ICT-based interventions can only be successful when there is sufficient need for the underlying service and institutional capacity to implement and maintain the enhanced service.

There are several key areas that must be stressed on (1) Keep the solution simple – in both the technology and the service offering; (2) Plan for the future not the now; (3) Listen to clients (and field staff) and understand where the real problems and needs lie; and finally (4) Forget the hype.

Ultimately, the most important question is: Is this solution scalable and viable in the long term? Many ICT solutions can achieve break-even or better only when they achieve significant client outreach. First, the ICT solution must be ready to service a significantly large population. Second, the solution must be appropriate and fulfil a need for the target client group. Third, the target client base must be significantly large, and ideally expanding.


(Chatura Rodrigo, PhD is an independent research economist interested in agriculture and environment economic research policy. This article is based on a literature survey. The literature is available upon request. The author can be contacted through [email protected] and 70 332 6834, 77 986 7007)