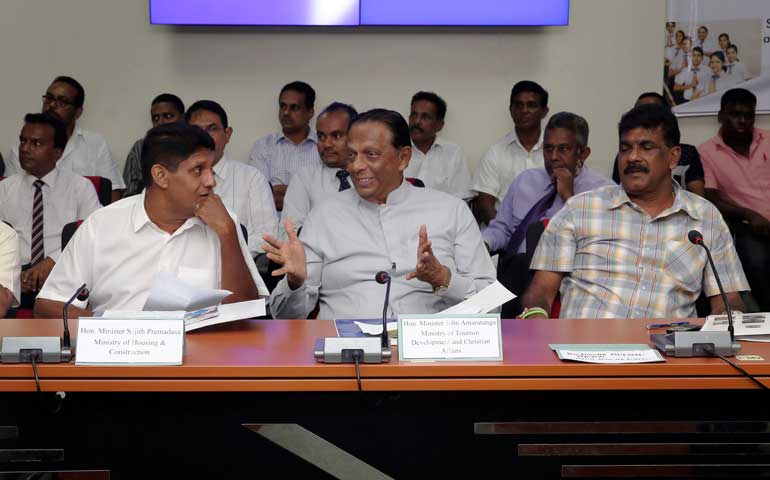 Minister of Tourism John Amaratunga flanked by Minister of Housing and Construction Sajith Premadasa and State Minister of Fisheries and Aquatic Resources Dilip Wedaarachchi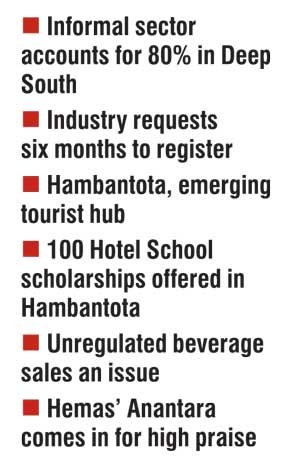 The informal sector commands an 80% share of the hospitality sector in the Deep South. This was revealed during a recent fact finding tour of the region by the Minister of Tourism Development John Amaratunga.

Following the budget presentation which proposed to regularise the informal sector by June next year, there have been some concerns emanating from the sector as to how this would be carried out. The Minister during a tour of Tangalle over the weekend explained to the small and medium scale hotel and restaurant owners the process of registration and the benefits that would accrue to both the industry and the country as a whole. He assured them that the benefits far outweigh any perceived disadvantages. He called on the informal sector to register their properties by 30 June in keeping with the budget deadline.

At a meeting organised at the Lagoon Paradise Hotel in Tangalle, hospitality industry representatives took the opportunity to air their grievances and the Minister promised to look in to them. State Minister of Fisheries and Aquatic Resources Development Dilip Wedaarachchi also attended the meeting.

One area of concern highlighted by the industry representatives was the unregulated sale of beverages by beach boys and touts in the beach resort areas. The industry representatives expressed concern that these activities affected their food and beverage sales and the state also lost out on taxes. They said measures should be introduced to regulate such sales. Minister Amaratunga promised to look in to this matter.

Meanwhile 100 students from Hambantota were awarded scholarships to follow a foundation course in hospitality training at the satellite Hotel School in Hambantota. The Ministry of Tourism Development has embarked on a program to draw youth to the hospitality sector, which is likely to experience a shortage of skilled workers in the next few years. Hambantota MP and Minister of Housing and Construction Sajith Premadasa joined the Tourism Minister at the event which was held at the Hambantota GA's office.

Minister Amaratunga predicted that with the opening of the five-star Shangri-la Hotel among a host of other hotels, Hambantota will become a tourist hub in the region.

Following the presentation of scholarships the Tourism Minister held a meeting with those engaged in the tourism trade in the Yala and Tissamaharama areas where many issues faced by the trade were sorted out.

Later on Minister Amaratunga visited the newly opened Anantara Peace Haven Resort in Tangalle.

"I can see that this new property has clearly raised the bar in the tourism product that is on offer. It will help to attract the high spending tourists that we are targeting. This new property has set the direction for the industry to follow," said Minister Amaratunga.