The new Minister of Tourism Development John Amaratunga says tourism has levelled up its position from fourth place to third place as one of the largest foreign exchange earners of the country in 2014. Following are excerpts of an interview with Amaratunga:
By Cathrine Weerakkody

Q: What are your perceptions of the present state of the tourism industry?

A: The tourism industry is experiencing high growth due to the peaceful and harmonious environment of the country. This situation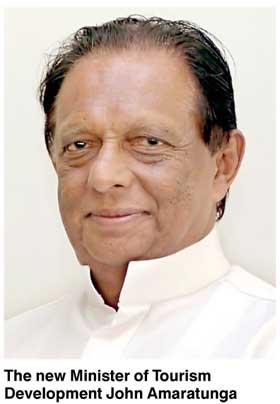 can be seen in the table. New market sites such as China are emerging and it is expected to excel the popularity of the country among other new markets as well.
Q: How much revenue does the tourism industry generate for the country? Is it possible that in the future, tourism can be the highest revenue generating industries in the country?

A: $ 2,431 million in 2014 (estimated); $ 1,866 million up to August 2015 (estimated). Tourism has levelled up its position from fourth place to third place as one of the largest foreign exchange earners of the country in 2014. It is one of the fastest growing industries in the country as well as the world. It is possible to make tourism to make the largest revenue earner to the country.
Q: With the new government in place, what are the long-term plans and targets for the tourism industry? Are these plans sustainable?

A: Against the back ground of peace and democracy and good governance, there is a high potential of attracting more tourists to the country. The peaceful and harmonious environment which has been developed and stabled under the newly-elected Government which is capable of keeping higher expectations on tourism development.

Development of mega polis, sustainable tourism practices, introduction of theme villages, improving home stays under sustainable tourism will facilitate these goals in a much productive way. Further, it is expected to develop tourism industry not only as a way of foreign exchange earner or employment generator, but as an industry which ties the bonds between different religious and ethnic groups and build up the mutual understanding among communities.

It is expected to use the tourism industry as a tool to expose Sri Lanka's cultural heritage and natural beauty to the world and at same make initiatives to preserve those things for the future generation.
Q: Who are Sri Lanka's main competitors? How do you plan to differentiate and raise awareness to attract tourists?

A: Thailand, Malaysia and Indonesia can be taken as Sri Lanka's main competitors in tourism product offering. However Sri Lanka is authentic in several ways such as its diversity in compactness, hospitality and friendliness and some brands such as Ceylon Tea, gems, etc.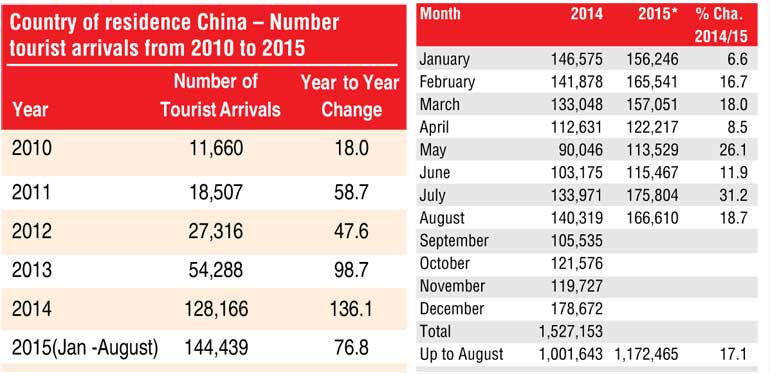 Q: What are the current drawbacks that you see in the industry? How can these issues be addressed?

A: There are some obstacles such as conditions of some roads and transportation which hinder tourists to connect with least time and convenience. Further part of the industry is handled by the informal sector and it is difficult to regulate and maintain the quality of the products and services offered. Lack of awareness on sustainability practices might damage the ecosystem, biodiversity and cultural heritage of the country and it might influence the tourism sector in long run. Roads and transportation needs to be developed in a rapid manner.
Q: China has become the biggest source of tourists to Sri Lanka in recent months. How do you plan to cater to this market and grow in further?

A: SLTPB has been organising trade fairs and promotional activities in China to attract more Chinese tourists. But we expect to attract more quality Chinese tourists to the country in future who can bring more benefits to the country.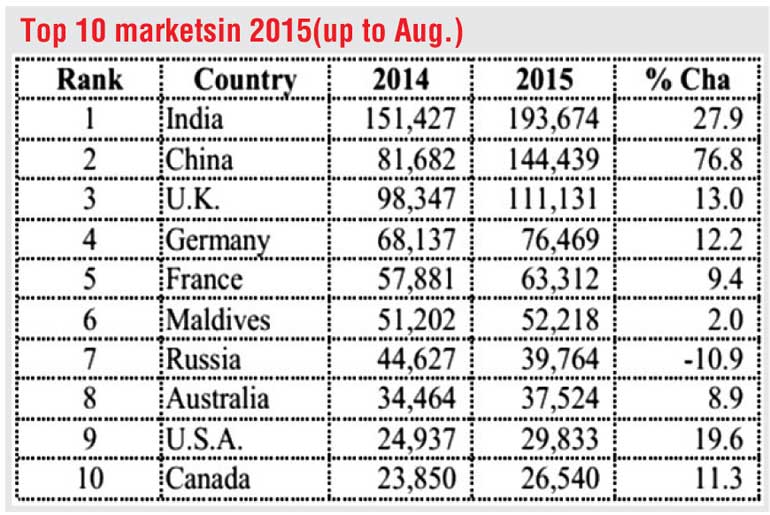 Q: Tourists have complained of harassment, especially in the beach bound areas. How does the Government plan to control this issue?

A: It is planned to hold series of awareness programs for street vendors, tourist guides and other informal sector actors. Absorbing of the informal sector to the formal sector by issuing a licenses to tourists guides and other parties involved in tourism business would mitigate these issues in future. Instead of omitting the actions of informal sector, we are in the process of absorbing the informal sector to the formal sector and getting them in to correct path.
Q: Prime Minister Ranil Wickremesinghe revealed plans of creating a tourist zone in the south during the general election campaign with a view of drawing in high-end tourists. How do you plan to attract and grow this niche market?

A: With 'sun and beaches' being the most popular leisure purpose activity in 2014, it is not a difficult task to develop the southern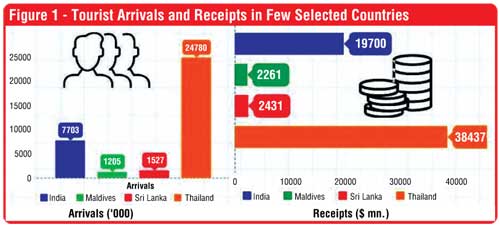 part of the country as a tourism zone. Improving the water quality of the beaches of tourist destinations in the country; construction of a tourist centre with shops, food courts, comfort centre and rest area at Calido Beach – Kalutara, introduction of model beach at Bentota and Dedduwa Integrated Tourism Resort are a few projects that are planned at present in the south. There are further plans to develop the south focusing on many other products beyond beaches such as nature, culture, adventure, body and mind wellness and MICE to attract high end tourists.
Q: Finally, during your term as the Tourism Minister, what key objectives to do you hope to achieve?

A: To attract quality tourists to the country and make tourism a number one foreign exchange earner of the country. Further it is expected empower local people by generating more employment and economic opportunities while stick into the sustainability practices.


(The writer is a graduate in Financial Management, a CIMA passed finalist and a freelance Journalist.)