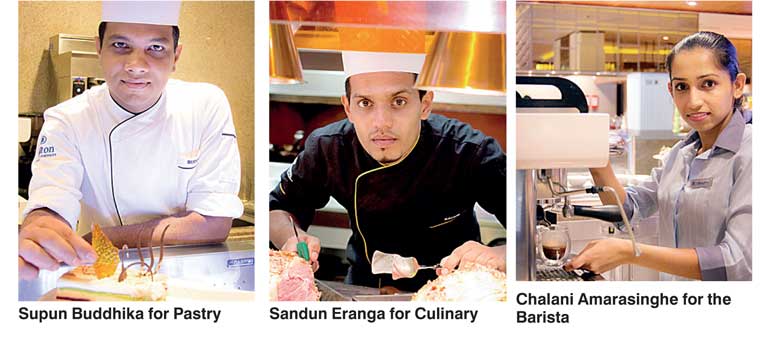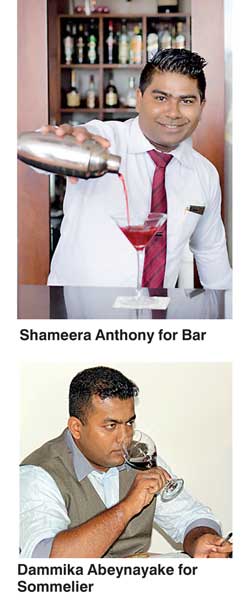 Hilton Colombo Residences announced the five outstanding team members who came out tops in the F&B Masters 2015, an internal competition open to Hilton Worldwide team members in properties across Asia Pacific.

The program, which is into its second year, aims to discover, develop, and celebrate the best food and beverage talent within the company and team members compete in five 'cups', namely Culinary Cup, Pastry Cup, Sommelier Cup, Bar Cup and Barista Cup. The winners are: Chalani Amarasinghe for the Barista, Dammika Abeynayake for Sommelier, Shameera Anthony for Bar, Supun Buddhika for Pastry and Sandun Eranga for Culinary.

The competition has three stages: the first, members compete within the hotel, followed by the country level competition and finally the Asia Pacific finals which will take place in first quarter of 2016. On the country level to be held in December, the winners of Hilton Colombo Residences will compete against Hilton Colombo and Conrad Maldives. The national winner will then compete against winners from the other Asia Pacific nations.

The winners of the culinary competitions have been mentored and trained by renowned executive chef Priyal Wijesuriya who has been with the hotel since 2008. The Barista and Sommelier Cup winners were trained and mentored by food and beverage manager, Yvo van Dyke.

On the competition and the F&B Masters 2015 winners, General Manager Karim Schadlou said, "F&B Masters is about developing talent and giving team members an opportunity to hone their skills and creativity in a variety of food and beverage disciplines that they are passionate about. Hotel team members at every level are given access to a world of opportunities to develop personally and professionally, for example, through on-the-job training, virtual courses, management development programs, and learning seminars. We like to continue celebrating this culture of constant learning and passion at Hilton Colombo Residence."

The F&B Masters competition has received much hype when it was first launched in Southeast Asia and India in 2014 and this year's edition is proving to be bigger and better. For more information and news on F&B Masters 2015 at Hilton Colombo Residences, visit www.facebook.com/hiltoncr.