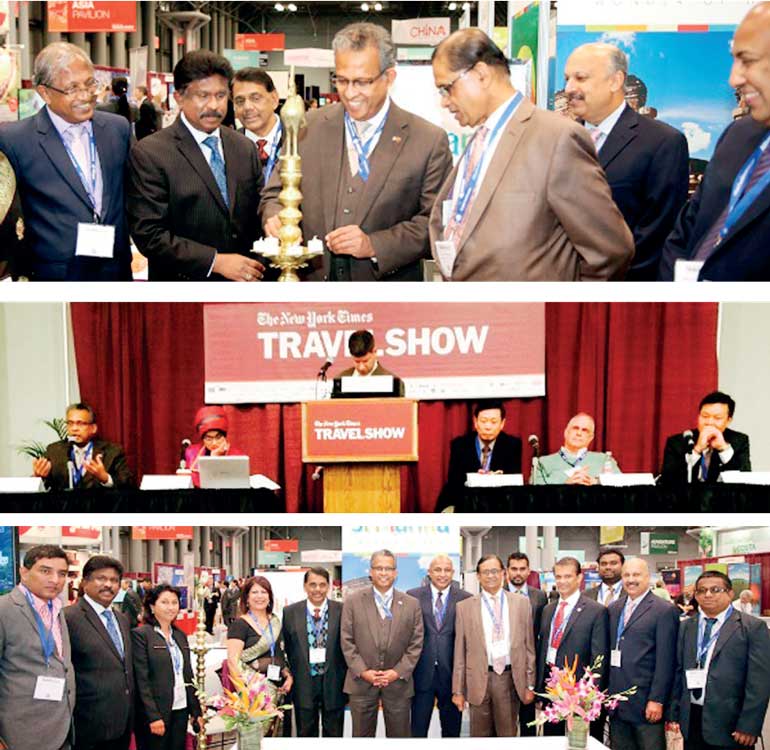 The Sri Lanka Tourism Promotion Bureau in collaboration with the Sri Lanka Embassy in Washington, organised a Sri Lanka travel booth at the New York Times Travel Show from 8-10 January at the Jacob K. Javits Convention Center in New York with participation of 10 destination Management companies and SriLankan Airlines.

The colorful Sri Lanka booth was declared open by Ambassador Prasad Kariyawasam, Sri Lanka's Ambassador to the United States and Ambassador Dr. Rohan Perera, Sri Lanka's Permanent Representative to the UN.

Speaking at the opening ceremony, Ambassador Kariyawasam said that in recent years, Sri Lanka has enjoyed an exponential growth in tourist arrivals. Recognising the value of public-private partnership to harness the full potential of the tourism industry, Sri Lanka intends to undertake a well-coordinated promotional campaign in the US travel market.

Although the USA is only ranked as the ninth source of tourist arrivals to Sri Lanka at present, with more focused attention to US Travelers looking for new and unique destinations, the potential for growth in the US market is immense, stated the Ambassador.

Sri Lanka was featured at the New York Times Travel Industry Conference – Asia Focus that offers comprehensive briefings for travel professionals.

Ambassador Kariyawasam participating at the seminar at the Jarvits Center, highlighted Sri Lanka's attractive features and compactness coupled with immense diversity. The seminar was well attended by travel professionals.

During the Travel Show, a large number of US travel industry professionals and consumers had fruitful discussions on future travel opportunities with Sri Lankan destination management companies present, namely, Aitken Spence Travels, Bernard Tours, Ceylon Express International, Lanka Holidays.Net, Lanka Sportreizen (LSR), Lanka Vacation, Serene Vacations Lanka, SriLankan Airlines and the World Travel Centre.