More than 148.3 million people make reservations for accommodation, tours and activities online every year, which is more than 57% of all travel reservations! This rising trend to research and book accommodation online has been inexorable and a real game changer. Global online travel sales are growing every year, with the value offlights, hotels and online travel agents (OTAs) increasing by at least 6% in 2015 and cumulatively generating 533.52 billion US dollars. That figure is forecast to grow to 762 billion US dollars by 2019.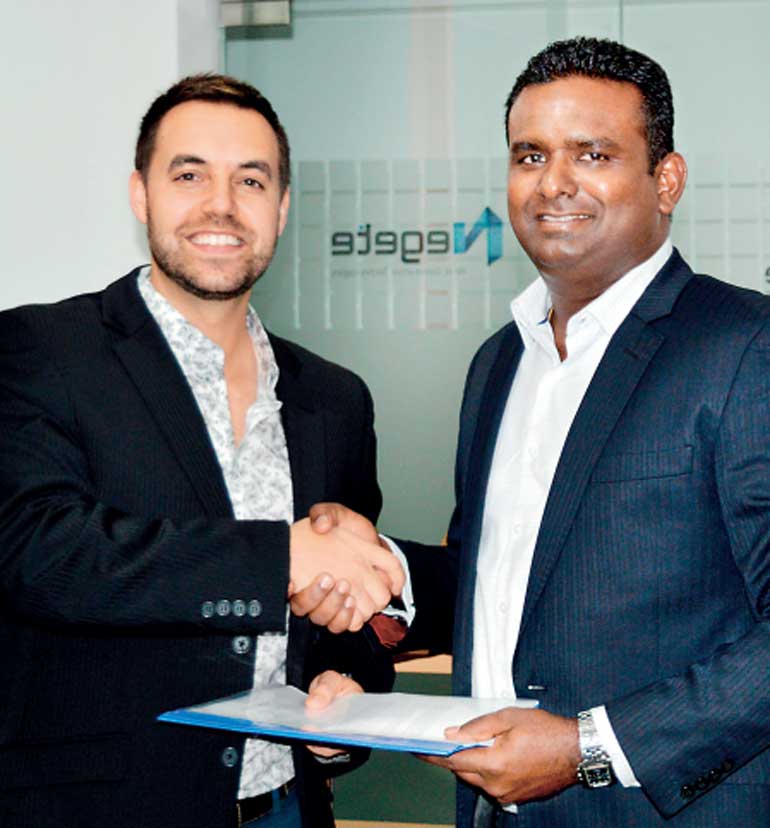 STAAH CEO Duncan Chappell (left) and Negete CEO Brian Walter
To keep up with this trend, hotels and guest houses need to be listed on the key OTAs (known as channels), such as Agoda, Booking.com and Expedia, as more than 50% of today's travellers would rather rush to the keyboard than pick up the phone to make their travel bookings.

However, hoteliers face many challenges in manually updating multiple OTA sites, including the need to maintain rate parity and manage inventory across all channels. Hoteliers also need to compare the performance of their various channels as well as their own website's booking engine. This is where a 'channel manager' can be invaluable, as it brings all channels onto one platform to manage availability (inventory) and rates automatically and provides essential reporting tools to compare the performance of all channels.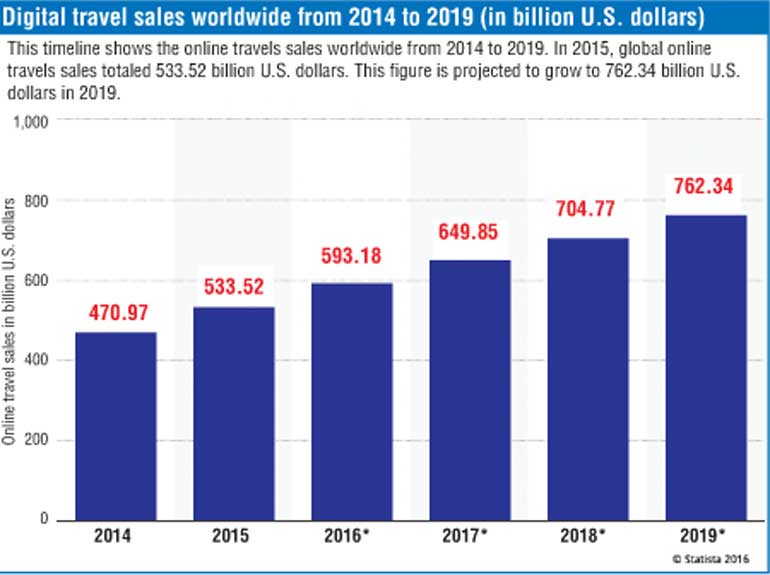 As Sri Lanka's ratings increase on several foreign rating agencies, the hospitality industry thrives to position Sri Lanka as a model tourist destination, with many formal and informal properties emerging. Each year the number of tourists visiting Sri Lanka increases significantly thanks to it having the highest bio diversity in Asia backed by a strong culture, historical artefacts, exotic beaches, lush green environment and friendly people – all of which are solid building blocks for tourism development.

Internet travel booking revenue has grown by more than 73% over the past fiveyears and, as the competition to attract tourists intensifies, hoteliers needs to adopt the right technology at the right time. Effective online presence is now essential for hotels' survival and prosperity.

Negete, which stands for Next Generation Technologies, is a global IT company at the forefront of bringing the latest technologies to the Sri Lankan market. Negete offers a range of products specifically to support the effective functioning of hotels and guest houses, including STAAH's Channel Manager and Booking Engine.

Negete employs a highly skilled and specialised team in Colombo, giving them aclear edge over their competitors throughtheir unmatched experience in processes, delivery and support, and giving their customers the ultimate user experience.

Negete CEO Brian Walter comments: "As the use of OTAs increase, Negete aims to support this through modern technology by encouraging more and more hotels in Sri Lanka to adopt the use of cloud-based 'channel management' technology to streamline and grow their businesses.

"Negete has collaborated with STAAH to implement and support the STAAH Channel Manager and Booking Engine, which provide Sri Lankan properties with an effective solution to maintain multiple booking platforms.The channel manager is designed to help small and large properties all over the world. We are the exclusive reseller of this solution within Sri Lanka and the Maldives."

He went on to say: "Complementing the STAAH solutions we also providein-houseservices in online marketing, web and mobile app development. Anantara – Tangalle, a leading resort chain, uses the Guest Registration app – one of several apps we offer."

Walter also stated that, in order to make their channel manager solution more viable and effective forcustomers, Negete is looking to work with locally popular Property Management Systems (PMSs) such as Zhara from John Keells, IDS Next and Opera, as well as Inernet Payment Gateways (IPGs). Negete is already integrated with IPG solutions offered by Commercial Bank, Sampath Bank and HNB.

He added: "The STAAH suite of products launched in Sri Lanka in October 2015 and has already attracted over 70 properties making it the fastest growing channel manager in Sri Lanka. STAAH customers include Deco on 44, Colombo Fort Hotels, Taru Villas, Senani & Oak Ray Hotels, Amaya Resorts and The Kingsbury."

Callistus James, owner of CJ Villas in Colombo, had this to say about his experience of the STAAH Channel Manager: "I am very satisfied with the efficient service I have received over recent months. Previously, the administrative challenges our subscriptions with multiple booking portals posed were aplenty. The advent of STAAH successfully centralised all our bookings which eased our daily operations. The consistent guidance we were provided by STAAH's professional cadre throughout the transition process and beyond is truly commendable.

"STAAH simplifies our room sales on multiple platforms. Once a room is booked, STAAH automatically blocks out vacancies on other booking sites as well and generates email and push notifications of bookings, which facilitates remote monitoring of daily business. For these reasons, I would highly recommend STAAH to any established or upcoming hotel and guest house."

Another property operator, Global Towers in Colombo BDM Prajot Thurairajh said: "It's no secret that online travel agencies are the future of the hospitality industry. Travellers are moving away from traditional travel agents and towards booking through OTAs, which makes a lot of sense in the current internet-dominant market. Being a hotelier I always come across new OTAs and I am pretty sure it's not going to stop anytime soon. Handling OTAs is no easy task, especially if the hotel is handling multiple OTAs. Maintaining parity, controlling and changing the rates on all OTAs consumes time and energy. The solution for this is a good channel manager. As a user of STAAH, I can recommend this product to anyone in need ofa service/product like this. STAAH is easy to use, affordable and not to mention their excellent after sales service from their local office. The competitor rate checker is an added bonus."

STAAH, which is based in Auckland, New Zealand, specialises in channel management software, booking engines and websites for accommodation operators. Since 2008 STAAH has been providing industry-leading technology for online distribution (viaOTAs), direct bookings and digital marketing services. Today, STAAH manages over 500,000 room nights a month as they help more than 2,000 properties in over 40 countries understand, control and grow their online business. STAAH is also the only global channel manager with a dedicated Sri Lankan support team.

STAAH CEO Duncan Chappell commented: "We're really pleased to be working with Negete to provide local support to the growing number of hotels using our channel manager.Sri Lanka is a beautiful country with huge tourism potential and we're delighted to be part of that."

Negete is in the process of organising the official STAAH launch event on 4 May. This will include a free knowledge sharing session on online revenue management and other technologies for the hotel industry,conducted by renowned foreign and local experts.

If interested in attending the STAAH launch event, please contact Negete on 0713634383.