Against the backdrop of the $ 100 billion dollar AIIB bank which is being set up in China for which $ 40 billion is been assigned for the development of the Silk Route, Sri Lanka Tourism together with the Sri Lankan embassy in Beijing, launched an aggressive promotional campaign in the top end Chinese province of Shandgon in Quingdao city.

"Quingdao connects with Colombo through the silk route which makes this new market development unique," said Sri Lanka Tourism Promotion Bureau Chairman Rohantha Athukorala.

"China is registering a growth of 71.9% as at end May 2015 and is poised to pass the 225,000-mark this year," he added.

"This was a historic moment as it was the first city on the development agenda for tourism promotions under the Silk Route and Sri Lanka commencing a partnership with Quingdao is the first step as per the master plan," said Ambassador for Sri Lanka in China, Ranjith Uyangoda. "The Shandong Province has a population of 100 million and almost 8 million take a luxury holiday once a year which is what we are targeting from a tourism sector. I am pleased to see the efforts of Sri Lanka Tourism in making the Silk Route plan a reality. We must make visitor arrivals cross 300,000 by the end of 2016. It's nice to see how SriLankan Airlines is supporting the market development template of Sri Lanka Tourism," he added.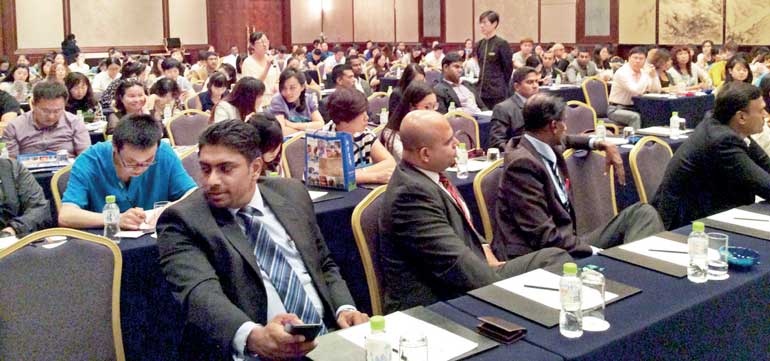 "Thirty-six top Sri Lankan private sector companies took part in the new market development roadshow with companies like John Keells, Aitken Spence, Jetwing and Hemas that included many SME organisations, which was interesting given the market insight that almost 50% of tourism sector revenue was from the SME sector with 7.3 million guest nights last year," commented Athukorala.

From the Quingdao prefecture 144 travel agents took part in the b2b sessions together with the top hierarchy of the Quingdao Tourism Promotional Authority led by the Chairman and President of the famous Rubber Valley.

SriLanka Airlines, in a landmark gesture, offered three tickets to the Quingdao Tourism Promotional Authority Chairman to visit Sri Lanka whilst the private sector offered a seven-day excursion. Ambassador Uyangoda, who facilitated the gesture, said: "Now the bond between Sri Lanka and the people of Quingdao is very strong. We will see the business growing in the near future given the marketing support of the two promotional units of the Sri Lanka Government.