Group photo taken with SNAV President Jean Pierre Mas and Secretary General Jean Marc Ross. Also present are Deputy Minister of Tourism Arundika Fernando, Sri Lanka's Ambassador in France Tilak Ranaviraja and the Bidding Committee comprising SLCB CEO Vipula Wanigasekera, M. Shanthikumar CCTHA, Chandra Wickramasighe, Mahen Kariyawasam, Denesh Silva, Dileep Mudadeniya, Sam Tigel together with SLTPB's Sarangi Thilakasena, Embassy Counsellor Alexi Gunasekera, Hussain Jayah, Tilak Weerasinghe and Dilan Perera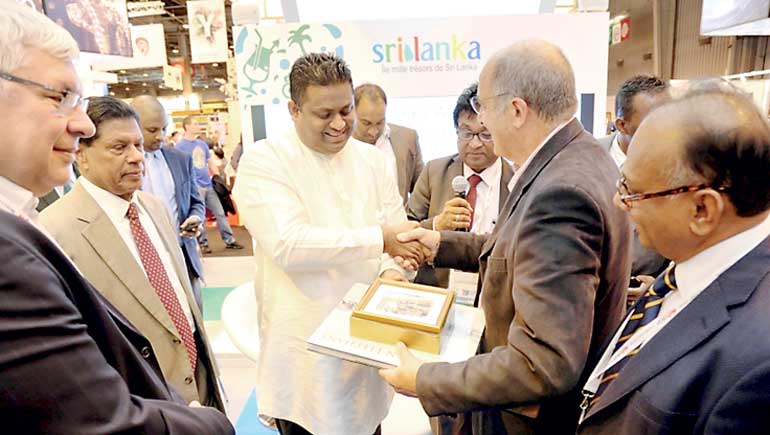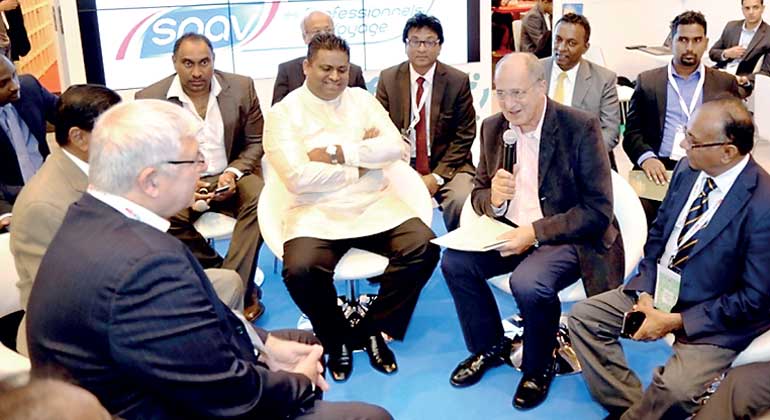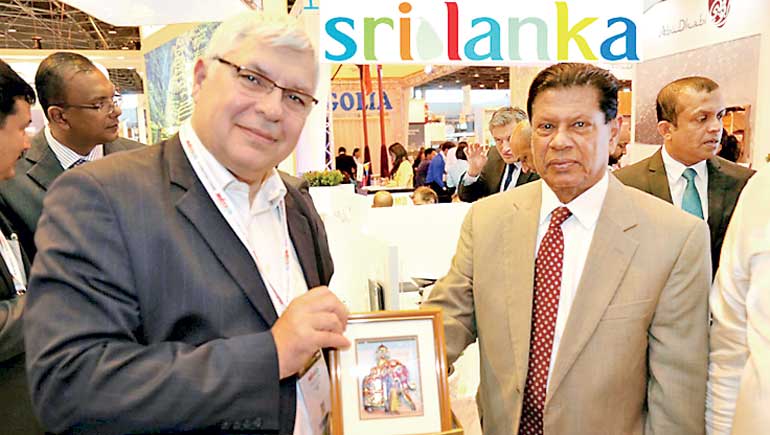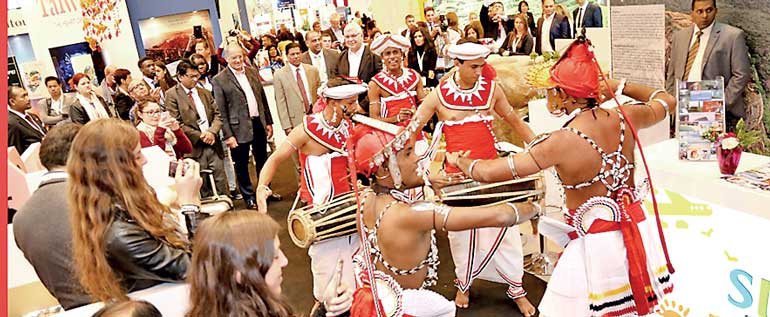 Backed by the Sri Lanka Tourism Promotion Bureau (SLTPB) and the Embassy of Sri Lanka in Paris, the Sri Lanka Convention Bureau formally presented SNAV (Syndicat national des agents de voyages – National Travel Agents Association of France) President Jean Pierre Mas with Sri Lanka's bid to hold the SNAV Congress in the country in 2016.

The event took place at the Sri Lanka stand of the IFTM (Top Resa) travel fair, currently taking place in Paris. A country promotion organised by Sri Lanka Tourism Promotion Bureau preceded IFTM on 28 September with a press conference and Interactive session with the industry.

The SLTPB's Sarangi Thilakasena and Embassy Counsellor Alexi Gunasekera made presentations at a special country promotion at the Hotel Colisee prior to the meeting with the SNAV delegation on 30 September. The Sri Lanka cultural troupe, specially flown to the event, performed at all the programs including the daily events at the fair.

The bidding team, led by the Deputy Minister of Tourism Development and Christian Affairs Arundika Fernando, consisted of Government officials and industry members. The Sri Lankan Ambassador to France Tilak Ranaviraja joined the Sri Lanka team and offered the fullest support of the embassy with the Trade and Commerce Department. The SNAV delegation was afforded a grand welcome with the traditional ushering by dancers into Sri Lanka pavilion.

Apart from handing over the formal bid by the Deputy Minister, the tourism associations presented their respective letters of assurances, thus reaffirming that the bid represented a collective effort and commitment.

SNAV has held its congress in many countries before. Sri Lanka has been eyeing this congress for some time but never had the right moment to convey its interest.

"With the prevailing boom in tourism, getting a congress of this nature is vital for our industry at a time when Sri Lanka is looking to entice high-spending segments from Europe such as Incentive Travel from France," says Vipula Wanigasekera, CEO of the Sri Lanka Convention Bureau, which spearheaded the bidding process over a few months together with industry stakeholders.